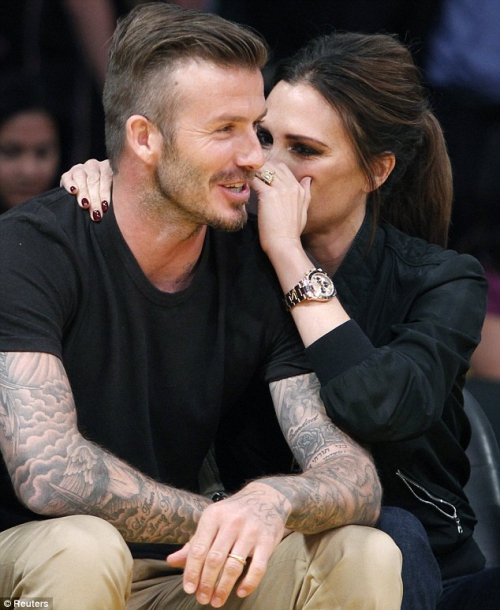 The football legend also told Late Late Show host James Corden how Posh made him chaperone son Brooklyn on his first date
Close shave: David Beckham shaved off his facial hair after harsh words from wife Victoria
David Beckham has revealed that wife Victoria forced him to get rid of his beard, telling him: "There's no way I'm kissing you unless you shave that off."
Posh, 40, gave her hairy husband the ultimatum after seeing photographs of him in Miami last week.
David, 39, told Late Late Show host James Corden: "I was in Miami and Victoria actually saw the picture and was like, 'There's no way I'm kissing you unless you shave that off.'
"I left it for a day, and I was was like, 'You know what, I'm going to have to do it.'"
The beard had gone by the time Becks appeared on the chat show, which was screened in the US last night.
Becks took his wife's words on the chin, but told James his kids had loved his facial hair.
Watch Becks strip to his boxers in spoof underwear ad with Corden:
He said: "The kids loved it actually, my little girl would just sit there and mess around with it. That was the end of it."
He also told how Victoria made him chaperone their eldest son Brooklyn on his first date 18 months ago.
Brooklyn, 16, who was in the audience, blushed as his father admitted sitting five tables away from him in a Kensington Sushi restaurant during the teenage night out on Valentine's Day in 2013.
David said: "It was when he was about 14 and a half, it was Valentine's Day, and he was like, 'I would love to take this girl for dinner'.
"I was like, 'Great, okay', and Victoria was like, 'Really?' She said, 'Okay, make sure you take him and then make sure you sit in the restaurant.
"I sat about five tables away."
David Beckham and Victoria Beckham and their kids, Brooklyn, Romeo, Cruz and Harper VIEW GALLERY
Becks added: "By the way, my daughter is four years old and when she gets to that age, I will be closer than that."
He also told how he and Posh made Brooklyn take a part-time job so he could "buy his own stuff".
He said: "You know what kids are like, they want new sneakers, they want new soccer boots and it came to the point where he turned 14, 14-and-a-half and I thought, 'Well, if you want something then you've got to work and you've got your own money'.
"I got to the stage where I was like, 'If you want to buy some new stuff, some new boots or trainers and you're working for them, then you can afford them yourself.
"So, much to his dismay, we packed him off and he works there every Saturday and Sunday for a few hours.
"He's 16 now and I heard him talking to his smaller brother the other day, asking him if he would take his job."
They returned to the UK two years ago after Becks quit MLS side, LA Galaxy, to play in Paris.
Corden asked Becks if he, Victoria and the kids would return to California – but the answer was no.
Speaking fondly of his time in the States, David said: "I love London, but as a family, we miss LA every single day because it was so great to us for so many years. We were here for six years, we got treated unbelievable well as a family and also in my profession so it was amazing to be here.
"And we come back every time the children are on holiday. They're off school for three-and-a-half weeks, I mean I can't remember getting that time off – how things change."
After a stint at Paris St. Germain two years ago, Becks decided to hang up his boots.
But he admitted that he does miss it, and recalls a time last summer when he was "very down."
The heartthrob said: "It was two years ago, I do miss it.
"To be honest I knew it was the time, I was 38 years old and I felt that I had achieved everything I wanted to achieve and I wanted to actually spend the time watching my boys, because my boys all play.
"My time is spent with them, and my little girl does ballet so my time is taken up by them now."
While Beckham may enjoy watching Brooklyn, Romeo, 12, and Cruz, 10, playing the game, he confessed that he was very miserable last year, and says he misses football most when he watches top sportsmen play.
He added: "But apart from that, my time is really taken up with my kids. They would see their dad go away for so many years and now I'm around."
Related Topics