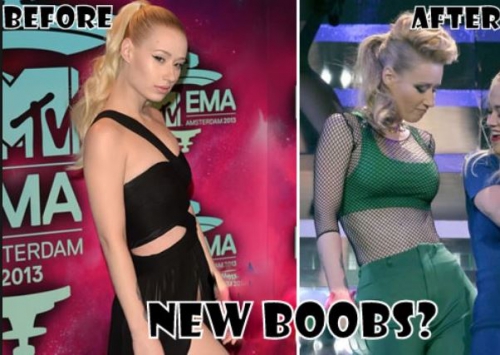 Iggy Azalea has admitted that she's undergone surgery for a secret boob job in a new interview.
The Fancy rapper has opened up about her surgery to Vogue, where she reveals everything from the "craziest rumour" she's heard about herself, to what she would change about her body and why she's baffled that people are obsessed with her booty.
When quizzed on what she would change about her figure, Iggy said: "I did change something: Four months ago, I got bigger boobs! I'd thought about it my entire life."
The blonde star, who is dating basketball star Nick Young, was reportedly fed up of having to have extra padding put into her stage costumes and wanted to wear lingerie without underwire.
Iggy didn't want to reveal her surgery secret and discuss in public because of the she was concerned about her impressionable fans and make them body conscious.
"But then, I decided I wasn't into secret-keeping," she explained.
In her interview, Iggy explains how she was often told to get into modelling when she moved to the US.
"When I first got to the States, people told me I should think about modelling," she recalled.
"So I went to a few agencies, but once they measured my body. They didn't like me anymore."
Iggy, who is 5ft 10" tall also revealed that she was a size zero on her top and a six on her bottom half, revealing that these measurements gave the fashion industry a headache.
The rapper also took part in Vogue's 73 questions game, giving a sneak peek into her Los Angeles home, and the 24-year-old also dished what the craziest rumour she'd heard about herself.
"That I used to be a man named Corey who had a sex change," she said.
Related Topics