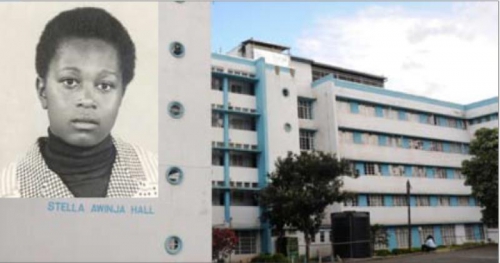 The late Stella Muka Awinja, as you already know, is the only campus student in Kenya with a hostel named in her honour.
Stella was a third-year engineering student at the University of Nairobi where her prowess in poetry and theatre were evident as she performed in among others; John Ruganda's The Floods, a play poking fun at the dictatorship of Idi Amin. She also starred in Wole Soyinka's The Successor.
But Stella never graduated.
She died when a rock fell on her while walking on the sidewalk during the construction of Lilian Towers. It is reported that she was standing beneath the balustrade erected on what was a bus stop to Westlands outside Lilian Towers. It didn't save her on that dark day in 1984.
During her graduation, her parents stood that December when he name was called out and they received an aegrotat degree on her behalf.
An aegrotat is awarded to a student who does not finish studies, but whom the faculty believes would have passed nevertheless.
Stella was a brilliant scholar. Six years after her death, a request was made to rename what is now Hall 12 in her memory.
Did you know Stella Awinja Hostel was known as Mary's Hall? It was for senior students drawn from all faculties, according to a copy of the March 1, 2010 Varsity Focus newsletter.
Did you know the then First Lady, UK's Old Lady, and some senior politician, expressed interest in its acquisition from the City Council of Nairobi?
Mary's Hall was being put up for sale, Parliament was told, because it had been running at a deficit according to the Hansard of March 18, 1973.
But unable to withstand the tug of war, the City Fathers decided to float a public tender through which the University of Nairobi bought it in 1977.
Did you also know that Mary's Hall was constructed to look like an English countryside hotel, complete with "immaculate terrazzo floors and grounds covered in heather, rockery and occasional sprigs of blue grass?"
Mary's Hall, until UoN bought it, was a hostel meant for single white women only.
Related Topics