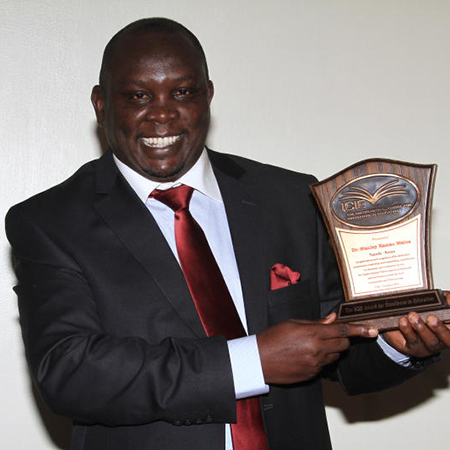 After receiving a prestigious award, a regional ambassadorial post accorded to him by the International Centre for Innovation in Education (ICIE), national anti-jiggers crusader Dr Stanley Kamau now says he will focus on searching and growing talent among the less privileged across the region.
Kamau, who was awarded in a colourful ceremony held in Nairobi and attended by among others ICIE president's representative Prof Trevor James Tebbs and Supreme Court Judge Njoki Ndung'u, says he plans to create a talent search team that will identify and train talented children whose dreams have been derailed due to poverty and humble upbringing.
"I accept this noble and humbling honour and I am ready to serve. In my new mandate, I will work hard with the community to ensure that talented and gifted children will no longer go to waste," he said in acknowledgement.
"I dedicate the award to all my partners, social workers and volunteers who have made the anti-Jigger campaign a success," he noted.
The anti-jigger campaign has been on-going for the last eight years with Kamau receiving numerous awards both locally and internationally.
ICIE, the organisation that awarded Kamau the talent ambassador for East and Central Africa, is an affiliate of the world council for talented and gifted children.
Awarding him on behalf of ICIE, Tebbs said the organisation settled on Kamau after keenly following his community work in Kenya, adding that the anti-jiggers crusader has proven to be committed, innovative, practical and passionate about his community work. ICIE learnt of his work through an interview that was aired by CNN on African voices two weeks ago.
Related Topics