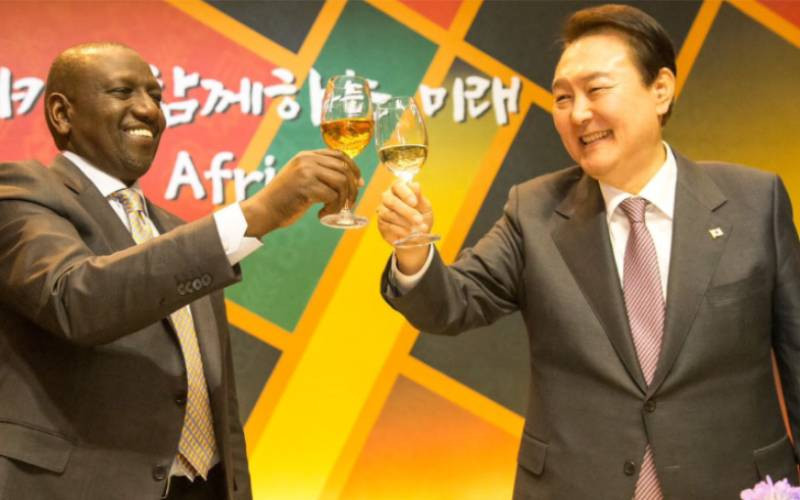 Kenya has inked a deal with South Korean business community on Trade and Investments.
According to a communication by State House on Twitter Wednesday evening, the deal allows for the South Korean business community to invest in Kenya.
"Kenya has created an enabling environment to attract investors. He [Ruto] welcomed the South Korea business community to invest in major projects in transport, infrastructure, agriculture, health and ICT in Kenya," State House thread on Twitter reads in part.
While making the agreement, President Ruto noted that Kenya had put in place laws facilitating public-private partnerships.
"Kenya has tremendous human talent. You can get any skill you need."
President Ruto was speaking in Seoul, South Korea during a business forum to unlock trade and investment opportunities between Kenya and South Korea.
The deal was signed by the Kenya National Chamber of Commerce and Industry (KNCCI), the Korea Institute of Procurement and South Korea's SDG Youth.
The business organisations, drawn from the two countries, have agreed to pursue development-oriented policies that support job creation, entrepreneurship, creativity, innovation and encourage the growth of Micro, Small and Medium Enterprises
The agreement also seeks to promote effective Public-Private Partnerships and address youth unemployment.
The organisations also agreed to prioritise investments that will fast track the realisation of the United Nations (UN) 2030 Agenda for Sustainable Development.
Via his official Twitter page, the president has also hinted at a possible market in South Korea, for Kenya to export tea, coffee and avocadoes.
"Kenya celebrates the special friendship it enjoys with South Korea. We commit to work together in deepening and strengthening our strategic partnerships and enhance bilateral trade — especially in tea, coffee and tobacco," Ruto has tweeted.
"Our goal is to export agricultural products to match the technology we import. This is an opportunity to grow markets for our tea, avocado and coffee,"
President Ruto is on a three day state visit to South Korea.
Related Topics