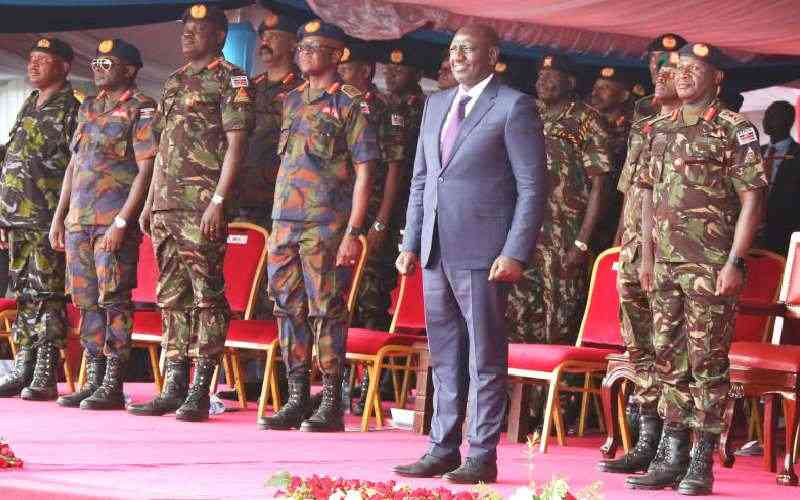 The National Assembly Wednesday approved the deployment of Kenya Defence Forces (KDF) to the East African Community (EAC) Regional Force in the Democratic Republic of Congo.
Parliament's decision comes two days after Defence Cabinet Secretary Aden Duale met with the Departmental Committee on Defence, Intelligence and Foreign Relations officially requesting the approval to dispatch troops to the war-torn eastern region of DRC.
Duale told the committee that the troops might be dispatched to DRC as soon as Sunday, November 13.
The committee chairperson Nelson Koech (Belgut MP) noted that the peacekeeping efforts will cost Sh4.4 billion in the initial 6 months but would rise to Sh7.2 billion if the troops stay in DRC for a year.
"In case the troops stay on, the annual cost implication will be approximately Sh5.5 billion to Sh6 billion," said Mr Koech.
The Belgut MP argued that owing to DRC's membership in EAC, economic interests between the two states and Kenya's position as a "father figure" in the region, the country had no option but to get involved.
"Sometimes it's very easy to say let us remain very peaceful in our country, take care of our interests and let our officers stay in the country. We will save cost, we will save lives and we will be perfectly okay but that is not the case, we must secure the region," argued Koech.
Despite the majority's approval of the move to deploy KDF troops to DRC, a section of MPs decried the move saying that such a costly venture in human life and money is not a priority at a time when millions of Kenyans are facing acute starvation.
"Our country has already made an appeal to several countries to help us cushion Kenyans against the calamities then on the flip side we have money to take our soldiers somewhere in war this country has absolutely no role to play," said Nyando MP Okelo Odoyo.
"If there is no intervention in the areas that are peaceful today, the militia groups that are operating in the Congo might overrun the DRC forces and even endanger those strategic investments we have made," Majority Leader, Kimani Ichung'wa argued.
Temporary Speaker Farah Maalim interjected Mr Odoyo directing him to cease commenting on what he said were "Important strategic military secrets that can never be discussed".
Nyando MP criticised the rationale of sending troops to DRC after Kenya spent 11 years in peacekeeping missions in Somalia despite initial projections showing that the mission would last for only a few years.
"We thought it was an exercise of walking in walking out 15 years later, we are still held in Somalia and we do not know the number of casualties that have been claimed in that country," said Odoyo.
However, Kajiado Central MP Elijah Memusi countered his arguments saying that the military has clearly set out an exit strategy and avoided duplicating what transpired in Somalia.
"The team before the committee gave us a strategy for our exit. We even have a timeline for going to DRC and getting out. We also have a plan B if that plan doesn't work," said Mr Memusi.
At least 100 armed groups operate in eastern DRC, where conflict has raged for decades but intensified in recent months.
In June, Bintou Keita, UN special representative to the country and head of MONUSCO, warned that the rebel group M23 posed a growing threat to civilians and might soon overpower the mission's 12,500 military personnel.
Kenya will be sending a "battle group enhanced" to the region as part of the region force pulling in other battalions from Burundi (two battalions), Rwanda (two battalions), South Sudan (one battalion), Uganda (two battalions) while Tanzania has given the commitment to join the peace efforts at a later date.
The troops are expected to work with the Congolese defence forces to bring law and order in the region, jointly work with the other forces to defeat the armed groups, work with humanitarian agencies to ensure aid reaches the population and participate in the disarmament, demobilisation and community recovery and stabilisation programme.
Related Topics