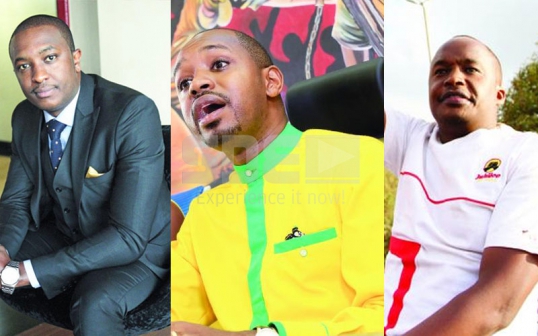 Many young people in Starehe are unemployed and youthful criminal gangs are rampant
Prostitution is on the rise due to harsh living conditions young women are exposed to
It is Saturday and in South B shopping centre, a group of young people is gathered and seemingly engaged in a lively debate. This is no ordinary meeting. The discussion centres around politics - Starehe politics for that matter! It is a discussion about Jaguar, Steve Mbogo and Boniface Mwangi.
In another minute, a car branded with Mr Mwangi's campaign posters arrives. It is Mwangi's people; his campaign team. They are armed with his political manifesto. Mwangi himself is just minutes away and clearly has a date with the young men, probably to make a final plea to voters for a rather heavily contested seat.
Dramatically, it does not take long before Jaguar gets wind of the gathering. As Mwangi and his team departs with an assurance that he is their choice, Jaguar's convoy arrives. The young men assemble again, praising Jaguar and pledging their support, just as they have done with Mwangi. This is getting interesting!
Just two days earlier, Mr Mbogo's team was here selling his manifesto to the young people, a large group that clearly wants to ensure that whoever they pick takes care of their interests come August 8.
Starehe is a constituency where young people are unemployed. Many are part-time matatu touts or engage in washing cars and other low-paying casual jobs.
This is one place where youthful criminal gangs have become rampant and where illegal guns have been recovered after the youths were promised that their lives would be reformed.
Illegal drugs
Trading in illegal drugs and alcohol abuse is a lifestyle in this two-street shopping centre where, unknown to many, prostitution has become a popular night trade thanks to the harsh conditions that young girls have been exposed to.
It might not be clear what the three aspirants are pushing for in their agenda but for sure, the youths are seeking answers as they see a ray of hope in a constituency where the older generation has reigned for years.
For them, the vote is more personal than communal. In fact, it is a now-or-never bargain. Getting a young person for the job seems to be the ticket. However, choosing a leader from among the three front runners is proving to be a giant puzzle.
"I want to vote for Boniface as he has been advocating for civil rights. He has been vocal, challenging corruption systems in the Government. I think he is the soberest among the three," Mwas, a 24-year-old taxi driver, says as his colleague, Kamau Mwaura, disagrees.
"Jaguar amesaidia vijana sana hapa. Amewawekea car wash na sheds za kufanyia kazi (Jaguar has helped youths in this area a lot. He has opened car wash businesses for them and erected sheds for them to work in)," says Mr Kamau.
"Kwanini tusijaribu Mbogo? Hata kama hajafanya mengi, manifesto yake inaonekana poa (Why can't we try Mbogo? He may not have done much here but his manifesto seems to make sense," says Musyoka, another colleague.
The crowd murmurs on, none seeming to agree with the other about who to choose as Starehe MP.
"As much as it seems like this battle is all about youths and what you call showbiz personalities, I think what Starehe youths are asking for is a genuine leader who will take care of their needs.
The level of unemployment is at an all-time high and this has led to vices in this constituency, including crime among young people," says Michael Kiboi, who trades in second-hand shoes inside the highly populated Mukuru slum.
Related Topics