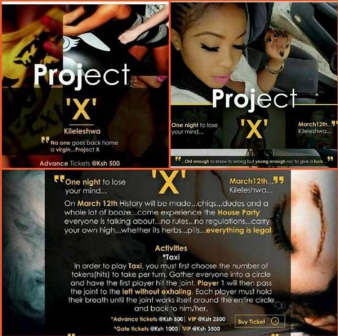 By George Orido
When announcing the development at his Uchumi House offices, the Kenya Film Classification Board CEO Ezekiel Mutua said the cancellation was due to the event's main object was to promote drug abuse, irresponsible sex and other immoral activities among the youth.
According Mr Mutua, local pornography is increasingly becoming popular in Kenya today, with intoxicated youths being filmed without their consent and their images exported and sold in other countries.
"Owing to immense public pressure and collective efforts by the Kenya Film Classification Board, security agencies, political and religious leaders as well as Kenyans of goodwill, we are happy to report that the so-called "Project X" that had been highly publicized to take place on Saturday March 12th, 2016 has been cancelled," he said.
The Board, he said, acknowledges that this matter has rightly caused considerable outrage among parents and the general public.
Mr Mutua was quick to thank the Police, members of the public, religious and political leaders, for working together to stop "this decadent event."
He also announced that his agency has started a national dialogue process to engage the youth and see the best way forward to what we all see as our national values.
"So today we have initiated a hotline and hashtag #Project Y to discuss why society is tending towards such behavior,' he said.
In fact he will lead them from his office to meet the Police Spokesman Charles Owino today and see how best they can move forward as a team.
Mr Mutua is already engaging other stakeholders including the Nyumba Kumi initiative to help with this dialogue.
Part of the discussion will include having a police unit that will prosecute criminals and offenders who continuously abuse children and copyright.
"We propose that KFCB be assigned a specialized police unit to enforce compliance to the law with regard to film and broadcast content," he said during a press conference attended by journalists from Kenyan media houses.
He remined Kenyans that CAP. 62A of the Sexual Offenses Act illegalises pornography.
"In this regard, we are making an appeal to the Police to continue working with the Board to arrest and charge all the culprits involved in these vices in line with the laws of Kenya. " he emphasised.Mr Mutua revealed that Prior to reports about Project X, KFCB had received information that this immoral and criminal indulgence was going on unabated among the youth in such places as Kileleshwa, Kilimani, Lavington and Runda.
"Further, we have reports indicating that teenagers are being allowed access to nightclubs, where they participate in all manner of immoral activities," he said adding that his team has also established that the practice has invaded sporting events such as rugby tournaments too, contributing to the erosion of the country's moral fabric.
He said that credible leads in their possession allude to the fact that Project X is part of a syndicate of unscrupulous people who have turned events of this nature into avenues of shooting pornographic films and extorting their victims through blackmail.
Mr Mutua urged the Department of Immigration Service and the Police to be more vigilant and confirm from our offices if foreigners wishing to shoot movies in Kenya have obtained a filming license from the Board.
Related Topics