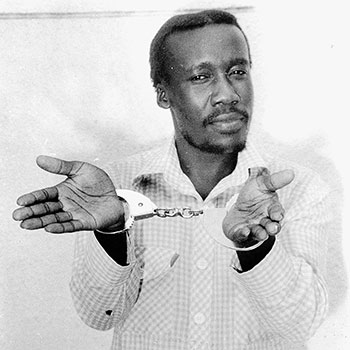 Hezekiah Ochuka Rabala masterminded the 1982 coup attempt
By The Nairobian
The dreaded month of August notorious for disasters, natural and manmade is here. Famous people die, mudslides, road accidents, train derailments, plane crashes, fires, gas leaks, bank heists come calling, and not a few coup attempts.
As you all know one abortive coup attempt by junior officers in the Kenya Air Force changed Kenya, irrevocably, from August 1, 1982.
For 24 years, Kenya became a near police state. Today, you can call President Uhuru Kenyatta Uhunye or Kamwana (young man) as residents of Gatundu South prefer to call him, and no one gives a hoot.
After the coup, you could only whisper the President's name before wheeling your politically oppressed neck to check out any hovering undercover cops. Getting a passport meant brandishing a Kanu card, preferably one of 'Life Membership'. Every estate had Kanu Youth Wingers. They wore red shirts and were terror personified.
There was Jeshi La Mzee too. The DC and DO were more powerful than the local MP then. You could be arrested and detained incommunicado for having; you can't believe this, a map of China! Whether the map taught the holder the 'Art of War' is neither here nor in Guanghzou.
The single finger became a salute of loyalty, reggae music was banned for a decade after soldiers drove in streets of Nairobi blaring reggae songs of Jimmy Cliff and Bob Marley.
That was until Jeff Mwangemi revived it, roho juu, in the early '90s with Reggae Time, a show that aired on Tuesdays from 8am.
All these and many other worse happenings became a daily, rude reality because of one man: Hezekiah Ochuka Rabala, the Air Force Senior Private who masterminded the 1982 coup attempt. The 29-year-old was a Grade 1 – the second lowest rank in the military.
For starters, no Air Force anywhere in the world has ever overthrown a government single handedly. Kenya could have been the first. Indeed, only one Air Force officer in Africa managed the fete – Ghana's Jerry Rawlings, President from 1993 to 2001.
Ochuka's poorly planned equivalent was disastrous: More than 100 soldiers and 200 civilians died. Economic dent kissed the Sh500 million ceiling in the 12 hours of madness.
The "stupid fellows who had no manners" as Charles Njonjo called the key plotters included Senior Private Protas Oteyo Okumu, Corporals Charles Owira, Walter Odira Ojode and Bramwel Injeni Njereman. The 'angry ambitions' of Hezekiah Ochuka- Kenya's 'President' for six hours saw him hanged at Ka-Stick Maximum Prison in 1987.
Related Topics