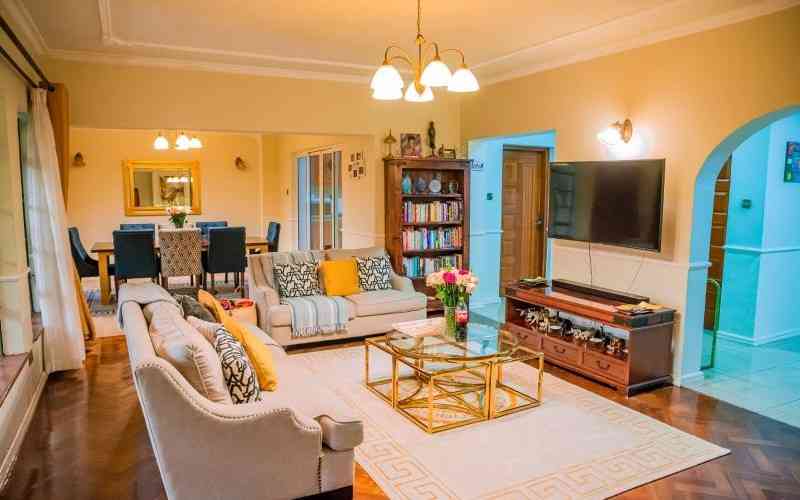 Caroline Ndolo Banks is a medical professional with over 16 years of experience and was once featured on the Top 40 Under 40.
Her determination and tenacious spirit pushed her to desire more. With time she progressed from bedside nurse to general manager at IQVIA, a multi-billion-shilling medical company.
Her five-bedroom ensuite townhouse in the leafy suburbs of Nairobi is nothing short of spectacular.
Her latest red Range Rover, parked right at the entrance, prepares you for what to expect when you enter her house.
The house was neat as a pin. The textures, colours and patterns were in harmony. Her entryway was warm, classy and stylish.
An accent custom-made mirror with a gold frame and console table stood out in their elegance and uniqueness. The DIY mosaic picture frame in bright colours that she did with her daughter stands out. A DIY teacher from South Africa helped them create it.
The cream sink-in sofas and black and white pattern wing chairs' layout arrangement are pleasing to the eyes.
She has adorned the seats with a mix of mustard yellow, black and white print throw pillows were the thematic colours of the house.
Her arched entrance to the living room is a great feature.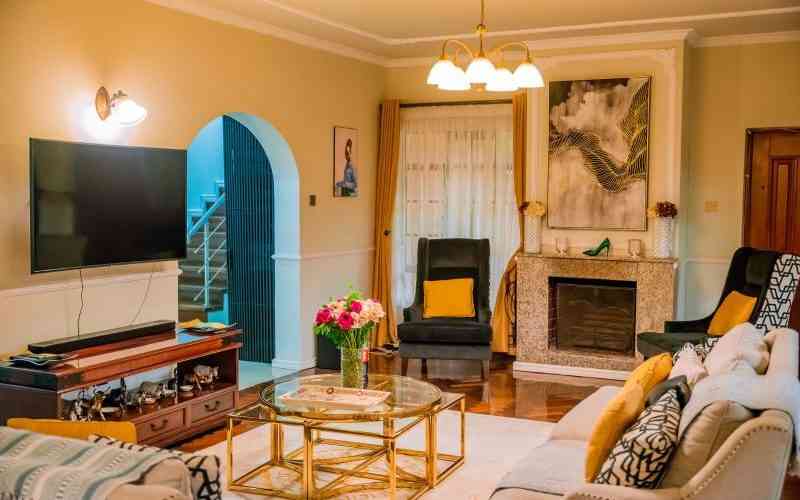 Her style is contemporary and modern – a décor expert came in handy during the Covid season, giving her time to work on her beautiful home.
She has gold touches on almost everything in her home, including animal carvings beside the TV stand.
"I like gold. It is my favourite and gives me the classy and glam vibe I want in my space," she says.
An avid reader, it's hard to ignore her bookshelf. "Readers are leaders. I read at least two or three chapters daily," she said.
The huge windows that cover an entire wall make her living space airy and bright. The well-manicured garden behind her house is refreshing.
Cream flowy curtains and stunning light fixtures with warm bulbs give her space an elegant look and feel.
The glass table with fitting glass stools has gold frame legs, making the space sophisticated.
Her big black and gold art piece beside the fireplace depicting waves is a show stopper. It creates harmony with the furniture, accessories and house furnishings.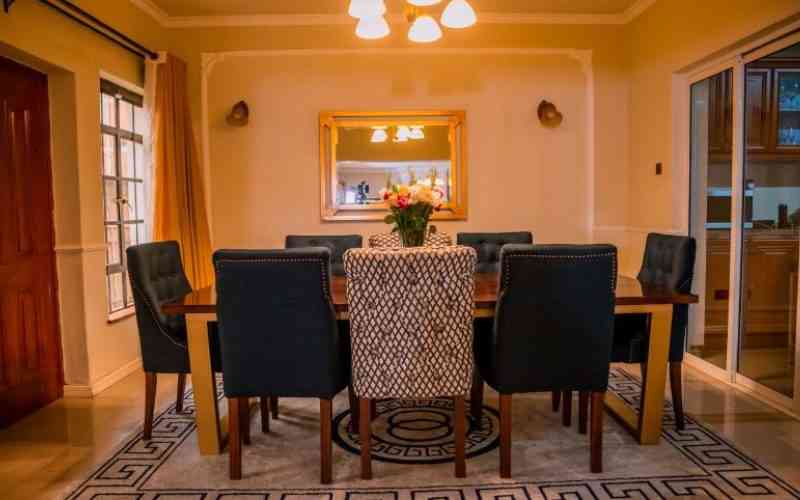 Her home has three floors. The huge window brings in light is a fantastic feature of the townhouse.
Her sons' TV room has ochre painted deep red and blue. The colours create a perfect canvas for a theatre room. Having separated from her husband three years ago, she is raising her two children on her own.
Her flowery sofa seat is cosy and complements the room. "I love the space I'm in, and the sky is the limit for me," she says.
"Welcome to my slice of heaven. This room is my favourite spot in this entire house. This is where I restore my energies," she said.
Her room is not only huge but luxurious, soothing and serene. Neutral white tones on the walls and hues, subtle greyish blue and white decoration on the wall added a calming effect and touch to her space and the white walls.
The white headboard and a matching seat with stylish detail were custom-made.
Her white bedding with silver sequin throw pillows is luscious.
Her ensuite bedroom felt like a scene from a movie set. Her walk-in closet is stylish, with sliding glass doors. One can only admire her shoe collection and wardrobe selection. Her taste in fashion is incredible.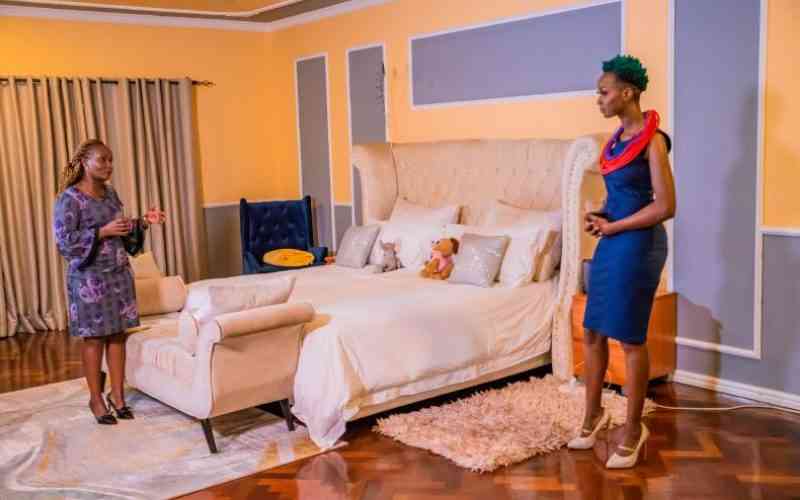 Her luxurious bathroom with a huge Jacuzzi is inviting and elegant. "I don't leave my bedroom on Sundays. I stay here and enjoy my room. It's very relaxing. The architect was generous with my bedroom space," she explains.
The television in the bedroom allows her to watch and fall asleep in bed.
The eclectic look and feel of her space is simply beautiful. She paid extra attention to every item in her house. Caroline has poured her love, mind, body and soul into her home.
"I am writing a book. I recently resigned from a position that I held for nine years as a general manager for IQVIA. I will launch the book in June. I want to inspire young people to go through the process of growth in their careers. There is no shortcut. There is nothing like microwave success. It will be available on Amazon," she said about her next path in life.
Watch this story on KTN Home this Sunday and watch Art of Living every Sunday at 6pm
Related Topics