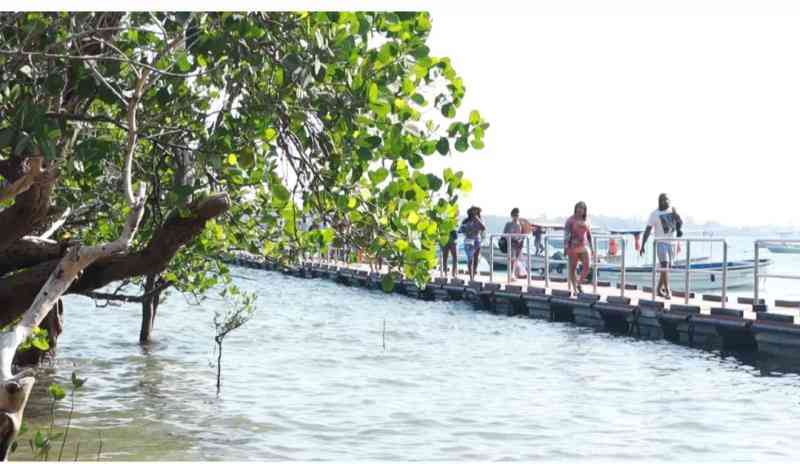 There is something about sailing or powering through the ocean sensation that is so thrilling, pushing a longing to get a chance to take a cruise ship powering through oceans. Cruise dream aside, I had the opportunity to explore Diani, Kisite Mpunguti – for a fourth time. I realised that one can never get enough of the beauty and the keepsakes of this Dolphin-sightseeing destination. No other place in Kenya offers easy dolphin sighting as Kisite Mpunguti – more than 70 resident dolphins, all yours for the hide-and-seek ecstatic venture!
We set off from Nairobi on a Friday afternoon, choosing to travel by road, since the journey by train, despite reducing the travelling time to the Indian Ocean port city of Mombasa by close the three hours, and offering a pocket-friendly ticket, has its highs and lows. It does not come with stopovers, breaks, or varied sightseeing. A road trip does.
From Nairobi to Diani is approximately 535 kilometres, and it takes approximately seven hours if the drive is leisurely. If you do not want to travel by road, you can travel by train (Madaraka Express). If you travel by air or train you can fly straight to Ukunda from Moi International Airport to Diani, and then by road to Diani and onward to Kisite Mpunguti National Park.
The park is situated on the Southern Coast of Kenya, near Shimoni, South of Wasini Island, Kwale District, near the Tanzania border. From Mombasa to Diani is 85km, a two-hour leisure drive. You can also fly from Mombasa to Ukunda. From Mombasa, the easiest way to travel to Diani is via the Likoni ferry.
Our road trip was a relaxed one and quite adventurous and by the time we got to the Swahili Coastal town of Mombasa, the only thing on my mind was to indulge in the Swahili delicacies, samaki wa kupaka and pilau served in extraordinary Swahili cutlery. I got a Tuk-tuk for only Sh800 to take me on a breathtaking adventure exploring the revamped tourist Mombasa by night – a remarkable sight and a memorable experience.
The following day, we were torn between travelling to Diani by road or using the Likoni ferry, but after a heated debate, we opted for the ferry ride, taking into consideration that a ferry was cheaper and more adventurous.
It took us slightly over one hour to get to Diani. We had two days to savour Diani. The moment you set your feet on Diani Beach, your heart starts pulsating in awe at the beauty, and tranquillity of this eastern coastline on the Indian Ocean. Once you get a glimpse of this heavenly destination, you will get to understand why is globally touted as one of the very best of Kenya's beaches.
Indeed, this pristine beach located in Kwale County was in 2017 voted the seventh best beach in Africa by the American Travel Website, TripAdvisor, which ranked it as the seventh overall best beach in the list of top best beaches in Africa.
The South Coast-based destination is a favourite family spot because of its transparent turquoise waters, numerous outdoor sporting activities as well as sandy beaches, the highlight being its uniquely white powdery sand crystalline waters, as well as being one of the most laid-back of all Kenyan beaches. This, according to records, accounts for the thousands of domestic and international visitors that frequent this destination.
It does not matter what your travel interest is, you will find something to meet your adventurous vibe. Whether you are seeking relaxation, a honeymoon destination, backpacking, family recreation, or business, you will find it all here, within this Digo community, which is the second largest of the nine Mijikenda tribes. If you love extreme sports, you will find thrilling sports such as kite surfing, snorkelling, swimming with the dolphins, deep sea diving and kayaking. You cannot have enough of Diani, it is activity-packed. It does not matter how many times you have visited Diani and Kisite Mpunguti, (I have been here four times), you will still find yourself not having enough of these two destinations.
On this particular visit, I settled for a visit to the Kisite Mpunguti National Park for a possible enchanting Dolphin sighting of the shy mammals (swimming with the dolphins was too scary for me). Watching others do so was a remarkable sight, and one activity you can never get enough of.
Maybe the more I visit, and watch the activity, the more confidence I will build to one day be courageous enough to take the risk of jumping into the deep sea and have an experience of a lifetime swimming with the friendly unique giants of the sea.
On this visit, our guide, give me tips on how to overcome this fear and explained that it was doable through training. For safety, he told me I could get hooked to a safety tool to ensure that I do not drown. After watching the demo, my nerves relaxed and though I did not jump into the deep sea, I surprised myself at the next activity – snorkelling at the finest sites in East Africa) a story for another day.
Kisite Park covers 11 square kilometres while Mpunguti Reserve covers 28 square kilometres, with both sharing unspoiled, beautiful, and sun-kissed beaches. Kisite Marine Park is home to playful dolphins. The park was established to protect the scenic islands and special habitats of a wide range of endemic marine animals and breeding migratory birds.
The Marine Park features 252 species of reef fish among them, sea fish, sea anemones, jellyfish, octopuses, oysters, 56 treasure troves of hard colourful corals sea grass, and numerous sponges; a large population of sea turtles dolphins, sharks, and many varieties of underwater creatures and plants.
Two days are not enough to explore the enchanting activities of Diani and Kisite Mpuguti. However, if you are travelling on a limited budget, you can choose from several activities, which include exploring the Kenyan Barrier Reef, referred to as the rainforests of the sea.
It is one of the most fascinating ecosystems sheltering nearly one million types of marine life. The underwater kingdom is a realm of living coral gardens located in the world-famous Marine Park promises an underworld of unbelievable colour and vibrancy.
Other spots are exploring the turtle territory, dolphin and whale spotting, Kisite Island, a realm of seabirds, divers, and snorkelling paradise, and the Shimoni slave caves among others.
Related Topics