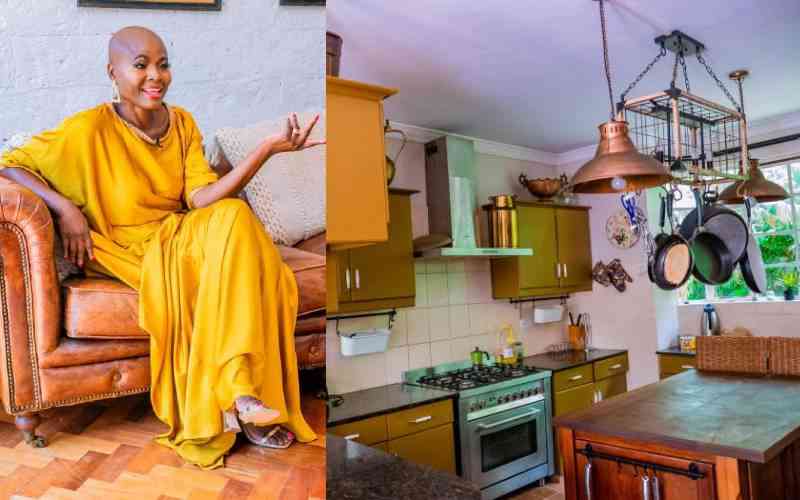 Dr Catherine Masitsa is a veterinary surgeon, businesswoman, owner and founder of Samantha Bridal, and lately, has ventured into winemaking. Masitsa, whose home is tucked away in the suburbs of Nairobi, made her debut as a cast member of The Real Housewives of Nairobi last week.
When we arrived at her home, she was taking professional pictures for the show. Dressed in stylish outfits and sipping her recently launched wine, she was striking poses like a professional model. Her home felt like a movie set with lights, cameras and a buzz of activities.
Once you enter, you want to relax in the luxurious, rustic, opulent space. A country bumpkin at heart, she intentionally created a rustic space that felt like a country home, but warm and classy. Her home is filled with great memories of the people who live in it. The walls tell stories of those who have partied, visited and lived there.
She has lived here for 10 years, but she grew up in the village. She has always wanted to live in a fancier home with treasures she had splurged on over the years. She decorated the space with her husband, and each piece of furniture is a treasure, a vintage or an antique piece.
Her living room has a red brick floor, a Persian carpet, white walls and, and classic painting, but the room has no curtains. Her reception room is luxurious with a distinctive character. A vintage sofa awaits you to lounge and chill. The guitar displayed on the wall and the grandfather clock standing majestically in the corner of the room are beauties to behold.
Music runs in the family, and the two grand pianos strategically displayed in the living room attest to this. One of the pianos is a wooden antique, and the other is a classical black grand piano.
"My husband and my 10-year-old daughter are musical," she said.
A vintage chandelier hangs in the middle of the living room. The house overlooks a beautiful garden. A visually appealing classic mirror displayed on top of the fireplace is dazzling. Chesterfield brown leather sofas, a chaise, a bespoke table, rustic accessories, and an antique cupboard that stores most of her treasured cutlery depict a perfect stylish country home.
Her reception leads to an elegant kitchen with grey with white cornice ceiling. The island kitchen with the pot rack is charming. The cabinets are painted olive green for an authentic feel. She stores and displays sufurias and pans on the topmost shelves, a tradition, according to her culture.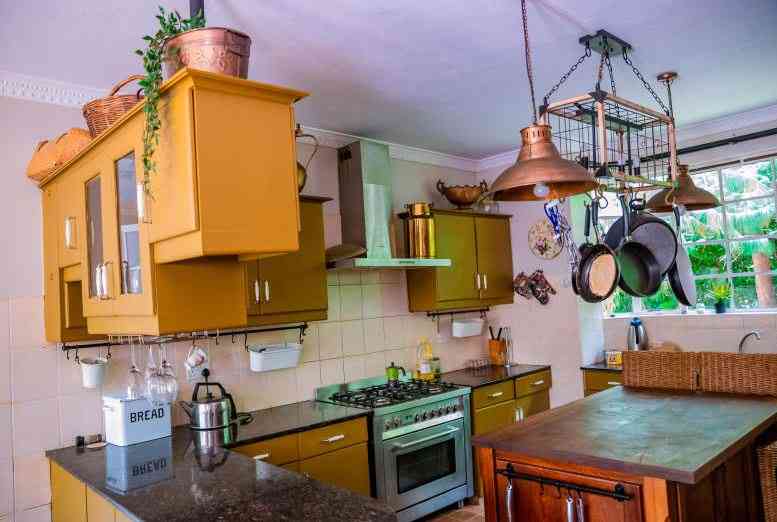 The dining table and the bench chairs are rustic. The bucket of gorgeous flowers gives the space a happy vibe. A glittering chandelier on the staircase echoes class and luxury.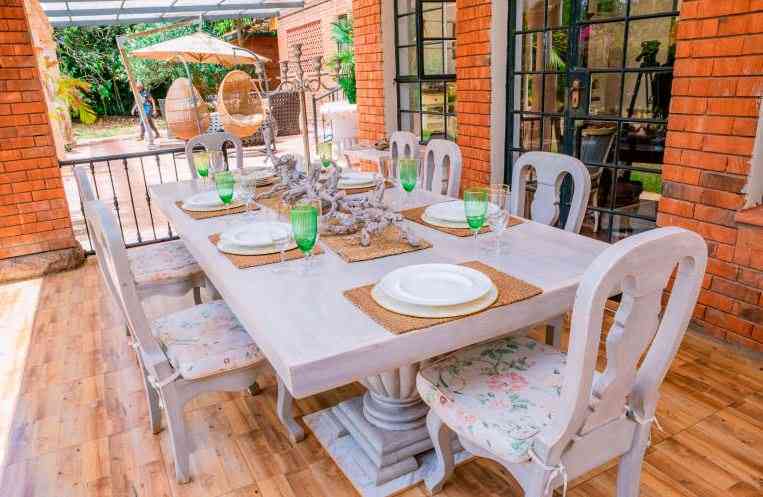 Her bedroom is neat as a pin, with unexpected grandeur. Bright, expansive windows open up to a vast balcony, offering the perfect view of Ngong Hills.
The windows painted in white give you an exceptional view of her garden and the surrounding exotic trees. Interestingly, the windows do not have curtains.
"I do not need curtains. Who is climbing trees to peep at my bedroom? Have you ever questioned why we do these things? Must we have curtains in our houses?" she posed.
Her bedroom with its greyish rustic cabinets that match her massive classic rustic bed and luxurious white bedding.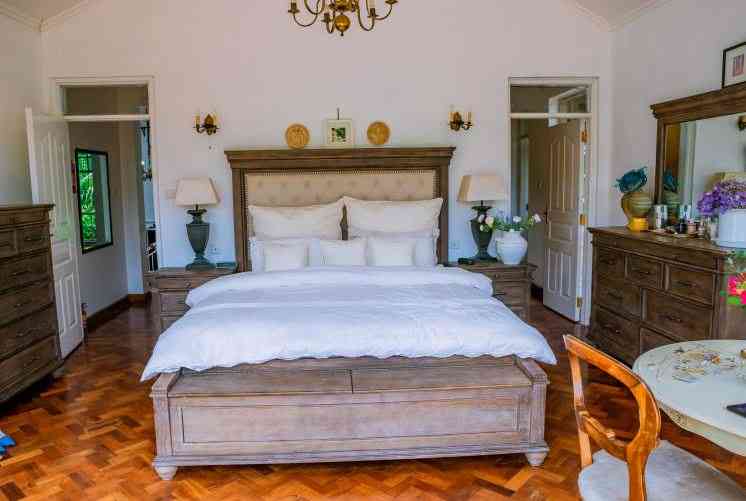 The room has two seats with a small table, atop which sits a big glass flower vase filled with tropical flowers that smell exotic.
Home is the best expression of who we are; it is an induced art of living pleasure. [Nailantei Kenga, @missnailantei]
- Watch this episode on Sunday next week at 6.30pm and watch today's Art of Living episode on KTNHOME or KTN YouTube channel.
Related Topics