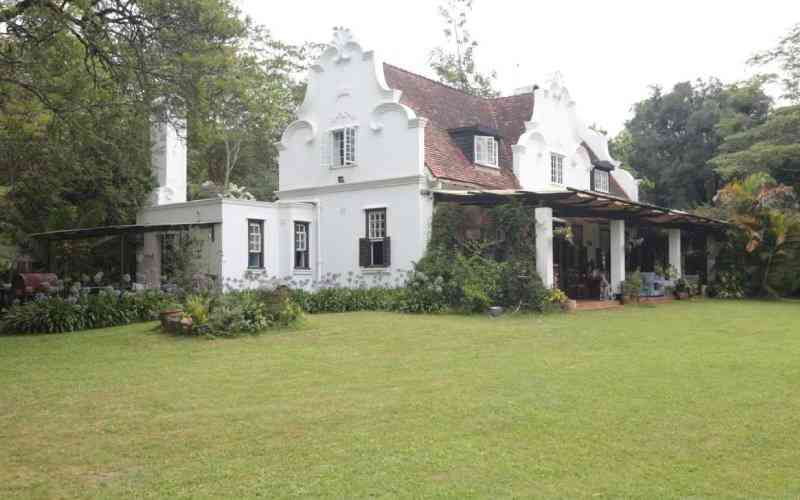 Shagalabagala house is one the most striking historic colonial structures of all time. It's full of character and personality. What fascinated me is that the name does an injustice to what the actual place looks like.
Sitting on a four-acre piece of land in Karen, the serenity of the property explains why it is a hotcake for those seeking to spend some time away from the chaos of the CBD.
Built as a stable in 1926, the house was later revamped in 1955 when the owners decided to transform it into a home.
The current owners, Alex Walker and his wife Candice Mortimer, acquired the house in 2020 from a friend who resided there for 16 years.
"In 1926, the ground level was built as stables but in 1955 the owners decided to turn it into a home and built a second level.
"We've got three bedrooms and two and a half baths. It is a cozy, little, medium-sized home. We have one master bedroom ensuite and the other two share a bathroom," says Candice.
Cost per night
In case you want to enjoy the property for a night, Candice says you will part with $1200 (Sh150,000) for a hosted Airbnb experience that includes food and drinks.
"It is a hosted Airbnb experience and we can hold up to six overnight and there is full-time staff. So the Sh150,000 caters for food and drinks," she said.
Additionally, you can request a driver if you want to visit some of the nearby facilities for leisure.
Alex Walker, the owner, is warm-hearted, welcoming, down-to-earth, and hospitable. He is in the hospitality industry and owns two camps in Maasai Mara and Tanzania.
Born and bred in Kenya, he is of Scottish descent but speaks fluent Kiswahili. With his partner Candice, they sometimes host friends, family or guests in transit.
This home is not open to the public, but one can make a reservation depending on availability.
It captures the ultimate mishmash of history, culture and relaxation. The outdoor and indoor atmosphere sounds, textures, colours, noises and smells make this colonial home special.
When you finally enter the compound, it's hard to believe that you are still in Nairobi because of its incomparable views of the lovely garden, trees, and flowers, and sometimes, one can spot monkeys swinging from the trees.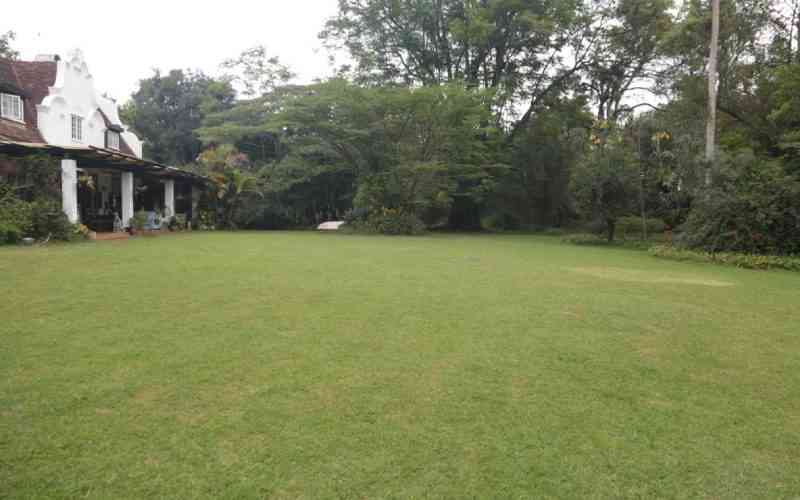 The terrace ambience with a panoramic view is refreshing. The furniture arrangement is banquet-style with re-upholstered local and vintage sofas. An old wooden dining table from the 1980s was Alex's family. It looks quant and fits the space perfectly.
The bar at the terrace calls one to quickly quench their thirst with mocktails, cocktails and any other refreshments offered in the home.
Their chef, Gideon, specializes in pizza-making, among other delicacies. Pizza from the traditional oven is divine.
Carvings of cats gifted to Alex, displayed on the terrace, complete the eclectic feel of the owner's taste.
Carved trunks from Lamu are a stunning aesthetic in the space. If you love art, this is the place for you. The extraordinary art pieces and treasures are intriguing. Humongous straw hats from Lamu add texture and character to the terrace.
Once in a while, Alex and Candice enjoy the bush croquet game. The colourful set on the terrace calls for attention to be picked up; their guests enjoy the game, too.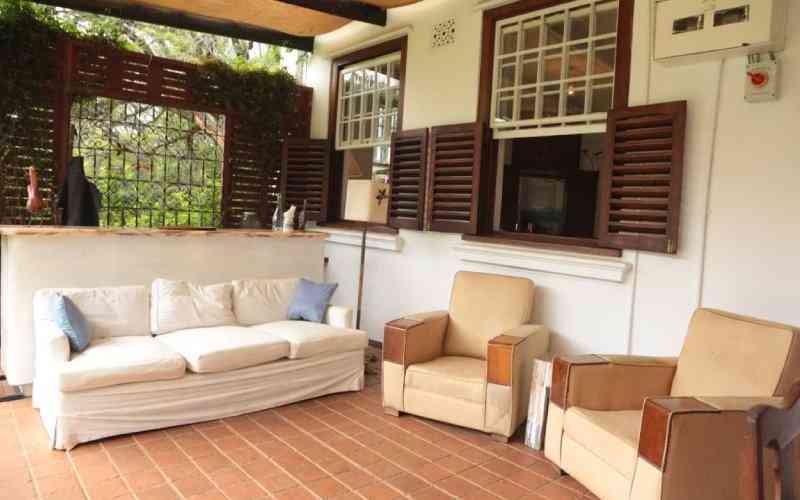 It's easy to tell that this couple has hugely invested in this home, and it's worth it. A locally made table covered with cow skin is an authentic showstopper. A vintage 100-year-old trunk passed down from generation to generation is pretty charming.
When we finally enter the home, it feels like I am in a movie set. The living room's wooden floor, a laid-back sofa upholstered in cream cover, a fireplace, a handcrafted chandelier, nooks, crannies, art pieces, and souvenirs give the space a cinematic feel. Unique, gorgeous black and white pencil sketches and huge art pieces in the house are captivating and set a fantastic mood. A two-dimensional white and black masterpiece with wild cats and other wild animals tells a story, and it is sensational.
A big vintage recorder with vinyl records sounded like heaven when Alex played it for me. I could not believe how crisp every tone of the song Malaika sounded. I wanted him to play it on repeat. I wanted to freeze the moment, pure bliss.
The dining area has vintage brown velvet sofas with antique dining table chairs inherited from the family. On the wall is a rustic art piece from Lamu. Traditional handcrafted chandelier where, once in a while, they place candles to create mood and ambience in the dining area is quaint.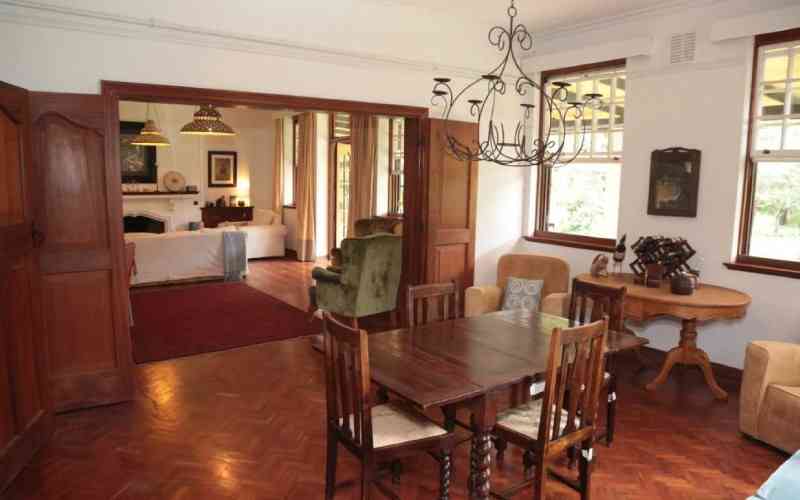 The master bedroom is serene. The wrought iron headboard with a charming design caught my eye. The headboard is high enough to support the pillars of the bed for a nice traditional white mosquito net.
"When I was in Marakesh, Morocco, I saw this beautiful pattern on a window. I took a picture, and a guy from Gikomba replicated it," revealed Alex.
The sash windows that open to the breathtaking view of the garden make one want to linger there for days.
The nooks are spectacular, with comfortable cushions. One can spend time reading while enjoying the incredible views of the garden from the windows.
The wooden spiral staircase made of cedar leads to the rooms upstairs. It looks fantastic with little nook pockets with plants on the wall. This feature is creative.
There is everything to love about this colonial home - a calm haven full of character with owners who are fantastic hosts.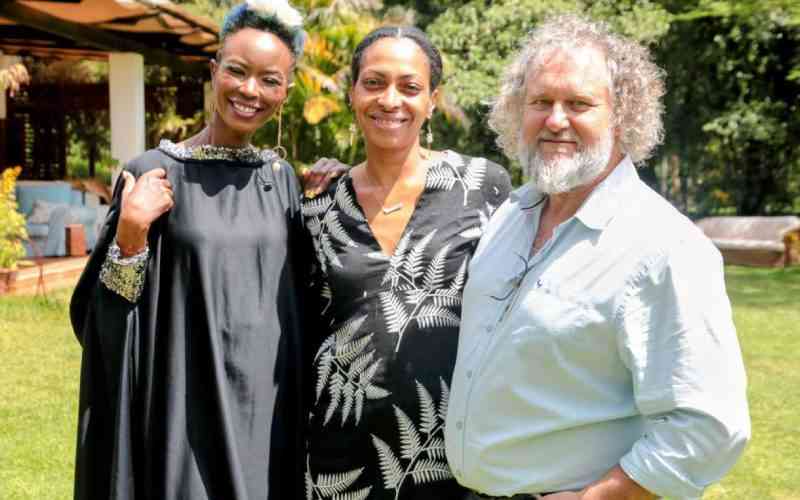 Related Topics