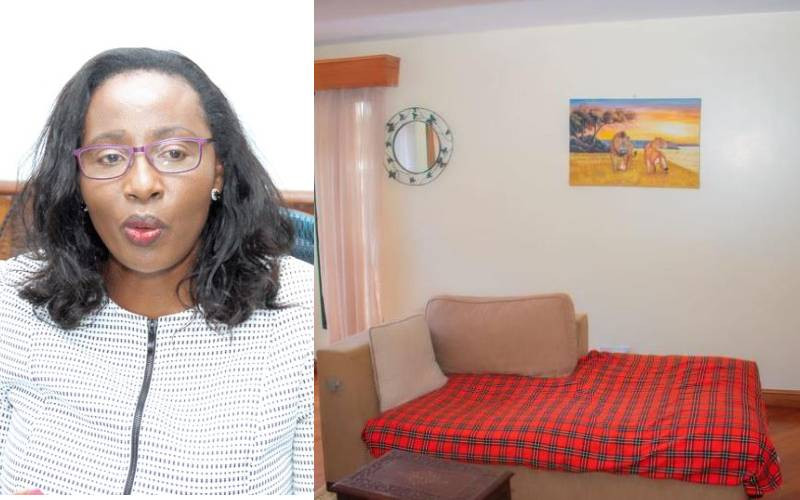 Beatrice Elachi, Member of Parliament Dagoretti North, and former Speaker of the Nairobi County Assembly, finally freed her calendar and gave us a date! The crew and I were on time to join her at Nyayo Stadium, where she starts her day. Elachi is a member of Parliament's basketball team, and they play every morning at 6am. Gracious, kind-hearted, generous and warm is the vibe I picked from her when I met her after the basketball session. We went to her home in the suburbs, where I found myself in a hush-hush secret hideaway, a place she escapes to and calls home.
Her elegant home is refreshing, calming and peaceful. I soaked in the warm earth-tone colours of her living room; the different textures, wood ceiling and wooden floor were domineering. The wooden staircase, door, and balcony are undeniably captivating and warm, reflecting her passion for wood and style.
At the entryway, the sun shone through the pitch-transparent roof. She appreciates wood and Earth tone colours. A few art pieces adorn her arc wall, which is also an entry to her sunken living room. One of the iconic pieces is from Langata Women's Prison, who crotchet art pieces. The beautifully framed art pieces are eclectic and unique. Her entire home is furnished with these art pieces, adding character to her neutral palette walls, and the rustic light fixtures sparkle life and style. Mahogany handcrafted dining chairs and table blend perfectly with the entire home's theme. A Jesus portrait stands out. Elachi tells me she is spiritual, that God has favoured her, and that her Christian roots were formed way back in childhood. "If my mum walks into my home and finds it missing, she will wonder what is going on."
Her gorgeous velvet deep brown plush sofa set is embellished with deep orange cushions. A flowery pattern classic brown Persian carpet, a traditional fireplace and an antique side cabinet, which she treasures and sourced from Egypt, are one-of-a-kind and unmatchable. The meticulous display of her family portraits is evident that family comes first.
Her mahogany handcrafted dining chairs and table blend perfectly with the theme of the entire home. She shared that when she was younger, she never envisioned herself as a politician, but as a leader – the likes of Kiraitu Murungi, John Michuki, and Wanjiku Kabira. They played a significant role in inspiring her to be a politician. If the accolades and honorary degree displayed in her home are anything to go by, she has proved to be a trailblazer.
"I am working on a book called Chronicles of City Hall, which will enlighten the public on how City Hall operates, and it will be beneficial to anyone interested in running for office at City Hall," said Elachi.
Her second living room is intimate and has a world-class appeal, which is also her secret place of prayer that feeds her soul. The soft beige sofa set is flattering and attractive. The brown flowery Persian carpet gives a nod to the furniture in the space. A huge music system utilised when she is unwinding with her daughters by dancing in this room also occupies the space. Her outdoor space is spectacular, with dreamy views and pretty calming, wicker furniture in blue and white. Her screening room is cosy with earth-tone sofas, an enormous screen and Maasai throw blankets. This is where the family meets for movie nights.
Her spacious master ensuite bedroom is bright, with a stunning handcrafted mahogany bed, a treadmill, and a walk-in closet. The huge windows give her room a view of the ever-changing perfect weather view. Elachi's home depicts her love for nature, a relaxed atmosphere and her taste for timeless aesthetics and decadents. [Nailantei Kenga]
- Watch Art of Living every day Sunday 6:00 to 7:00 pm and this incredible YouTube on KTN Home Nailantei Kenga. Twitter @MissNailantei
Related Topics