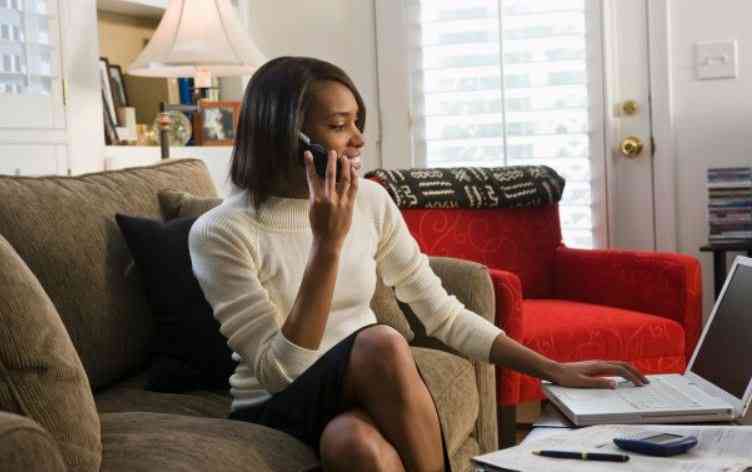 "…Ensure the kids finish their homework on time and their usual bedtime at 8.00pm after supper, okay? Call me if there is anything you guys need. I will send you money for supper via M-Pesa. Bye."
That was a conversation between my friend Maggie and her domestic manager, or house-help as we commonly refer to them. I had walked in on Maggie while on phone, as she sips a cup of coffee during a tea-break at a consultative workshop for different organizations in one of the hotels in Nairobi. We had sat on the same table earlier at the meeting which means we had no time to catch up.
"My house manager is God-sent, I don't know what I would do without her bearing in mind I only get to see and have time with my two children only on Sundays, sometimes," Maggie tells me.
Being a single mother of two school-going children, a 10-year-old boy and a 5-year-old girl, and a high-fly career makes her day to day schedule very tight.
"My job demands that I leave the house at 5.00am to beat the traffic snarl-ups of Nairobi and arrive at my workplace at 7.30am. I am currently attending evening classes for my MA between 6.00pm to 8.30pm at University of Nairobi. By the time I get home at earliest 10.00pm, my children are already asleep. I only sign their school's diaries as a formality that they completed their homework accordingly. Oh, and I also have early morning classes on Saturday, go for a chama (welfare group) meeting with the girls at a club in town before going home. " Maggie says.
As I nod and listen keenly to her daily schedule, I ponder and ask her if she misses that bonding time with the children.
She chuckles. "They understand that mum is very busy but they are happy that I can provide for them all they need. We talk on Skype on those days while I'm away. Did I tell you I will be attending a conference in New York for two weeks?"
The supervisor calls us back to the workshop, cutting short our conversation. Wow! This is the diary of a career-student-parent or is it a working-student-parent? Many similar cases as Maggie's are indeed chronicles of single parents with careers who are at the same time working students.
Well, the joy of having children is a priceless feeling, bearing in mind that we were once children under the 24-hour- seven- days-a-week care of our parents or guardians. Years fly by so fast and before we realize it, we are teenagers, then adults with good careers. We eventually become married men and women, or single parents. This is the phase of life.
In this fast-growing economy, competition is equally becoming high with equally high demand for service delivery prompting many to advance their education for better careers. However much we embrace these high-paying jobs and entrepreneurship, I tend to think that spending quality and quantity time with the children is vital for their emotional, physical and spiritual growth.
Edie, a colleague, narrated a scenario where he and his wife had attended a sports day at their daughter's school. One of the best performing pupils was called out to collect his athletics-award at the stage in a room filled with both pupils and their parents respectively. Eddie told us that the class- five pupil, looked out the whole room to check whether his parents had arrived at the event but could not find them. As he walked up the high platform to receive his award, he could not help but cry. This, according to Edie, really touched him to imagine how the young boy felt 'abandoned' by his parents or guardians by not showing up at such an important event.
However, busy we are as parents, whether out of town or country, sparing moments to spend with our own is memorable. And in those unavoidable cases, a parent or guardian should appoint a proxy, a close relative to be there on their behalf. House managers will never play the role of a parent, no matter how close the nanny may be to the children. This has resulted in the unfortunate events that we hear of nannies molesting, kidnapping and even killing children.
Susan Kibera, a Counselling Psychologist, says that children with whether biological parents or guardians are entitled to emotional attachment. Playing a part in a child's physical and emotional status is vital in his or her cognitive development.
"In this day and age, the percentage of women working has relatively increased compared to the recent past where most women quit their well-paying jobs to get married and automatically became full-time mothers while their husbands left to farm or hunt as a hard work to bring food on the table," Kibera says, adding that the modern-day busy schedules have brought a decrease in parental involvement in childcare.
Today's families vary in many ways. A single parent family may have a well-to-do woman or a single father who is either busy with work schedules and barely gets time for his or her children. Another single mum across the street knows that her only child comes first. She rushes home after work to help her daughter or son with homework, goes with the child to church, mosque or treats him or her for a family day out of town. A single father ensures that all weekends he spends time with his kid(s) to play basketball, badminton or chess. He pays bills on time and would go an extra mile to ensure his kids attend the best schools and universities.
On the other hand, a family with both present parents may have a rather irresponsible and non-committed husband who may earn relatively well but spends most of his time at work and free time with his boys at a local pub. He does not spend a dime with his family of about five children, all young or near the adult age – 18. In such a family, the wife may be really struggling to pay the bills and hoping her husband will soon change as he always sleeps at home, albeit drunk, very drunk and likes to quarrel or pick a fight in front of the kids. Also a woman may be the absentee parent who spends her time in welfare groups or in clubs partying but is lucky to have a loving and committed husband who cooks for the kids and puts them to bed as she comes to the house in the wee hours of the morning very sleepy smelling of alcohol.
However, there may be a happy family somewhere, with both parents playing their respective roles in bringing up their children in either a Christian or Islam way. Their religious upbringing has instilled morals in these children who end up being leaders in the society having being bright through average schools until the University level and acquire good sustainable jobs.
Social problems
Kibera says that children brought up with no physical and emotional attachment with their parents or guardians develop social problems such as withdrawal, loss of confidence, anxiety and depression, loneliness, learning disorders.
"Some children seek solace by joining a criminal gang in the neighborhood, others may try to commit suicide as they feel unloved. Discipline problems are also common where a child becomes hard-headed with unstable behavior, deceitfulness, selfishness and defiance," she adds.
Educational problems
The affected children with no present parents may develop decreased learning ability and academic achievements. He or she may begin to bully their fellow pupils as a way of releasing his or her accumulated anger, to the only people he or she spends most of the day with while at school.
Social-economic factors
On poverty, Kibera says, may cause lack of harmony in a family where access to basic needs is a major problem. A child may feel disadvantaged in terms of failing to attend the best schools, going to school hungry or being in the same tattered clothes from Monday to Friday. The feeling of neglect may lead to the child engaging in criminal activities such as theft, drug abuse or running away from school or home to look for odd jobs at an early age. The parents on the other hand may not have the capability to bring them back to school or home and may also encourage them to work and fend for themselves.
Children look to their parents or guardians as their role models. A child may have a rough day at school where a certain boy in his or her class pushed them and hurt their forehead. He or she will seek comfort for the pain or scar from his parents. Another child is unable to tackle a tough question in his or her homework book of which he believes only his dad or mum should teach him or her on how it is done. His mum or dad is never home. His nanny is not sure of the correct answer. The homework has to be submitted the following day to school thus cannot wait for Sunday when he will get to spend more time with his dad or mum. It will be too late
. A girl may also want to discuss sexual education issues she learnt in school with her mother, her confidant. Her mother comes home late, exhausted, takes a shower and goes to bed ahead of the busy schedule the following day. She has no time to discuss this rather huge topic at that particular moment, maybe over the weekend. The list goes on.
"No matter how busy we are, our children are our priority. The more attention we offer them, the less incidences of malpractice in schools and the society at large. However digital we continue to be, let us embrace the manual way of bringing our children morally and uprightly, with a lot of manual love and affection. A child's monitored psychology is very important." Kibera concludes.
Related Topics