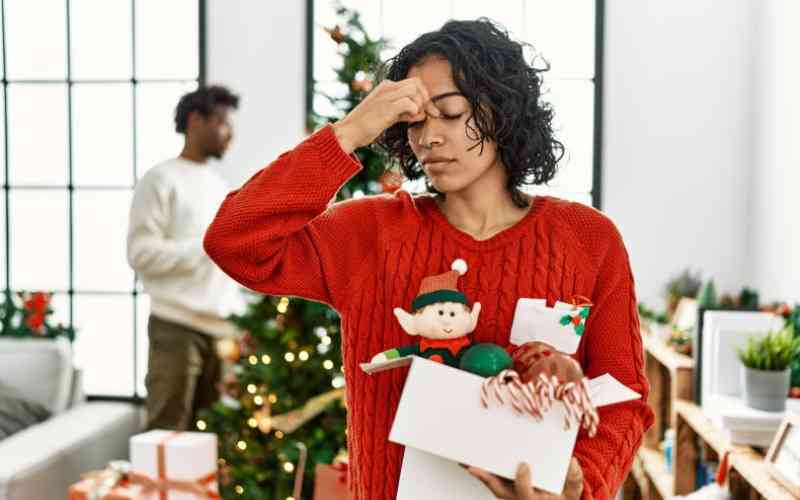 Evergreen trees, yule logs, a plump man in a fur-lined red suit and a flying reindeer. All these are symbols of a world deep in making merry in the name of Christmas. Few in Kenya might know about the real meaning of these symbols or whether they have anything to do with Jesus.
First, some quick facts about Christmas from the Encyclopedia Britannica: "The precise origin of assigning December 25 as the birth date of Jesus is unclear. December 25 was first identified as the date of Jesus' birth by Sextus Julius Africanus in 221 and later became the universally accepted date.
"This date is that December 25 was the Christianising of the dies solis invicti nati (day of the birth of the unconquered sun), a popular holiday in the Roman Empire that celebrated the winter solstice as a symbol of the resurgence of the sun."
Added to this is the fact that the Bible gives neither clues nor precedence for such a celebration.
Be that as it may, millions of Kenyans and others around the world will pull all stops and spend money on what is perhaps the most commercialised holiday that is even being observed in non-Christian lands.
As you read this, many will have travelled upcountry in that annual exodus that makes the city look like a ghost town. Goats, chickens and other domesticated, eatable animals will bleed to death to satisfy the hunger pangs of whole villages.
Village folks will be staring in awe as city dwellers, some of who will be visiting these places for the first time this year, playing out their city antics to a population that could care less. It will be a time of merry, they feel. But will it?
Not so for another lot who will not see anything merry about Christmas. They will not fancy spending their meagre coins on endless parties, especially under the bleak economic times.
A working mother who gave her name as Annabel says the commercialisation of Christmas has made her life more expensive because goods are pricier than at other times. Like other members of her family, she has never indulged in the merry-making activities associated with Christmas.
"Businesses are out to make money and so what may appear as 'deals' are sometimes more expensive. So you have less value for money," she says.
Worldwide, many face the pressure of buying gifts for just one day in a year at a time of a global recession following two years of the Covid-19 pandemic.
A nationwide survey by American Psychiatric Association shows that Christmas holidays are key triggers of heightened stress levels among adults.
"During the holiday season, adults are five times more likely to say the level of stress in their life increases rather than decreases (41 per cent vs. 7 cent)," states the survey, with mothers more likely than fathers to say their stress levels rise significantly during the holidays due to an increased workload.
Regardless of their earning levels, men in the survey said their stress levels during these holidays are due to the fact that they have to provide funds meant to make others happy.
It said that 51 per cent of adults who earn less than Sh5 million a year are more worried about affording holiday gifts while another 39 per cent worry that they will not afford good meals during such festivities.
"It is important that one does not forget the January bills," says Jane Ochola, a Ngong resident. "My advice is: if you can, sort out any outstanding bills like school fees and rent before blowing your cash in the name of making merry for one day in a year."
However, the current economic situation is not the only factor affecting some people's dislike of Christmas.
Then some have been through personal losses including the deaths of loved ones. To such ones, any kind of merrymaking brings memories of happier times with loved ones whose company they may no longer enjoy.
Writing for Healthnews, an online site that advises on health matters, Jasper Joyner says just the idea of going shopping or decorating a home can be very stressful without the presence of a loved one.
"Experiencing the pain of missing a family member or close friend is especially hard at this time. More adults feel stressed or anxious about the holiday each year due to grief than anything else. During the holidays, you may find yourself wanting to cry or feeling angry at moments when other people are quite joyful," writes Joyner.
And of course, there are those who just lack an interest in the festivities, with Christmas passing just like any other day.
Victoria Mwende falls under this category. She hates the whole hullabaloo about the day that she says has nothing to offer except "chaos duplicated a thousand times".
As a child, she did not know much about the festivities as she does now. She is also not a very religious person and does not believe in what she terms "a whole set of pagan beliefs associated with Christmas" and the fact that even the local news stations force everyone to put on a godly face and watch the "religious circus".
"I am not enthusiastic about Christmas because I like things staying normal," she says when asked what her plans for the day are. She would also not let us use her real name to avoid offending her relatives.
"During Christmas, everything changes. If you go to the nearby market and want to buy sukumawiki (kales), there will likely be nobody selling them. It is like nobody is expected to eat ugali and sukumawiki. Supermarkets, on the other hand, are crowded and things fly off the shelf."
In addition, Mwende says societal expectations have also had a bearing on her disdain for anything Christmas. While her conduct has never been an issue for most of the year, Mwende says her behaviour during Christmas is always under the microscope from enthusiastic family and friends.
"Look, you are expected to behave in a certain way regardless of what you are going through. Your feelings do not seem to matter. You must conform to some 'set' values whether you believe in Christmas or not," she says.
As for the family meetings? "I can and should meet up with family at any time of the year apart from Christmas. However, I will go home because I am expected to be there. If it was up to me, I would let it pass like any other day," she says.
And while Danielle Mumbi, a mother of one, does not have the radical views about Christmas as does Mwende, she nonetheless will spend this day in her house "since I have all the people in my life under one roof".
"Honestly, I think Christmas is overrated," she says. "It is a means for those with money to show off. Many do not know the meaning of the symbols associated with this day but they still feel they must spend."
Still, Mumbi says people are free to do as they please and she cannot dictate what they choose to do with their cash.
And so as the world goes overdrive in pursuit of pleasures, some will be viewing Christmas as just another period for the earth to rotate upon its axis. "Make merry and let us meet on January 2, 2023," says Mwende.
Related Topics