Cancer, according to the World Health Organisation, is one of the leading causes of death worldwide. In 2020, the disease killed nearly 10 million people, or one in six reported deaths.
When a person dies of cancer, often the immediate family is left with enormous financial and psychological baggage. Emotional trauma is more pronounced when the bereaved is a spouse who had a close personal relationship with the deceased.
Yet, when it comes to managing grief and finding closure, none are as vulnerable as men who lose their spouses to the disease. Fear of stigma and social stereotypes have conspired to keep such men in emotional bubbles hard to penetrate.
One man who lost his wife to the disease compared the emotional void to being alone in a canoe in a raging river, and with no paddles or safety jacket.
Facing life alone
This was Silvester Nduati's situation when he lost his wife to throat cancer in November 2017. His tribulations began the moment his wife suffered from what some doctors termed a bad case of tonsillitis a year earlier.
"First was the misdiagnosis. Then the pain as she could no longer swallow her food. All the time I was spending money treating the wrong disease. Then I heard to learn that it was throat cancer, and by then, already at an advanced stage," says Nduati.
The events around the day his wife of 38 years died left Nduati in a confused state. Like many men in his situation, Nduati had nobody to lean on.
"I had rushed my wife to hospital early morning but she was pronounced dead even before doctors could attend to her," says Nduati.
The hospital, he adds, had no hearse and Nduati had to do the unthinkable.
"I strapped my dead wife in the front seat of my car and with the help of my son, drove her to Kikuyu mortuary. That was the hardest drive in my life. I could not believe she was gone," he says.
The first phase of grief is marked by denial but as Nduati explains, men who lose their spouses face additional social conflicts beyond the initial trauma, making it even harder to open up.
Healing for men, he says, is difficult "as there are no social or financial support systems for men while there are for women and youth".
It is a paradox of sorts, according to Nduati, since it is mostly in the male-dominated Parliament where rules that set up such funds for youth and women are made.
"We said we uplift the girl child but forgot the boy along the way. That is why men have run to alcohol. We must prop the boychild as well, otherwise who will marry our daughters if we leave the boys behind? Like me, we rarely come to the aid of others. They say, jikaze tu (soldier on)," he says.
Yet, it is the same men who make matters worse by pressuring bereaved men to remarry despite their emotional pain.
For example, Nduati says women would write enticing messages to him though he is not ready to remarry as he mourns the woman who lived with him longer than she did in her mother's house.
"A bereaved man becomes an enemy of the people. Since we left the burial site, nobody has come home to comfort me or find out how I am faring. If you speak with another person, especially a woman, people start to talk about your intentions and you are left lonely. Another bereaved friend gave a ride to a woman and people started saying he was 'moving around' with another man's wife," says Nduati.
Benda Kithaka, founder and executive director of Kilele Health Association says it is time that society discards the stereotypes that condition men to be tough even in the face of grief.
Among other things, her organisation brings cancer survivors for outdoor activities so that all, including men, can open up about their journey with the disease.
"We try to do things that remove men from their comfort zones. For example, we do hiking which is considered a manly activity. The focus is no longer on cancer but that men are still capable. In such a setting, they can talk to other men who have gone through the burden of cancer," says Kithaka.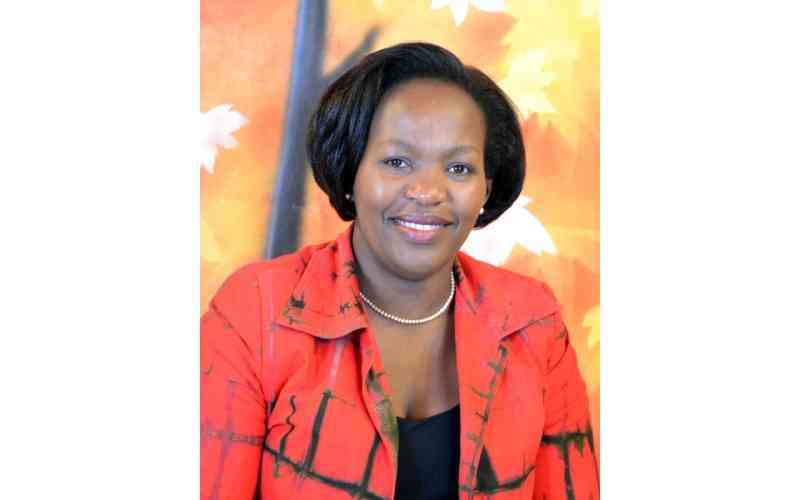 Mental wellness
Apart from the outdoor activities, Kithaka organises virtual mental wellness coaching where those with challenges can talk to a professional.
"We want men to know what help is available but they have to show up. Unfortunately, our culture expects men to 'man up' or others will think they are weak. Yet by bottling up they may cause other problems," she says.
Peter Mbuga, founder of Heri Wellness Centre, a counselling and psychology centre in Nairobi says the country lacks support systems for men who, too, do not have intimate friendships.
"It is in our personalities. Most people do not know how to console those who are bereaved. I remember reaching out to a bereaved man but he did not respond as I expected," he says.
Mbuga, who also lost his wife in February after a road accident and had to go for counselling says grief is deep and few know how to handle it on a personal level.
"Many men are not ready to shed tears. Yet we do not know that grieving is a natural gift to help us cope and move on, otherwise, you will hold the tears in the heart for a long time. Men suppress the issue, even in the privacy of their rooms. Men are taught to be practical rather than emotional," says Mbuga.
He adds: "You must work it out, reminisce about it. Let go of bitterness, sometimes toward God. Men do not know how to help each other. It is just how we are socialised."
Socialised? "Yes, and this may not end any time soon," says Mbuga who gives an analogy about this conditioning.
"Men went out to 'hunt' while women were left behind and learnt to support each other. Men became quiet just like in a hunting party where silence is golden. Women learn to communicate, sometimes, even with their faces, like they do with their newborn babies. Men are still hustling, watching football, spending time with their drinking buddies before heading home where their grief and silence continue," says Mbuga.
And are such grieving men becoming easy targets by the opposite gender? Not necessarily, according to Mbuga.
"Women want a stable person and are not targeting these men out of malice. They feel that if a man was so dedicated to the woman he loved till the last minute, then it means he has admirable qualities. There are many good women out there looking for good men," he says.
And does he attend to men in his line of duty?
"No," he says. "I do not get many men coming for any counselling. Men must accept they are just human beings and need to get help either professionally or from a man they trust."
Related Topics