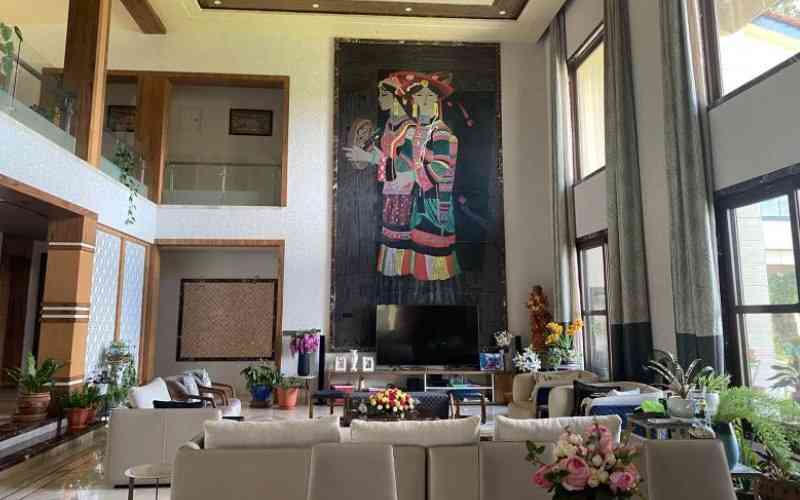 Eldoret is a delightful, charming town, and its reputation for being the home of legends precedes it.
The Art of Living crew looked forward to being hosted by Swarup Mishra and his wife Dr Pallavi Mishra, who live here.
As expected, in every VIP home, security was airtight. The entrance to their palatial home with exotic potted plants and sculptures was impressive. The huge pillars standing tall prepared us for the grand high-class haven.
Dr Pallavi is a gynaecologist who loves plants, flowers, and gardening. The landscape affords flourishing, beautiful colourful flowers, and a lush manicured garden. She spends most of her time here entertaining, socialising, and soaking up the sun.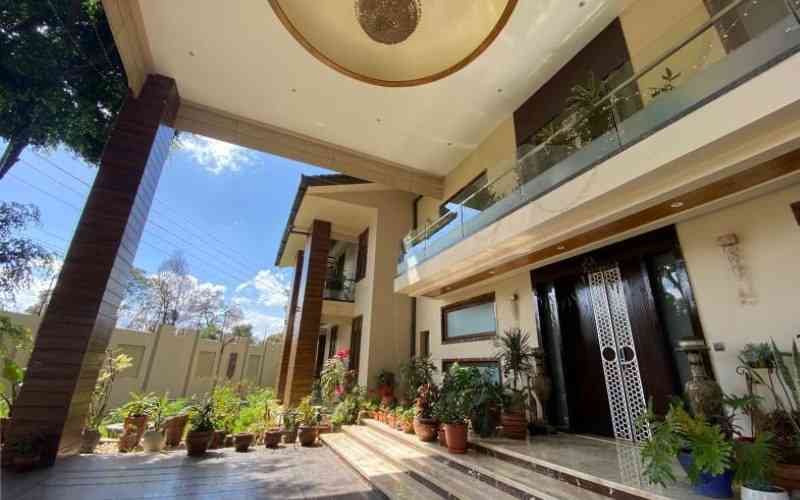 Their home is open-concept living, sleek, serene and spacious. Mishra holds formal meetings in the lounge, which is inviting and warm.
A stunning gypsum ceiling, sectional grey, and brown-black leather sofa seats, an accent wall adorned with artefacts, and quirky collectables complete the space. An outstanding unique art piece on the wall captured on tiles gives the room warmth and character.
Dr Pallavi got the artistic image off the Internet and a company that specialises in engraving art on tiles created for her this exquisite piece, and others in her home.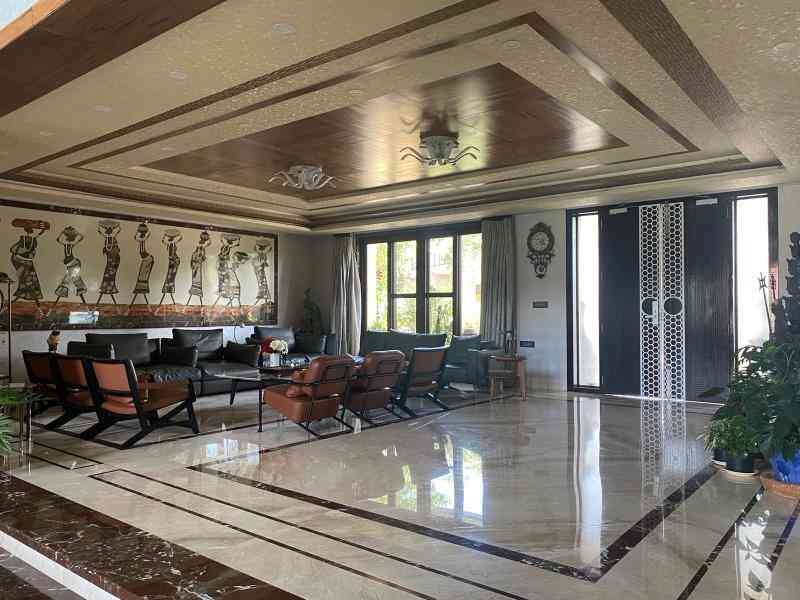 The main living room is connected to the lounge. The grandiose contemporary living room is bright, white, and luxurious - the Mishras did not skimp on splurging to create this glorious space.
A dramatically beautiful high ceiling makes the space feel more spacious. The three huge glistening chandeliers and open plan spacious layout with no obstruction is therapeutic. It makes one feel calm and relaxed, ready to explore this opulent art of living.
High ceilings are one of the latest and trendiest architectural styles. Such ceilings, seemingly, clear your mind, as Dr Pallavi explains: "I did not want partitions in my space; I wanted the family to interact and see each other."
Stylish expansive windows cover the entire wall, from ceiling to floor, offering wonderful views of the lush garden. They evoke a luxe, freshness, and distinct personality. The floor-to-ceiling motorised curtains are striking.
Two huge bold, colourful masterpiece art pieces engraved on tiles are mounted on opposite accent walls. Dr Pallavi explains that they are the only colourful pieces in the house.
The Italian marble floor with veins matched to perfection is undeniably astounding. It creates a brilliant look and feel of the room. The grey leather sofas, mixed animal print cushions, leather dining chairs, table, and floating marble water sinks with led mirrors in the living area are simply posh.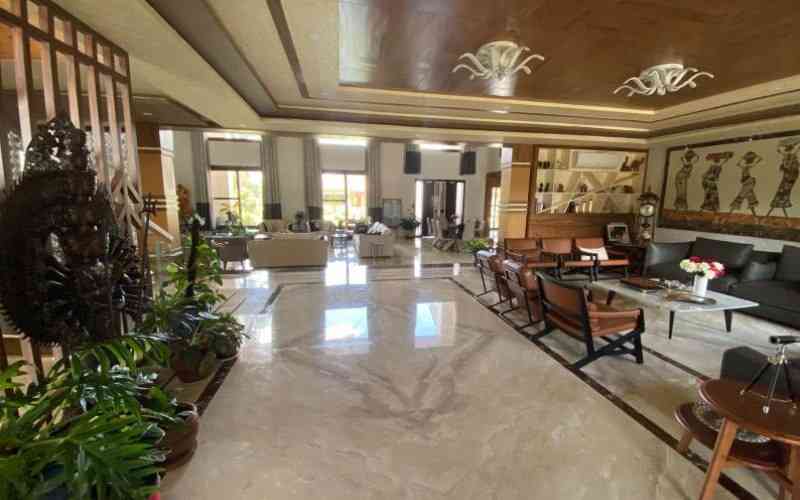 Other than working on the architecture together, the couple custom-made a modern and sleek kitchen with slab cabinet doors, and a granite island. The rustic light fixture creates a cosy feel; Dr Pallavi was intentional from the get-go – all she wanted is an open space to entertain guests.
Indoor plants carefully placed around the home give it a fresh look. As we ascended the staircase, I could not help but admire the Italian marble staircase symmetry pattern in grey and white, and the glimmering cascading chandelier that leads up to the TV room.
The white extra-long sofa leather seat is simply prestigious. The space is soothing and perfect to lounge and relax. Opulence does not end there, though. The interior balcony upstairs overlooking the living area affords splendid views of the living room, encapsulating a breezy and stylish vibe.
The corridor leads to other bedrooms. However, their master bedroom is spectacular. It has his and hers wardrobes, a pretty gypsum ceiling, a shimmering chandelier and a handcrafted enormous bed from solid wood.
It also has beautiful bedding with throw pillows, glamorous plants meticulously displayed, a study area, an entertainment wall with a television and a balcony that offers striking views of the garden.
Their Italian-marbled bathroom is adorned with gold light fixtures and spotlights of evergreen plants. It is simply sensational! I would be content to wake up every day in such a spectacular home.
Related Topics