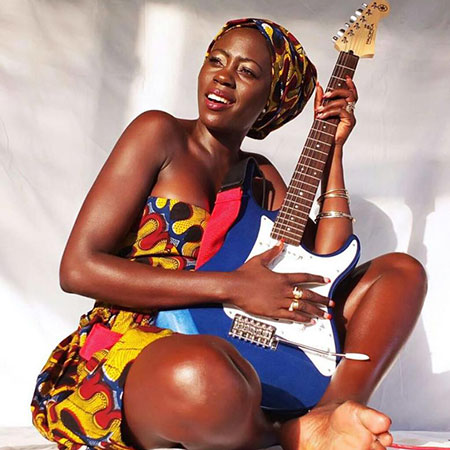 She shops in the most fashionable stores in Europe, drives flashy cars and is rumoured to be shopping for a jet. She has three homes in Mombasa, Nairobi and Nyanza. That is besides a luxury apartment complex in North Coast and a four-bedroomed pad in Zurich, Switzerland.
She is booked to perform at a private event during a Grand Prix Motor Show in Monte Carlo, Monaco and will charge a reported $20,000 (Sh1.7 million).
But musician Esther Akoth, famously known as Akothee, who now has a local and overseas manager, was once a taxi driver. Desperate and with four kids to feed, Akothee had to survive.
"It was tough being a single mother. We separated with my then husband and the father of my kids after he was involved in an extra-marital affair. That was in 2006," she told The Nairobian.
Job hunting was tough and when she landed the taxi driver business, she could not turn down the offer. She was making between Sh3,000 and Sh4,000 per day.
The job turned out to be her greatest blessing in disguise.
A client, who was a French diplomat, boarded the taxi and was impressed by this young woman taxi driver unsuccessfully trying to hide the stain of milk oozing all over her bosom.
He could not hide his curiosity and wanted to know whether she had a breast-feeding baby. That was in mid-2008.
"I had just had my fourth born and I told him the truth. He sympathised with me," recalls Akothee.
The man took her number and invited himself to her place a few days later to confirm if Akothee was a lactating taxi driver and a mother of four.
"I introduced him to my family and in return, he invited us for a visit to West Africa where he was working. And as they say, the rest is history," says Akothee, whose new release has the lyrics, Bolingo na Ngai Akothee mwasi kitoko (I love you beautiful Akothee).
Akothee admits the diplomat took her life to dizzying financial heights.
It so happened that the man, whom she refuses to name, offered to expand her taxi fleet and she seized the opportunity to expand into tour operation business. At the same time, Akothee managed to open up bar, The Stomp 196, in Shanzu.
"He promptly bought her a van which was the first in my Akothee Tours &S afaris," she says.
However, after relocating to Switzerland, she realised that the promised marriage was not forthcoming and had to leave the country when she was nine months pregnant.
"He was a bit weird and I felt he was not going to be a good father to my kids. We were not legally married, hence, it was not a complicated breakup," she says.
Akothee came back to Kenya determined to start her life afresh. That is when she began her music career, which she says was her first passion. Most of her music videos are trending on YouTube . She maintains that music was her first passion.
Her music that features heavy kanungo beats are also ruling the airwaves on local radio stations, besides a busy schedule of performances outside Kenya.
The musician who singles out Yondo Sisters as her role model, can dance soukous, into which she blends chakacha with a heavy dose of twerking to guarantee an electrified audience.
"I used to perform for free at Mombasa Go Karting, until I was invited to entertain at a private party by foreigners who were booked in one of the hotels in North Coast. They were rumoured to be English royals and they paid me handsomely for the performance," says Akothee, recalling instances when she turned down numerous offers to appear as a dancer while performing in Europe.
"They came to me and said that I had the perfect body and could make tonnes of dough but I flatly refused. I am content with what I have," she said, adding that her rich boyfriend is comfortable with her side hustle because they have a relationship based on trust. "Besides, my principles do not allow me to doing anything shameful like selling my body or indecent for the sake of money. I believe we can turn around women's pitiable existences if we empower them so they don't depend on their husbands for everything. I should know. I was married at 14 and left with three kids," she says. Akothee conducts talent searches in her home village then invites winners to perform with her. Apart from music, she is an agripreneur.
Related Topics