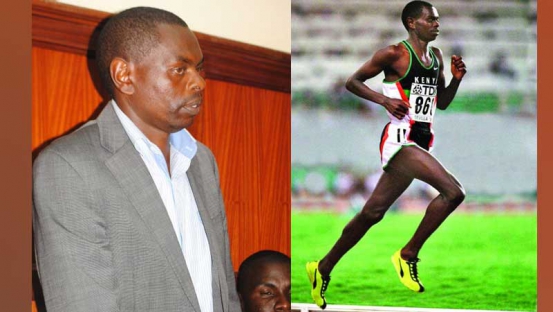 Athlete Daniel Kipng'etich Komen's political journey may have hit a dead-end even before it started. Also at risk of being deleted from the depths of memory is his rich track record that saw him dismantle a string of world records.
This comes after the World 3,000m record holder was on April 10, 2017 charged with two counts of forgery, two counts of uttering a false document and a count each for obtaining goods by false pretence. He was also accused of issuing bad cheques.
Komen who is currently running for Member of County Assembly (MCA) post will be remembered for his rivalry with Ethiopian Legend Haile Gabreselassie in the seasons between 1996 and 1998.
The only man to ever cover two miles in under eight minutes had at one time challenged Kenyans to a duel — any man who could break his record would drive home in a brand new SUV car — and cash money to boot.
All this pomp and bravado seemed to have evaporated. Komen spent his Saturday, April 8, 2017 in police custody in the city.
Police said Komen had been under their watch since 2013 — when he allegedly obtained goods by false pretence contrary to section 313 of the Penal Code. The charge sheet states that in mid-2013, Komen met one Thomas Kamotho Getanga at The Junction, along Ngong Road.
Komen who was in the company of others fraudulently obtained a SUZUKI Escudo vehicle, registration number KBS 381S from Getanga by falsely pretending that he would pay him Sh1,750,000 on or before November 30, 2015.
In 2015, Komen again found himself in trouble for allegedly forging a motor vehicle sale agreement for the same SUZUKI Escudo, registration number KBS 381 S — and purporting that the said document was a genuine motor vehicle sale agreement.
The former champion is said to have produced the same document to police at Central Police Station — an act that the officers say is a crime of 'Uttering a false document contrary to section 353 of the penal code.'
The police also claim that in the ensuing days, Komen with intent to deceive or fraud, forged an acknowledgement letter of receipt of Sh780,000 dated December 3, 2014, claiming that the receipt was proof of cash obtained from one Nicholas Odhiambo.
The charge sheet reads in part: "On March 28, 2014 in Nairobi you issued a cheque to Nicholas Odhiambo Juma with knowledge that the said account had insufficient funds."
When he was arraigned in court, a tired looking Komen sat pensively on the dock as his charges were read. Softly in Kiswahili, he responded:
"Sio ukweli shitaka"
He repeated the same words to the magistrate in response to all the six counts. During the proceedings before Resident Magistrate Christine Njagi, Komen through his lawyer asked to be released so he could prepare for the London Marathon slated for April 23.
"The accused intends to travel to London for the London Marathon this Sunday, he needs to prepare," said Komen's lawyer.
"Allow me as an officer of the court to stand in as his contact; he is not a flight risk. He has served this country and is a record holder running for an MCA seat. The accused be considered for personal bond, I am ready to stand as his contact," added his lawyer.
Beneath politics, Komen is a man who has been restless ever since his star went dim. During an interview in 2005 with KenyanStar, while recalling the events that saw him get dropped from the team that represented Kenya at the 1996 Olympic Games in Atlanta, Georgia in the United States of America, Komen blamed the country's 'cruel selection procedure'.
"The records I set in 1997 were to prove to those who excluded me from the Olympic team that I was in a very good shape for the 1996 Games. Today, we have allowed all kinds of people to get into the sport.
Some just seek posts because they want to be given trips abroad and not that they have the interest of the sport at heart," Komen said in an earlier interview with letsrun.com.
Related Topics