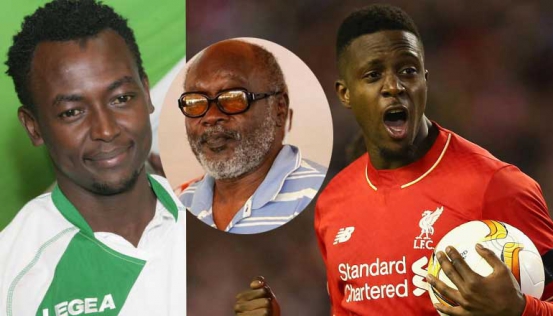 Ugenya is to soccer what Iten in Eldoret is to Kenyan athletes.
Actually, sportsmen and women sprout from certain geographical areas, and not just in Kenya. Ethiopian runners, like Kenyans, are from the highlands.
In Jamaica, most sprinters like Usain Bolt, Ben Johnson, Maurice Greene, Veronica Campbell-Brown and Sanya Richards are scions of the yam and rum rich, Trelawny Parish, northwest of Jamaica.
A parish is the equivalent of a province in Kenya, where our soccer stars seem to be born within a certain radius in Siaya County.
This little fact free-kicked itself during the funeral of former Kenya international 'Owiti Hatari' (John William Otieno) in Rang'ala, Siaya County on August 8.
His death was caused by a motor vehicle accident near Kericho. He was on his way to Nairobi after attending Siang'a's burial also in Ugenya.
Sometimes it is said that strange revelations pop up when someone dies. Soon after Siang'as burial, John Oduor and Owiti would follow in quick succession — it dawned on mourners that they were going back to the same place they had buried Siang'a.
Yes, all the three came from Ugenya in Siaya County — the 'Soccer Iten of Kenya.'
As a conveyor belt of talented soccer players, Ugenya deserves a stadium and a football academy. Just check this out: National team goalkeepers the late James Siang'a, Charles Omondi 'Korea', Mathew Owino 'Ottamax' and Jerry Onyango (known for holding an annual soccer tournament in Ugunja) all come from Ugenya as did John Wambundo, Peter Wasiembo, Albert Okech, John 'Salim' Oduor, Fred Siranga, Francis Ooko, Apollo Obota and Bob Oyugi.
Is this a case of being inspired by a sporting tradition?
How else does one explain the fact that Austin Oduor, George 'Fundi' Onyango, Mike Otieno, Mike Okoth Origi, Gerald Origi, Isaiah 'Janabi' Omondi, Hesbon Omollo and not forgetting Divock Origi, their homeboy representing players in the diaspora, all came from Ugenya?
Imagine, if all these stars assembled in Ugenya and petitioned the Siaya Governor to reciprocate and build a soccer stadium in Ugunja or Ukwala?
Won't that be a game changer for the youth in the villages around there?
But how did Ugenya and the larger Siaya County produce great footballers without soccer infrastructure?
Well, the pioneer workers with the East African Railways and Harbours Corporation were mostly drawn from Ugenya and Alego in Siaya County.
In Nairobi they were settled in Makongeni, Kaloleni, Shauri Moyo, Jericho and other Eastlands quarters. Ugenya and Alego border Uganda where football was embraced way before Kenya.
Railways workers were mobile, and it was common to find Kenyans working in Uganda under the same employer. Many of these developed ingerest in football in the foreign land.
The corporation's policy included employing worker's children once their parents retired. This meant that football became a family game and Railways a family employer.
Closer to Ugenya is the Kano plains and literary as flat as its name; a gift from God. Long before Kenyans got to know that doctors can play soccer — after the emergence of JJ Masiga, Kano plains gave us Dr David Olima.
He played for Kisumu Hot Stars before joining the University of Nairobi School of Medicine and K'Ogalo respectively.
Allan Thigo was a student at Onjiko Secondary School in Ahero when his talent was discovered in the late 1960s.
The crème dela crème of soccer in Kisumu County came from a village in Kano Plains. This is where John Chore, Elly Adero, Duncan Migan, Jackson Aluko, Laban Otieno, George 'Best' Yoga, Jerry Imbo, George Ayuka, Paul Ochieng, Victor Ali Abondo, Tairus Omondi all hailed from.
In comparison with athletics where training camps have sprung up around Iten, our soccer infrastructure should focus on Ugenya, Kenya's soccer 'granary.'
Related Topics