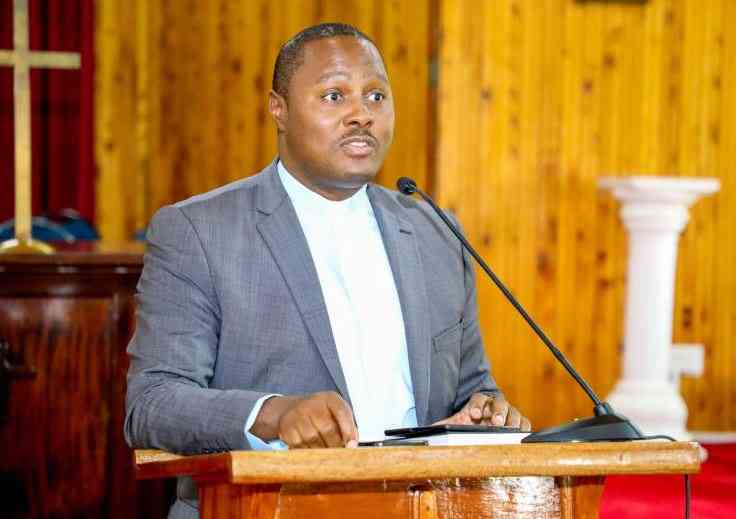 It is in the middle of the Covid pandemic peak. It is a chilly morning and the Rev Daniel Njeru of the PCEA Church, Loresho, has already left his house with his driver to make the two and half hours drive to Nakuru to preside over a funeral of a long-serving parishioner who has died from Covid-19 complications.
It hasn't been easy getting out of Nairobi due to the Ministry of Health lockdown and restrictions on movements as a way of mitigating the unprecedented epidemic that is threatening to wipe out humanity.
Rev Njeru must rush to Nakuru and perform final rites to a parishioner within the hour as prescribed by Covid-19 social distancing protocols. Then he has to return to Nairobi to prepare for the burial of a colleague Evangelist the following day in the morning.
Now at the end of his tour of duty in Loresho and moving to anew station in Karen, the Reverend breaks down twice during this interview as we have a light breakfast together. He has buried quite several close friends and parishioners.
"It was devastating and I had to remain strong because at times I was the only one, if not with a handful, turning up to condole with the family and conduct the burial," he recalls.
"I think that was a very good therapy to ask my husband these questions because I doubt, he has had the time and moment to reflect and let the effect sink," says Mrs Njeru as she offers hankies to wipe off the tears of her husband.
The couple, who are blessed with five children, say it was difficult for the family as Rev Njeru had to come from these many burials and had to disinfect and stay away from the young ones. Their last two were born during the lockdown, bringing a mixture of joy and trepidation as Covid-19 loomed over everyone.
Njeru, a psychologist, recalls how for the first time he preached not to worshippers, but to empty pews in the church. His parish had quickly and inevitably become a beacon of hope as families ran out of food supplies and many lost employment and businesses. Several churches in the Nairobi region of PCEA were converted to vaccination stations against the virus.
"I must thank everyone who helped in making sure our faithful had something to eat and get some business back to operation after long closures," he says, adding that some of the social ministry programs are still alive today because a good number haven't come out of the woods yet.
But this man of God had seen many challenging things along the journey of his ministry and maybe unbeknownst to these past experiences may have prepared him for the pandemic.
Whilst ministering in Njoro, Rev Njeru recalls a chilling experience with a notorious gang member who had terrified the community for months.
One day while in his office, a young man carrying a luggage appeared and after taking his seat, he sought the confidence of the Reverend about an illegal AK47 gun in the bag.
He wanted to quit crime and as such asked Rev Njeru not to divulge his identity and name.
The young man had just survived a mob that had caught and killed his accomplices.
On this day he had come to surrender his weapon and hope for a chance to live… and the only man he trusted was Rev Njeru.
"It was scary as it was nerve-wrecking. For a moment I dint know what to do," he recalls.
He quickly called the Provincial Police Officer in charge of Rift Valley through the local chief.
The police automatically sought the apprehension of the young man who had surrendered but the good Reverend stuck to his guns and declined to give him up.
In the wee hours of the morning, he plotted to drive the gangster to Nairobi and deliver him to journalist Waweru Mburu at the Royal Media Services.
"Imagine a minister of the church driving a wanted gangster with a gun in the car," he muses..
The man had his day in court eventually.
The man of cloak deeply reflects on the family unit affected by the challenges of single parenthood, youth unemployment, disease, homosexuality and other earthen things.
The life of a church minister can be demanding and he takes Mondays off and plans for holidays for quality family time.
"I try to be present for my children and family as much as possible, play with them and be present in their daily lives amidst a tight schedule as a pastor," he says,
His wife has been his pillar since they met at a church in Mukurweini.
Njeru does not buy into the prosperity gospel as preached on some pulpits across the country.
"There is nothing like a trouble-free faith in the world. The gospel is everyone carrying some cross at the same time having abundance and kindness," he says.
He adds that prosperity gospel has been a conduit to defraud the faithful and he has counselled many people disappointed after investing so much in it.
Rev Njeru remembers the creation of Nyari Parish from the larger Loresho parish as one of his biggest contribution to the growth of the church during his five-year term as presiding Minister.
He is also nostalgic about the sheer number of baptisms including 200 such as well as confirmations as well as weddings as most memorable works at the parish even as he moves to his new station in Karen.
Related Topics