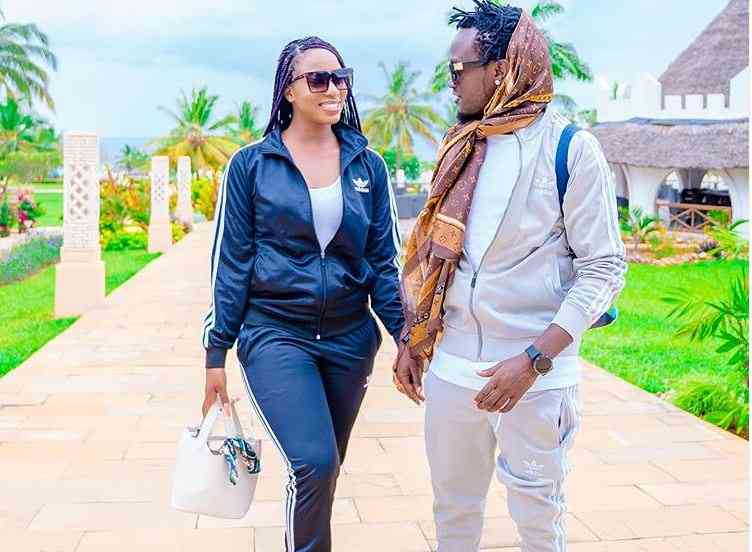 Bien and Chiki split, Bahati and Diana Divorce
Celebville will turn into split as one of the two most talked about celebrity couples will call it quits on their relationship. To start with, and rather easy to speculate, will be the splitting of Sauti Sol's Bien with wife and media personality Chiki Kuruka. The impetus for this separation will come from Chiki after failing to keep up with the marriage pressures and as her name suggests, will 'ruka' Bien, leaving the Inauma hitmaker hurt and heartbroken. On the other side of Bahati and Diana, their divorce looks to be that of clout chasing and that of increasing their numbers on the platforms; so best digest their news with a pinch of salt. Regardless of the outcome, there will be hope for those interested in the aforementioned as they will go back to the market dating pool.
Femi One and Mammito get pregnant
Looks like the baby boom season will continue next year and in the years to follow. We have got our eyes set out on rapper Femi One as either a fellow musician or a business mogul looks capable enough of doing the needful. Also, our keen eye falls on comedian and actress Mammito who for starters, her name is not living up to its billing and according to our knowledge is yet to have a child. But that will change as they will welcome a bundle of joy with her rumoured boyfriend, Butita.
Club zoning goes national
With the new government regime laying down the law in its second year of authority, a lot is expected to change in the entertainment scene, from the usual tax increment on alcoholic drinks to new zoning rules that have seen the closure of some nightclubs in residential parts of Nairobi. This zoning will be a welcomed move by other counties such as Kiambu, Kajiado, Machakos, Kisumu, Uasin Gishu, Nakuru and Mombasa as they hope to curb the supposed immorality, recklessness and noise pollution cases.
Viviane, KRG the Don back to dating
Ever since his divorce was legalised and going back to the dating scene, KRG the Don will seem to enjoy being single and enjoying the benefits it has to offer by dating several lasses, noncommittal to one though. As for the charming and very talented Viviane, who parted ways with Sam West, she would date for LTR (Long Term Relationship) purposes. FYI for those looking to date her, check out her podcast, there is a segment on who is her ideal man; thank Pulse later.
Ababu and Sakaja to appear in music videos
While in no way do they look like endorsing a certain musician, the newly appointed and elected officials, CS for Youth Affairs, Sports and the Arts Hon Ababu Namwamba, Nairobi Governor Johnson Sakaja will look to showcase their youthful exuberance by being 'hands-on' and participate in unorthodox events with one of them making cameos in music videos. Our bets are on the Gengetone genre and do not be surprised if one of them drops a few bars.
Sonko to open another club
Still, on matters of politics and entertainment, the news of former Nairobi Governor, Gideon Mbuvi 'Sonko' charges being dropped will be a sigh of relief plus a huge inspiration for him to expand his business empire by opening a new state-of-the-art joint. Preferably a new one in Nakuru.
Sir Lotan quits radio
The popular sleek-tongued corporate emcee Sir Lotan Salapei will look to call it quits in the radio industry as the mainstream media looks to stabilise itself and as an alternative will venture as a media consultant, providing media-related assistance to big brands on a full-time plan.
Protégé and Diana finally marry
This is the third time the lovebirds; deckman Protégé and long-term girlfriend Diana Gacheri have been featured in our predictions and we believe that the third time is the charm! With both of their biological clocks not getting any younger and having vast experience in attending and/or performing at a wedding event, the time seems right for them to tie the knot and finally welcome a bundle of joy.
Octo, Nikita to win Grammies
Their target was always global recognition and what better way than to win one of the most prestigious and most coveted music awards of them all; the Grammies. Rapper Octopizzo and the soulful Nikita Kering will find themselves at the mercy of this long-standing international accolade representing and winning for East Africa.
Matata announce split
Our predictions started with a spilt, so it is only fair to finish with one and we foresee the fast-paced world of music and creativity proving to be too cruel for the quintet group Matata. Known for some of their hit songs, the creatives' indifferences will take a toll on the individuals and as a result, they will call it quits with each pursuing individual projects.
Related Topics