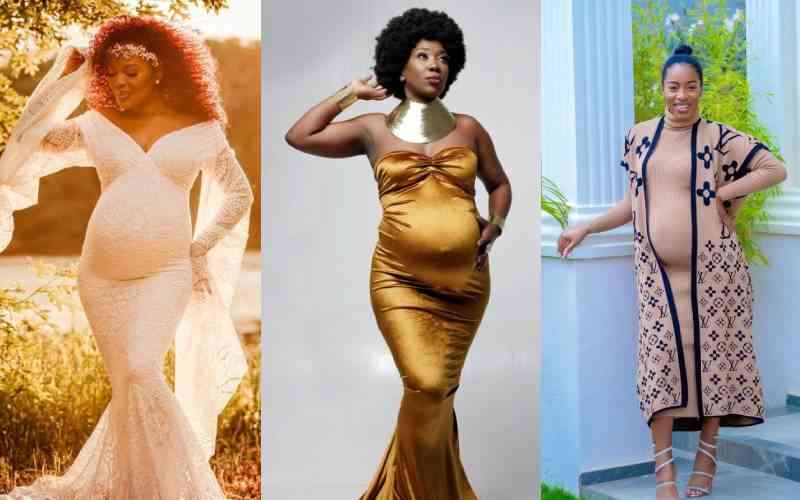 The year 2022 is finally coming to an end, and although it carried its fair share of ups and downs, it is safe to say that for a few individuals, 2022 changed their lives forever.
While some landed new jobs and acquired cars and houses, several celebrities made a mark in the year by welcoming newborns into their families, an experience comparable to nothing.
Here is a list of celebrities that became moms for the first time and others adding to their already beautiful families.
Evelyn Wanjiru
Gospel artiste Evelyn Wanjiru and her husband Agundabweni Akweyu held their bundle of joy, baby Mshindi Akweyu Agundabwen for the first time in April after waiting for ten years for the blessing of a child.
Evelyne and her husband had for years been subjected to ridicule for not having a child when finally, God came through for them.
"On April 6th 2022 God gave us a gift of a baby boy!! This is a testimony my husband and I have been waiting on God for the last 10 years. Welcome to the world baby. MSHINDI AKWEYU AGUNDABWENI, your entire family is so in love with you! We are excited to see you grow and become that great person God intended you to be! You are a dream come true, an answered prayer and greatest gift from God!" she wrote.
Kambua
The renowned Gospel singer turned media personality welcomed her third child baby Nathalie Nyacira Muthiga just a few months ago, and netizens could not keep calm.
The former Kubamba presenter, who was in mourning following the death of her second child, praised God for restoring her joy and giving her another chance at motherhood.
"Nathalie Nyacira Muthiga Mathu. Most beautiful little girl I have laid my eyes on, with a gentle spirit to match. The last couple of months have been so precious with you, my rainbow. It is truly an honor being your mama. My God- my great and exceeding compensation; thank you for blessing us. God of Kambua, thank you for remaining true to who you are. Kwa Yale yote umetenda niruhusu nitoe shukurani," she wrote.
Diana Marua
Content creator Diana Marua and her husband, singer Bahati had their daughter, Malaika Bahati, in November.
Excited over their newborn, the couple took to social media to announce her arrival and show her off to their fans.
"The angel of heaven @MALAIKA_BAHATI BORN ON 1ST November, 2022 AT 10.52AM, weighing 3.5kgs, IMELA PAPA," she wrote.
Nadia Mukami
Singer Nadia Mukami and her alleged ex-boyfriend, singer Arrow Bwoy welcomed their son, baby Haseeb Kai in March.
"24.03.2022 We received the most Beautiful Gift Ever @haseebkai welcome to our world @nadia_mukami thank you @rfh_healthcare my Queen and the Prince are in the safe hands," shared Arrow Bwoy.
"Welcome to our World Haseeb Kai @haseebkai. 24th March 2022," added Nadia.
The duo had gone through a rough patch before the conception of Haseeb as they had gotten pregnant before but unfortunately lost it.
"The answer is simple for as long as that Celebrity likes!! Nani mwingine akona Swali ???!!! I lost a child and grieved in private last year I didn't make it anyone's business!!" said Nadia Mukami in a previous tweet.
Wahu
Veteran singer Wahu and her husband, Nameless, stunned many when they announced they were pregnant with their third child sometime in June.
The 40-year-old opened up on her fears concerning her age and pregnancy.
"I was concerned about my health and that is one of the reasons I did not want to do interviews as well. I am human and I was concerned what if something goes wrong. I had my concerns since I had read about different things they say about getting a child at 40," she shared.
They welcomed their third daughter in October, and Nameless could not hide his joy of being a girl's dad.
Ivy Namu
Media personality Willis Raburu's fiancée, Ivy Namu, gave birth to their second child in September and were evidently over the moon about her arrival.
Sharing the good news with their fans on their respective social media pages, Willis posted a photo of Ivy in the hospital while holding their daughter and captioned it, "a queen birthed a queen."
Jackie Matubia
Celebrated actress Jackie Matubia and her fiancé Blessing Lung'aho welcomed their first child in June. The couple's pregnancy came as a surprise to many as no one suspected they were an item in the first place.
"Great news! Baby is finally here! We give thanks to God for a safe delivery," Matubia posted.
Since their relationship and pregnancy announcement, the duo has been inseparable.
Felicity Shiru
YouTuber Felicity Shiru and her boyfriend, content creator Thee Pluto became parents for the first time in November after excitedly waiting for their baby girl.
Announcing the birth of their baby Zoey on social media, Thee Pluto stated that in his daughter, he now found true love.
"Nimetimiza ndoto zangu kwa kumpata mwanangu. Karibu duniani mtoto wangu @zoey_pluto Umenibadilishia jina nikawa mzazi na ukanipa heshima. Nakuombea maisha mema. My true love."
Milly WaJesus
YouTubers Kabi and Milly WaJesus welcomed their bundle of joy in April, adding to their growing family.
"Baby is here and we can't hold our joy. We are so happy guys to let you know that our princess is here," they shared.
The couple who documented every detail of their birth in a video on their YouTube channel, however elicited mixed reactions among their fans who felt the experience should have remained private.
Celestine Ndinda
Social media sensation Celestine Ndinda and her husband, Comedian Njugush added an adorable new member to their family in September.
"It's now 1 month since we welcomed our newest family member, Baby Toria. Thank you all for your prayers and wishes. Mama boys, Tugi&Toria," wrote Ndinda.
Despite being avid social media users, the couple has managed to keep their newborn away from the public's prying eyes.
Anita Nderu
Anita Nderu and her husband, Barrett Raftery, welcomed their baby girl in August.
"I am no longer pregnant. @barrettraftery and I finally got to meet our daughter Kaya Gacheri Catalina Raftery (Rap name: Nippy Suckle) on the 26th of August 2022 at 3:48am," she wrote.
Her child's birth was alittle quieter compared to her extravagant pregnancy announcement that rocked social media for days.
Related Topics