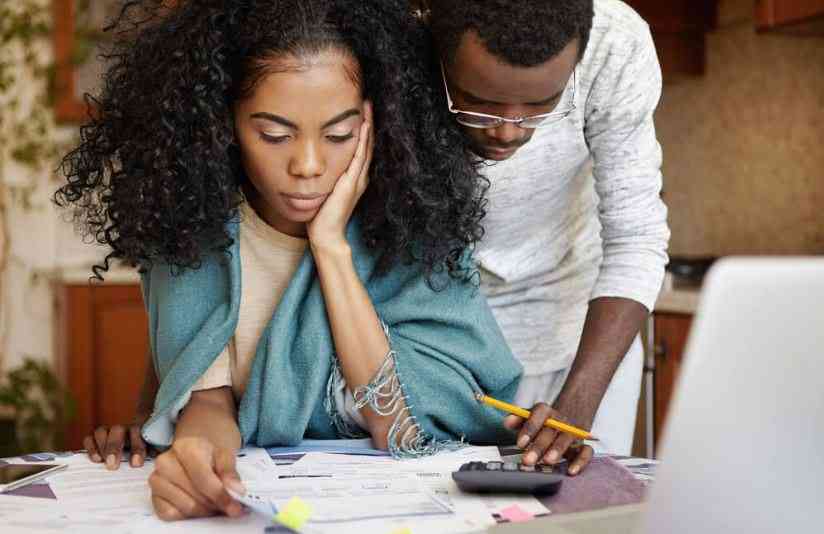 Justus Mbalu, 38, is an accountant at a city firm where he earns a net monthly salary of Sh75,000. His wife used to work in a beauty shop where she earned Sh50,000 a month. Since Covid-19 struck, she has been jobless and not even her attempt to start a groceries business is bearing fruits.
The couple used to live in a two-bedroom house in Umoja, Nairobi, where they paid a monthly rent of Sh20,000. Their two children aged 14 and nine were attending private schools where their total school fees were about Sh200,000 annually. With their basic family financial needs settled including house shopping, Mbalu and his wife would save Sh20,000 a month - funds they partly allocated for an upcoming housing project back in Kamulu, Machakos, where they had purchased a residential plot through a loan.
With the economy hit by inflation that has led to a high cost of living, Mbalu and his family can hardly afford the life they used to live in the city. He has been forced to send his wife and children upcountry, where the living standards are a bit low. Now, he has downgraded to live in a one-bedroom house in Kayole where he is paying Sh7,000 a month.
Needless to say, their children have now been enrolled in a government school back in Kangundo where the family has their ancestral land. Even with all the financial adjustments, Mbalu and his family are struggling to survive and the desperation has led him to frequently borrow money from digital lenders, money whose interest rates are even sinking him further.
Relatives who used to depend on him back home think he has been bewitched as they cannot understand why after so many years of progress his life seems to be retrogressing. This is not the dream he had for himself as a husband, father and reliable member of his community. Mbalu is a stressed man who has hit near breaking point.
Likewise, John Wangio*, a father of three in Bura, Taita Taveta County, has always wanted to be a good father and provider. His earnings from his work as a boda boda rider were complemented by his wife's salary as an accountant at a local sisal farm.
Then things went south. He lost his wife after a short illness at the height of Covid-19. Depression set in. "I lost all hope in life," he says. "Her salary was permanent while mine was not assured. While we were not rich, we could make ends meet after combining our incomes."
There was a time Wangio thought of taking his own life but refrained after giving serious thought about the future of his young children. "I would send my eldest son to beg on the Voi-Taveta Road just to get by. Fortunately, a well-wisher who saw him sponsored two of my children for meals at the local school," he says.
Wangio's tribulations are far from over, but at least, part of the financial burden has been taken up by the well-wisher.
Many families, unable to make ends meet, are wallowing in bouts of depression with seemingly no way out.
The current economic situation has pushed family heads who previously catered well for the basic needs of their families into the poverty bracket. Even those who have managed to get their heads above the water find themselves on the verge of drowning.
Among these is Anthony Mcharo, a taxi driver in Voi and a father of two children. They both attend a private school within the town. He requires over Sh21,000 per term. He could afford the amount with ease a few years ago. He is now feeling the strain, especially since he has to come up with this amount after only a week of school holiday.
"These days, the jobs are few and far between," he says. "I know some of the economic problems are due to external forces beyond our control such as the situation in Russia and Ukraine. Still, knowing that does not help much. I still need to feed and clothe my children. Currently, I am not sure how long I can do that without breaking."
A study done by the World Health Organisation shows any economic crisis is a key determining factor for mental health. For those employed, for example, the study shows job security, a sense of control of work and social support at work are factors promoting the mental health of employees.
In addition, it says that stable employment, secure incomes and social capital predict good mental health. "Conversely, poverty, financial problems and social deprivation are major socioeconomic risk factors for mental health problems and disorders," it adds.
In Kenya, the ravages of the pandemic and global financial recession have conspired to deprive citizens of basic life necessities. So dire is the situation that banks, considered to be uptight when it comes to revising the cost of credit downwards are slowly loosening up.
A meeting held at a top hotel in Nairobi on Wednesday this week is a case in point.
On this day, President William Ruto 'unexpectedly' joined a meeting between top bank executives and the head of telecommunications giant Safaricom Peter Ndegwa at the Norfolk Hotel.
While the president's visit was hurriedly put together, the subject of the meeting is one close to millions of Kenyans — lowering the cost of credit for the popular Fuliza loans.
According to statistics, Kenyans have been borrowing on this platform to the tune of Sh1.5 billion between January and June, with some changing their phone contacts to avoid paying the loans due to hard economic times.
Unfortunately, some have taken their own lives after running out of hope when it comes to borrowing on such platforms.
Pat Ng'ang'a, a mother of one who has been homeschooling her teenage daughter says she does not blame her parents for living endlessly in debt due to the economic blues.
"It is tough for parents. Some are taking on more work, engaging in side hustles and taking on such loans just to make ends meet. This results in less family time so the children suffer," she says.
Faith Gichanga, a psychologist with Bliss or Blisters says stress is a state of mental or emotional strain or tension resulting from adverse or demanding circumstances. In Kenya, she says parents and students have had to adjust to a fast-paced education structure to try and catch up on lost time during the period of the Covid-19 lockdown.
This has increased anxiety in parents, who have to keep making fees payment at shorter intervals with the high inflation making it worse.
"I have interacted with adults who report that they are having to manage high blood pressure as they try to meet the financial needs of the family. They are also having anxieties regarding their children's performance given the short duration of the study and therefore concerns over the children's transition onto the next level," says Gichanga.
"This in turn has made them become 'helicopter parents', micromanaging the children and adding on to the pressure the children already feel resulting in conflicts between parents and children. Parents have also resorted to behaviour such as gender-based violence and increased levels of drug and substance abuse."
Left unchecked, these stress levels can lead to depression with serious consequences.
Mcharo, mentioned earlier, says his two children have been showing signs of stress due to the cramped school calendar.
"There are times the eldest girl tells me she does not want to go to school. I sometimes feel like sympathising with her but then I remember staying home is neither the best option," he says.
Mary Wambui*, who has been a senior school teacher for 40 years before she recently retired says the current school system has become a source of stress and even depression rather than mould children into responsible adults.
When she joined the profession, children used to leave schoolwork at school. Homework, she adds, was rare, if any. The kind of competition that exists today in the educational system was not there either, she says.
"The education system is so commercialised with schools and book publishers using children as trading commodities. In addition, the current system requires parents to sit with their children in doing school assignments. If a project is not finished on time, it is the child who gets punished in school, adding to more stress," Wambui says.
Gichanga says with raised stress levels at home, students who have hardly had adequate breaks in between school terms suffer from burnout in the form of apathy towards school work while experiencing anxiety due to the pressure to perform.
"To cope, some children turn to maladaptive behaviour such as bullying and engaging in the consumption of pornographic content. There were reports of an increase in teen pregnancies in Kenya and a surge in self-harm from those students who feel unable to cope," she adds.
Related Topics