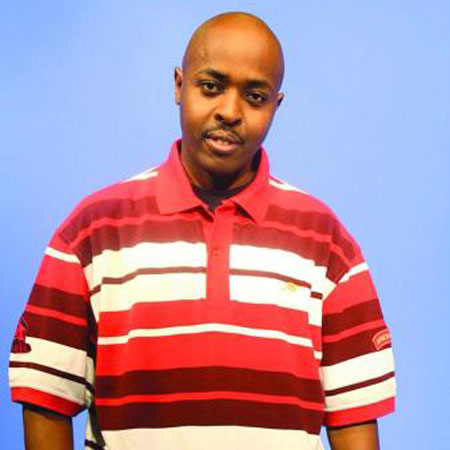 After word went round that Peter Chuani aka DJ Pinye, had declined to play Papa Dennis' Injili video, many thought it was a one off incident, which would die off faster than it started. After all, DJ Pinye is revered as one of Kenya's finest, an authority in musical circles.
Despite keeping a low profile, his works have seen him scoop awards and gain national recognition thanks to The Beat, the TV music show which he built and has maintained for years. Over time, he became the 'master selector' who seems to have mastered the art of Kenyan shows better than any other modern deejay
It is such talent and passion that has many musicians trying to get their music to him so he can play it on his show. But last week saw top artistes and fans come out guns blazing after he turned down a gospel artiste's new video. The video is by Papa Dennis, the new gospel boy shaking the scene with his new danceable lingala beat.
Many thought Papa Denis was a struggling artiste, but were shocked to learn that his video, sponsored by the Maliza Umaskini stable, was one of the most expensive Kenyan videos in recent times. It has now found its way onto pay TV where continental channels have picked it up as one of the fresh hits on rotation across Africa.
Estimated to have cost Sh3 million, the video was shot in South Africa by Godfather, whose prowess in video productions has seen him gain continental contracts and projects to produce videos for African groups such as Mafikizolo and P-Square. Simply put, whatever Godfather puts his hands to never fails to gain continental recognition.
Those who had seen the video on local shows and international platforms such as Trace wondered how and why DJ Pinye would turn down such a video whose views on YouTube are sky rocketing everyday. I mean, everyone besides Pinye had given the video the thumbs up.
After the online ruckus, we reached out to DJ Pinye, who stated that he did not wish to comment on the issue. He said he was not entirely in-charge of the decisions made on the TV show adding that, after all, the show was not entirely his decision and that other people were involved in organising it.
"Unlike other music shows where the deejay's playlist may be directed by the producers, The Beat is DJ Pinye's show, to which he has the rights to dictate what song makes it to the playlist," a source told Pulse.
Speaking to Pulse, Papa Denis said: "He told us that he couldn't play the video because it was of low quality."
If it was issues concerning video quality and production, Maliza Umaskini was responsible. So we reached out to Sadat, Papa Denis' manager who oversaw the video costs and production.
"We did that video based on international standards, because we wanted to put Kenyan music on the map. It was for that reason that we even contracted a top African producer so that he would give us a good product," Sadat told Pulse.
So was the issue in regards to standards, content or execution? We asked.
"Our video has been on platforms such as Trace Music which plays the best African music, but Pinye told us that it was sub-standard. If substandard means getting played on Trace and not on The Beat we seem to be doing well," Sadat responded.
"Guys, DJ Pinye doesn't run this industry nor does he make it or kill it. He is an entertainer (just like you) and plays what he likes or what he determines as quality. That said, he has no obligation or moral duty to play your music. He is neither your promoter nor your publicist," stated DNG
Other artistes also jumped in with Kris Eroh weighing in on the fact that deejays need to support Kenyan artistes.
"To all the deejays speaking ill about Kenyan artistes, when the Music Copyright Society of Kenya (MCSK) wanted to start charging you to play our music, I personally went to the offices with fellow artistes and told them not to do so as you were helping local artistes get popular. We all need each other," he said.
DNA who also claimed that DJ Pinye had refused to play his song, which went ahead to be a top club banger and Kenyan hit said: "If it's hot, it's hot. If it's not, it's not! No one can make or break it! I stopped supplying music to some deejays and now they are forced to find it through their own avenues."
Related Topics