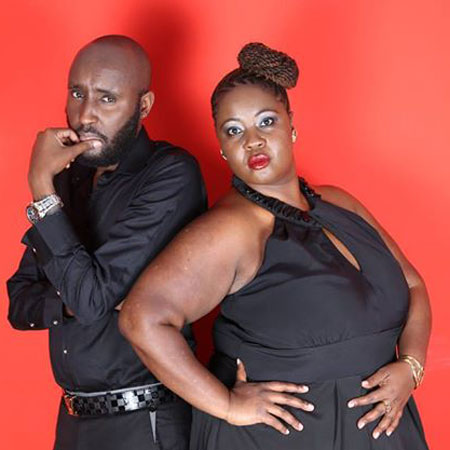 Kiss 100 Presenters Shaffie Weru and Kalekye Mumo Photo: Standard
A lot has been said about Shaffie and Kalekye as they take on the flagship show at KISS 100 from Monday and a lot will be said in days, weeks and months to come - lakini watasema kisha watalala.
However, before you lala, hear this, Shaffie and Kalekye in the morning is about a new chapter in the story that is Kiss 100 and rather than skip straight to the last page of the book and write your own boring ending, listen to the show first.
You must understand the undisputed success that both Shaffie and Kalekye enjoy isn't about luck. It's about focus, pure humility for the audience and a desire to do well every day.
When Shaffie came to Kiss years ago as an intern, he was barely memorable. He worked in the newsroom, reported on Parliament (had to wear a tie) and even worked in our production and creative departments. When his internship ended, he simply refused to leave. Very few radio presenters have the skills Shaffie has. His news skills, ability to tell a story, to organise an event, get an on-ground brand activation going and best of all record and edit material for on-air use. Shaffie doesn't just work on radio, Shaffie works radio.
Kalekye came to Kiss just as we went into the first referendum. She was destined for the newsroom; she didn't want to read the news, her heart was in presenting, but like most smart people, she took the job at hand and waited for her chance to come.
Kalekye is as skilled as Shaffie on the production side of radio and she adapts fast. In the early days of 2008 after the violence from the 2007 elections, Kalekye was part of the skeleton crew that worked long crazy shifts to make things happen on air. She edited, she scheduled...she worked. The Rush Hour which they created from scratch isn't something that was handed to them.
They started off with the same noise and mumbling that's happening now. Shaffie and Kalekye back in the day had only one on-air show. A Saturday show they created from nothing and campaigned to get on-air simply because they loved Kenyan Music - that show was Keepin' it Kenyan. When our drive time show changed overnight and we had to fill the gap, someone suggested to me that I consider this duo. They had worked together, they loved being on radio and they had shown massive initiative.
I barely slept on the suggestion. I made them our evening drive crew. I prepared their clocks, schedules and structure over two days and got them on-air in no time.
Most people can't remember how much mumbling they did back then about these two, they only see what the show looks and sounds like seven years later.
These two people don't spend a lot of time spewing hot air about who they are and what they are doing or not. In fact, most people would rather make up stories about them, because like me, they believe in doing the job and letting that speak for itself. So come Monday September 29, Shaffie and Kalekye will take over the flagship show at Kiss 100 and they will be phenomenal.
How do I know that? Because anything they have ever set their mind to and any task or challenge we have ever set for them as management has been met head-on and accomplished with flair.
The other reason I know Shaffie and Kalekye will do well is because they are not radio presenters. They are personalities. This country is awash with presenters; boring, lacklustre, parroting, cliché-dropping, Internet vomiting, auto-pilot mouths with really nothing to offer. They truly believe the job is about talking. Talking about themselves, their lives, their small expeditions... it isn't.
So do yourself a favour and me too, tune in, call them up, tweet them and even try to trip them up. I have Sh10, 000 that says they will goof and say "on the rush hour". I can't wait.
Shaffie, Kalekye, I won't say good luck; you have this covered!
Related Topics