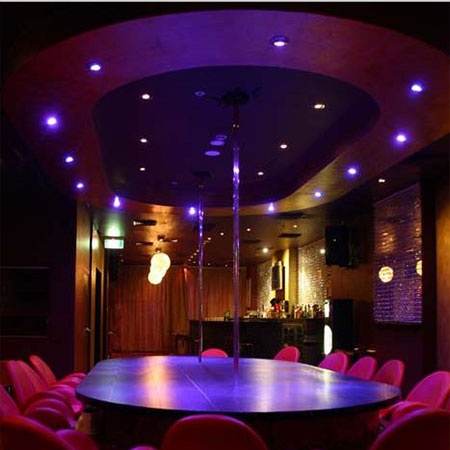 Strip club view Photo: Courtesy
As about 12 Nairobi clubs open up to the pole-dancing strip dance entertainment, the local showbiz scene is getting heated once again as male patrons start burning their passions in clubs over the semi nude dancers, some of whom are willing to give more
In this tiny and popular Nairobi downtown club, a pornography video plays on the 40-inch plasma screen as six strippers prepare to pounce.
This is not your ordinary entertainment. And what you are about to experience is not meant for the faint hearted. So we sip the shots of hard liquor, trying to unnerve. It is but a moment for men.
As the clock strikes 11pm, six strippers dressed in bikinis emerge and starts to tantalise the male dominated crowd with their erotic dances. They are literary taking on the strip pole and the men to whom they lap dance with cheers and ogling eyes betraying their provoked sensual emotions.
One of the stripers, whose name we later come to find is Suzzi, climbs the pole with attitude. She spanks the pole and whips her long hair as she slides down, her head facing down as she gyrates ingeniously. Another one is also head fast on a table, her legs spinning around a client's neck. Things are heating up in here! We order for another double of tequila. And another…
The patrons are getting real carried away and asking the girls to reveal more as they start tipping them, some throwing in Sh1,000 notes. And one by one, they remove their bikinis and are left with red G-strings. Two of them actually goes totally nude and invites men to dance with them. And here are condom packs getting placed on the dimly lit tables. Whatever happens here remains here.
At around 2am, we head to Pango, the Moi Avenue situated Florida 3 club that introduced the strip tease dance to Nairobians. And here, with a more elite crowd of patrons partying the night away, four strip tease models keep the entertainment coming. Now this looks like serious business. It is a lucrative venture for the strippers who keep collecting huge tips from the clients. You get a lap dance at your will, and even much more if you negotiate well.
Gone are the days when strip clubs were regarded as a downtown affair of the less elite. Pango's clients are millionaire business merchants, top CEO's and showbiz celebrities who trust the privacy at the venue they now prefer to unwind at.
It is a six nights affair weekly affair complete with a choreographer who trains the ten girls in her team. They work in alternate nights. This is what they do for a living.
On a good night, a stripper can make up to Sh10,000, even Sh20,000 depending on the clients who visit, some of whom are foreigners, tourists willing to part with the dollar for some little gyrating sexy treatment. That is besides the monthly pay of about Sh20,000 the girls are paid by the club owners.
"Many people don't view this as clean entertainment through which we make a living. They think it is indecent and immoral. But we view it as a job, just like any other form of entertainment. We respect the trade," one of the strip dancers who gives her name as Njoki informs adding that she pays all her bills through strip dancing.
"I have been doing this for over four years now. Even though it was a bit challenging when I started off due to the stigma associated with the business, I am not used to it, even to male patrons who sometimes try sexual harassment on us. We keep it purely professional," Njoki informs.
"Now we have people from other clubs coming over to give us better bargains. Club owners in Mlolongo, Mombasa, Nakuru are now copying what we are doing here. It is boom time for us."
Beyond the red-light district, the business has also caught up in the uptown Westlands sports clubs and in Kileleshwa where club owners involved in the cutthroat business competition are using strippers to entice clients. It has even moved to other major towns like Mombasa, Kisumu and Nakuru, as well as the highway Mlolongo town and Mtwapa, the two towns that never sleep. In Nairobi alone, there are about 12 strip clubs and almost an equal number of private residents where the business is practiced quietly.
Related Topics