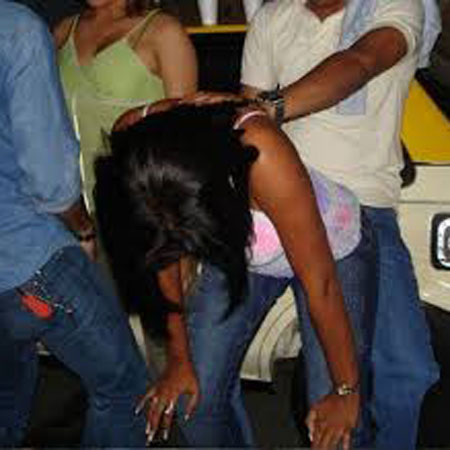 Students at a party Photo: madamenoire.com
During an end-of-year-school party held at a lounge, *Mike, a third year college student in Nairobi witnessed a student couple in action on a sofa, with the lady sitted on the man's lap oblivious of the eyes on them.
Instead those who saw them walked away in embarrassment, he informs us.
Mike, who has been to many of school-organised events also recalls his own incident at a Fresher's bash last year when a panty was thrown on his masculine torso.
"A drunken girl removed her panty and threw it at me, prompting me to take her to my place. Well, I don't have to say what happened, do I?" he chuckles.
One-night stand scenarios do not revolve around college students alone. An event attended by Pulse unveiled that teens too have become good at quenching the coital thirst.
The students, fooling everyone that they are standing at the dance floor were actually 'gerring it'. It is only when the music went off and the hall became empty that a lady's inner-wears and condoms were seen on the floor.
Alexis Nereah, who cleared high school last year, says that college guys are known to "squeeze" high school girls with no remorse.
"Funkies are your chance to get hit on, mingle, see your boyfriends and get contacts of other boyfriends too; relationships are never that serious while in high school," says Alexis.
"To attend funkies, I made sure I was in any club for me to be out of school on weekends. I am not very sporty but I would find myself with the basketball or even hockey team, provided they are leaving school," says Alexis.
Others students we talked to divulged that nature trips, symposiums and other school trips gives female students the opportunities to get some kisses and touches from other high school boys.
"Some go all the way in isolated classes, at the backseat of the school bus or even in the carpentry workshop. All they need is a friend who will watch out for them as they do their business," reveals one *Joan.
DJ Evolve, a former Jamhuri Boys student, discloses that spinning the decks is not the only thing that he has been upto. He had his way with a couple of girls who flock around him to 'request for songs'.
"I was the real player. No cute chic would walk by without me vibing her. I had my fair share of having sex with them. I am now into grown women," DJ Evolve says.
The deejay says that he saw, firsthand, how sexually crazy high school students could get when he started deejaying for their events two years ago.
"These riddims also do nothing to help the situation. A guy cannot leave a funky without being grinded by at least two or three chics. You don't have to see her face; the behind does all the talking," DJ Evolve confesses.
Kevin Onyango, a second-year college student explains that students fresh from the village indulge in binge drinking and smoking weed. He further snitches devious tactics youths think up during school events.
"A guy would send drinks to a table where a girl of his taste is and watches her get drunk while making sure no man comes close. He will then walk up to her and have sex with her at the balcony," says Kevin.
This, he says, is the foremost motive for many men who attend school parties. Besides balconies, Kevin divulges that school buses are places for quickies during drama festivals when the rest of the students are in halls watching perfor
Related Topics