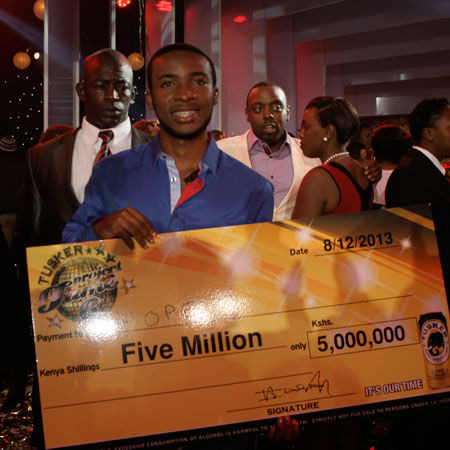 Burundi's Hope Irakoze was this year's TPF winner.
Lying prostrate on the podium as the entire region shared his moment of glory, Hope Irakoze looked lost and taken in disbelief. In a fraction of a second, he had become the region's newest young millionaire.
On his side stood a dejected Kenyan duo of Amos and Josh, the two Kenyans who had been tipped to win the contest only to be announced the first runners up. Many home fans had been rooting for the Kenyan boys and it was no wonder that mixed reactions followed the announcement as the show came to a grand close.
It is only a matter of time before the celebrations die, paving way to reality as the whole world mounts pressure on the winner to become the 'fame' he should be. Eyes are now cast at the backlog of past winners whose singing career taxied on the runway but failed to take off, sparking criticism as to whether the talent search event is committed to making stars.
It was notable this time, though, that the academy helped the finalists produce music videos of their original work in order to thrust them into the real music world. Will it work?
Ironically, some past winners like Alpha Rwirangira, Hillary Davis and Esther Mugizi have been quoted criticising the organisers for not living up to their promises. Some argued that the sponsor makes huge profits, but fails to support its winners after each season ends.
Besides the inaugural Tusker Project Fame winner Valerie Kimani and Esther Mugizi from Uganda who actually travelled to South Africa to record with Universal Music Group — as per the pledge by the organisers, other winners like Alpha and last year's winner Ruth Matete have nothing to show for the win after their recording deals failed to be fully honoured under unclear circumstances.
Speaking about the project last year, a bitter Tusker Project Fame season three (TPF3) winner, Alpha Rwirangira denounced the show organisers accusing them of, allegedly, not fulfilling some of their promises and abandoning past winners.
The Afro-beat sensation argued that none of the former Tusker Project Fame winners had signed a recording deal with Universal Music Group from South Africa, a package the sponsors had promised. ?
"The sponsor makes a lot of money from the project fame music competition, but it doesn't support the winners in return," a furious Rwirangira is quoted to have said. ?"Most of the former winners are still struggling to make a name in the music industry and chasing the recording (deal), which is supposed to be included in the package that is given to the winner of the competition," he added.
In fact, instead of working with Universal Records, Rwirangira opted to work with Black Hole Production in the US, a production firm that recently released his hit single Songa Mbele. Ruth Matete, last year's winner, is still hustling to put together her debut album.
After winning the Season Five edition, The church girl told Pulse that she was going back to serve as a praise and worship leader in her church. She said she would only record gospel songs, a factor that was probably too hard for Universal Records to accommodate.
Funny enough, some of the losers in this one-time glitz competition have emerged more successful in their music career and are minting more cash than the actual winners, seemingly in what can be termed as the curse of number one. But while on that, let's find out where TPF's past winners are and how they are doing;
Valerie Kimani
Becoming the first winner to take the coveted prize home in 2006, she somewhat achieved some success considering she released an album entitled Baisikeli in 2007. She starred in MTV's miniseries Shuga as the naïve Sindi and also played a lead role in Eric Wainaina's Mo Faya musical as Syombua.
However, Valerie Kimani is yet to find her place in mainstream Kenyan music.
In fact, her fellow contestants then like Nakaaya from Tanzania seems to be enjoying more music success at the moment with hits like Mr. Politician becoming continental hits.
"It is hard being a TPF winner as fans put many expectations on you yet you have to meet the conditions the recording contract comes with. For example, you may not have much say on decisions made on your songs by the label you have been signed to, and so you may not even have a say on when or how your songs should be released,'' defends Wendy, TPF2 second runner up.
Wendy has since released her own album. Valerie is currently part of the cast of the Michael Jackson ONE production that is fusing acrobatics, visual and dance that will be staged in several American cities and other parts of the world. However, her fame here at home has waned — over the years.
Esther Mugizi
After her win, the Makerere University alumnus promised to release an album immediately after dropping her Telecommunication Engineering course in her Third Year to pursue her music interests.
However, to date, the album remains a far-fetched dream. Patricia Kihoro, a former contestant, feels that more should be done by the TPF organisers to help winners achieve their music dream.
"They should support winners and not necessarily monetary wise. As much as the winner has the responsibility to play their part, the sponsors need to do more like offer guidance.
Alpha Rwirangira
The vocal winner, who won the TPF3 in 2009, became the first to bring out the controversy surrounding the competition. With several songs under his belt including No Money, Come To Me (with Bebe Cool), Songa Mbele (with AY) and his latest Heaven (collabo with Hollywood actress Megan Good's sister LaMyia Good — which was released this year), his popularity is still low.
Currently enrolled at Campbellsville University in Kentucky for a four-year music degree, his win was a surprise, but somewhat justified by his obvious passion for music.
However, it is Patricia Kihoro, one of the TPF3 finalists who seems to be doing better of the two, now with a number of hit singles in her name.
Davis Ntare
The last time we checked, Davis, the winner of TPF4 had been arrested and put behind bars at the Central Police Station in Nairobi before getting released after a scuffle in the then popular Tropez pub.
The singer stayed behind bars overnight allegedly for biting the thumb of a female patron. That was early last year. The singer continued to get bad publicity with allegations that he had impregnated a Ugandan artiste Zahara Toto, an ex Chilli Galz singer making showbiz headlines. It was actually after these news came out that he relocated to Kenya. Since, there hasn't been much to say about the TPF4 winner.
As he struggles to get his music rhythm, fellow TPF4 contestant Msechu, from Tanzania seems to be enjoying more mileage after releasing a number of hit songs among them Relax, featuring award-winning star Kidum.
Ruth Matete
Beating 15 contestants to carry the title home, the talented Ruth proved to be a force to reckon with, but is yet to deliver any tangible results. Mostly performing at churches, the TPF5 winner says TPF offers a great opportunity for those who want to venture into music.
"It is a good platform and it will help one build a career. Personally, it has given me mileage and great opportunities,'' she says.
However, it would be wrong for the whole world to turn the blame on EABL who sponsor the event before finding out the details as to why the said recording deals hit a snag.
In fact, the focus goes to Gallo Records and Universal Records, the two recording firms, which had been entrusted with the winner recording deals before the contract was shifted to Sony Africa under its flagship brand Rockstar4000 — Kenya, which is run by local professionals.
Rocktar4000 reasons that it is important to understand the TPF winners from a local context and know what the local market needs.
"The basic role of TPF is to identify and nurture talent for local consumption before thinking of the entire world," a representative from Rockstar4000 told Pulse.
"In that regard, our role is to make sure the current winner works around content that resonates well with the audience here," added the source, further suggesting that that could have been the disconnect with Gallo and Universal stables who target international reach.
The remarks further gives hints as to why even the winners themselves have been feeling cold about taking the mega deals as their focus has been the East African market.
"I believe we are headed towards the right direction. EABL is doing a great job and I believe the best way to reciprocate by supporting their great efforts," the source concluded.
True to that, every year, EABL puts in a considerable budget towards the show, the premier reality TV music event in the region that has not only seen winners walk away rich, but also created musicians who are now living their dream — across the region.
Related Topics