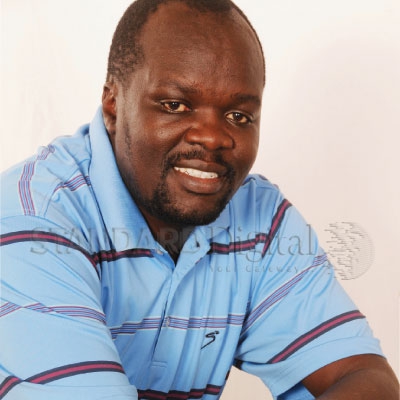 Controversial blogger and social media commentator, Robert Alai Onyango, has been in the news severally because of his bare-knuckle face off with public officials, and frequent arrests for his controversial online posts. He spoke to MWAURA SAMORA on his arrests and opinion on Kenyan journalists
Did you post alleged photos of Garissa University College victims being buried in a mass grave at Lang'ata Cemetery?
I just re-posted the photo of the lorry. Somebody in Lang'ata had posted the photo saying it had been spotted in Lang'ata Cemetery dumping some dead bodies. The photos of dead bodies in a pit were posted by somebody else, who apparently dragged my name to it.
The online publication that associated me with the photo has since apologised. Some people tag my name in their posts without consulting me just to get more hits. I don't post unverified materials.
There are claims you are paid to push certain political agenda and malign some people...
What is maligning? This is a word that people define subjectively. What one person may claim is maligning, might be very good news for others. And those who say I am paid should tell me who is not paid in this country.
Who works for free anyway? Whatever I do, I do in the interest of the public, but I can't deny the fact that I am paid to do what I do for a living. The mainstream media want to finish us bloggers, but since they never created us, they can't destroy us.
Have you ever been attacked by people who feel aggrieved by your hardline stance?
I have been beaten and my ears cut by people opposed to my views. I have been arrested many times. But I will never shy away from voicing things that are for public good.
You reported for CNN during the recent Garissa University College terror attacks. International media also interviewed you during the Westgate attack. Why?
I post credible information and that is why they trust me. Besides reporting for CNN from Garissa during the recent terror attack, I also got very many positive mentions by the international media during the Westgate attack. It's only the local media that does not recognise our efforts.
Who are your sources?
I get my information from the public who believe in what I do. My number is on Twitter and people call or email me. Most of these sources are those ignored by the mainstream media because most journalists have their own preconceived opinions about who constitutes a source.
You get arrested many times because of your posts. Do you do this intentionally to improve your ratings?
Nobody would wish to be arrested, given the discomfort of our police cells. I don't need to be arrested to get ratings. I have led successful online campaigns and helped people receive blood donations or get their hospital bills paid. These initiatives, obviously, make me famous.
People ignore the good things we do as social media activists and only make noise about our mistakes. But even if they finish me, another Alai will take my place and continue informing the public.
You once posted that the government is playing 'kalongolongo.' What did you mean?
Those who grew up in Nairobi Eastlands know kalongolongo means mchezo ya watoto (children's game). I wanted the government to stop playing mchezo ya watoto.
The president had used the same phrase during the Jamhuri Day celebrations when he said, "Watu wengine wako na utoto." This was my opinion, and I wonder why I was arrested for expressing my own opinion. I didn't insult anybody.
Many claim you are a rumour monger, sycophant and tribalist...
I am the voice of the voiceless. I just speak on behalf of those whose voices wouldn't be heard even if they shouted. People, especially in the media, have given me so many labels, but I don't really care.
How do you earn a living?
I do other things besides social media activism. People think I am always online just because my work entails being online most of the time. I do social media consultancy for individuals and corporates. I also do marketing on my pages, but on a very small scale.
That's how I get my money, but just like any other hustle, it's not always consistent. Sometimes I go a whole month without earning any money. But whatever I earn is enough to afford me a house in a good neighbourhood and pay my school fee at the United States International University.
Dennis Itumbi recently took you to court over an online scuffle. How do you relate?
We are good friends. We actually speak almost every week on various issues. When he got the State House job, people wanted him fired simply because he didn't have a degree. I was one of those who strongly defended him. There are very many degree holders out there who cannot do what Itumbi does. I consider him a gentleman because he filed a civil case against me but never used the state machinery at his disposal to try and influence the outcome. The case is still in court.
Are you on Cord's or ODM's payroll?
I am not on the payroll of either, but I am a strong supporter of Raila Odinga. I don't understand why the media makes supporting Raila Odinga look bad. I support Raila, but I am not a sycophant. In fact, I criticise when there is need.
I also support government position when I feel it's right to do so. And what is wrong with being on ODM payroll anyway? In fact, they should be paying me because I have done a lot of work for them for free over the years.
Do you have a family? What do they think about what you do?
I have a family who appreciates what I do. That is all I can say.
Related Topics