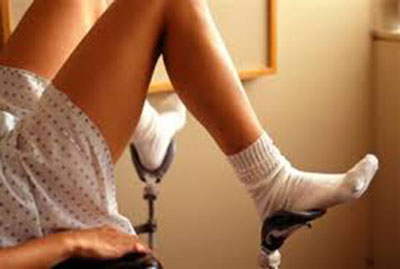 The rising cases of misconduct of doctors on female patients is on the rise
By Linda Keya
When a young journalist went to a dentist, she took offence when the man kept leaning across her chest — and in the process 'accidentally' rubbing her breasts — to pick or replace his instruments. She angrily told him off.
Sometime later, she visited another doctor who demanded that she undresses because he needed to check her heart and back. She found that odd because she felt her symptoms were suggestive of malaria and walked out. A second doctor diagnosed typhoid.
And yet another woman who visited a doctor to have a growth on her breasts checked was shocked when she later received a text message from the male doctor saying she had beautiful breasts and enquiring whether she had a boyfriend.
Undress
Welcome to the world of unethical doctors whose idea of an 'injection' is straight out of Adam and Eve's rule book on the forbidden fruit.
"Last week, I was unwell and my friends referred me to a doctor in Nairobi's Upper Hill area that they thought would fix my problems," a woman who does not wish to be named narrated to this writer.
"The stairs led me to second floor, to the doctor's office, and minutes later, the receptionist ushered me into this airy room. The doctor, a handsome but aged man in a sparkling white overcoat, immediately rose, shook my hand vigorously with a firm grip and offered me a cup of coffee.
"Doctor, I have been having bad stomach pains, and my tummy starts running immediately after meals," I began.
"He nodded gravely, checked my temperature, my eyes, my tongue and then asked me to undress and lie on my back on a coach behind a curtain," I obliged.
"Cover yourself with that sheet. I will be right back to examine you," he ordered.
"Seconds later, he came in and asked me to fold my knees and then pushed his finger to God knows where. As I squealed with shock, it hit me in an instant that I was dealing with a pervert, not a healer. First, he is not a gynecologist, so he had no business checking me that way and two, you don't honestly diagnose diarrhea through the birth canal!
"So I shot up and told him off. To calm me down, he reached out to me — one hand on the shoulder and another gently patting my breast. That made me even angrier, so I yelled at him. Sensing danger, and perhaps fearing that I may have raised an alarm, he threw me out arguing that I didn't want to be treated. I was later diagnosed and treated for amoebiasis by a different doctor."
Are these isolated cases, stories fired up by some women's fertile imagination or do such things actually happen?
Meet Grace Kilwake*. A decade or so ago, when the HIV stigma was at its peak, Grace 46, required a letter from a doctor giving her clean bill of health before she could travel to a foreign country on official assignment.
"I booked an appointment with a doctor recommended to me by the organisation I was working for," she starts, her disgust still evident.
"I explained clearly the purpose of the letter and the basic tests required for the same — urine, stool and blood, which are universal and generally acceptable. But instead of sending me to the laboratory, he asked me to lie on my back and started giving me a 'vaginal exam' with his finger. In fact, he escaped to his own little pleasure world," she says.
"I felt violated but I let it pass because I needed the recommendation letter so badly and within a very short notice. In any case, I wasn't quite sure whether he had crossed that line between pervasion and professionalism," she says.
But to confirm that the doctor had been up to no good, the recommendation letter, complete with an official rubber stamp, was issued without any medical tests.
"When the letter was finally in my hands, I blasted him. But he acted like it was just one of those things, not such a big deal," says Grace.
Incredulously, young students seeking medical reports for admission to Form One are most vulnerable. The perverts tell these 13, 14 or 15-year-olds to undress for them to check whether they are pregnant only for their itchy fingers to land on the young girl's breasts or in their innerwear.
Jennifer Kimani* has been a victim: "I was being admitted to Form One 19 years ago to a school in Western Kenya and needed a medical report from a certified doctor. I too, was told to undress for a pregnancy test," she says.
She didn't undress completely, though. She lifted her dress and the doctor began pressing her lower abdomen with his hands.
"Before I knew it, his long cold fingers were suddenly inside my panty and his zip was bulging like he had a two-battery torch hidden in it. I have never felt so embarrassed — I was just a kid," she says.
Gynecologists have been cited as the worst culprits. And some women, maybe out of ignorance of what exactly is expected of a gynecological visit, or fear of doctors, just lie back in shame but assume it is part of the examination.
Women this writer spoke to said it begins with suggestive comments like, "You have such nice thighs…" or, "Your breasts are very cute…" to "Your vagina is fabulous. No one would believe you are 32 — gosh, you feel 18. Or, you need to have a boyfriend and regular sex. It's good for your health…"
Doris, an expectant mother, says even pregnant women are not immune: "My former gynecologist wanted me to remove my innerwear every time I had an appointment for my antenatal clinic visits. He would throw in comments about how yummy looking my thighs were and how clean-shaven I was. I had to change doctors."
Mid-life crisis
But sometimes, some patients play along. Mary Yucabet*, 32, a teacher in Siaya and mother of three, confesses that her doctor made love to her on the examination table.
"In a way, I kind of encouraged him. Let's just say that my marriage of 15 years was dead. My husband was suffering from mid-life crisis and was too busy chasing small girls to take care of my needs. So, you see, when my doctor asked me to remove all my clothes and close my eyes, the rest just followed. I am not someone who would lose an opportunity when it presents itself!" says Yucabet, laughing.
Asked whether what she did is acceptable, Yucabet shrugged her shoulders indifferently.
"Well, I am aware medical ethics do not allow for such things, but my doctor is just irresistible. He has soft, gentle hands — like a woman's. And anyway it was my business to say "stop" but I didn't.
According to our sources, many are the women who don't say "stop" and end up getting married to their gynecologist — as second or third wives.
According to the Kenya Medical and Dentist Practitioners' Board, it is unethical for patients to be romantically or sexually involved with their patients, but some wayward and roguish doctors can't help it.
But as they say, every market has its mad man. You could say every hospital has its mad doctor, too.
Related Topics