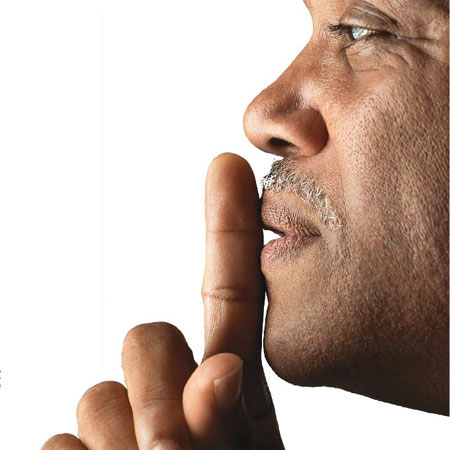 Men are born with an insatiable urge to conquer. A man who sleeps around and provides evidence that he, indeed, has slept with more women, tend to earn more respect from fellow men and some women.
And, in some cases, they are celebrated and, in fact, considered 'real men'. Unfortunately, the opposite is true for women. People have no respect for women who sleeps around and, in fact, consider them sluts. Most men, in their desperate attempts to put down and discredit women—especially those they unsuccessfully tried to date or bed—they malign them. Men engineer and spread lies of how cheap such women are, and boast of having slept with them.
Most of the interviews carried by this writer on this matter revealed that most men who have the audacity to make such wild claims do so to boost their ego and come off as 'conquerors' of sorts. Apparently, the 'respect' and adoration that comes with sexual conquest is what makes men boast and chest thump over such non-existent exploits.
"I have such a friend. We are so used to his lies that we treat him as such—a liar," says Fred.
Allegedly, a man gets respect from his peers whenever he makes a big announcement such as having had an 'amorous congress' with the hottest lady around town. Men are desperate for such bragging rights and would do anything to gain it. As for him, we treat all his claims as lies because we know what he can and can't 'conqueror'," says Fred.
Fred further explains and almost implicates all men. He says, virtually all men are fond of this kind of behaviour—when an opportunity presents itself— to massage their ego and to come off as 'smooth operators'.
CONQUESTS
"When men sit down—especially over beer—the stories always revolve around sexual conquests. The conversation would be as serious as what's going on at the stock exchange or matter to do with the economy but after a couple of beers, the conversation always degenerates and drifts to women and that's when everyone seeks the 'throne'. At some point, every man has lied about sleeping with a woman known by men present," Fred drops the bombshell.
Wavinya Mwende, a journalist with a fast-rising online publication, supports the claim.
"It is true. Nearly every lady has experienced such a situation. But it happens mostly to prettier ladies who everyone in the neighbourhood or workplace salivates over," she says.
"Competition for women among men takes strange twists. Men go to extreme levels to make it happen including sabotaging one another—when they are not 'playing spoiler' (Oh you see that woman? She has aborted thrice….Oh forget her, she is cheap, I have had an 'act of the rod' with her…yet I was not even serious, I just jokingly tried) they are spreading malicious rumours.
Others will claim they have had the cherry and will conjure evidence including fake text messages to back up their claims. This, in their minds, reduces competition for the woman in question considering very few men can dare sleep with a woman their friends have slept with."
ROGUE BACHELOR
Sam, a self-proclaimed rogue bachelor, has a page in his diary, which can easily go unnoticed. Because it has nothing but female names, which upon closer inspection, one discovers a scandal; the names have varying number of dots at the end. So far, the list has 32 names.
"Those are the women he has allegedly had 'gland to gland' combats with in the natural course of his life. The dots represent the frequency of the act. That is his wall of fame," says his friend.
His other friends are, however, skeptical of the number. One says that it true Sam is more of a Casanova but the number is exaggerated.
"Some of the ladies on that list are our friends and colleagues. We know them better. To some of them, 'he is not their type'. We highly doubt he has had anything intimate with them, leave alone a kiss," one of his friends dismissed him, as the rest laugh.
Sam is a renowned liar. He is said to boast about his conquest just to massage his enormous ego and mark his territory in a bid to ward off competition. His friends accuse him of, one day, duping them into believing a married popular media personality was nagging him for a clandestine relationship. Allegedly, the media personality—smitten by him—had kept sending him romantic text messages. Upon scrutiny, his friends discovered it was only but a woman whose name he probably had changed to look like it were the said media personality.
PREACHING WATER
"Look at this text message, this woman has been sending me such messages. But I'm taking my sweet time, she could be planning something sinister, you know," he once boasted.
Many men have been accused of making wild claims about women whom the furthest they have gone with, physically speaking, is hugging. Some are audacious enough to make such claims about their colleagues or friends.
"I am a victim of such malicious allegations," says Rose Waweru, a stall owner in Nairobi who lives in Buru Buru estate.
"My other male colleagues had begun giving me 'that weird look' whenever we had a chat about relationships. Whenever I gave my opinion, my male colleagues would give me a disproving look. One day during an argument, I expressed my views in regard to how people in the same workplace should never date.
"Before I could finish making my argument, a naughty colleague said something, albeit under his breath, to the effect that I was preaching water but drinking wine (meaning, I had had relations with one of my colleagues). Everyone burst out in laughter.
"Upon asking around, I discovered a colleague had been spreading rumours of how he had had his way with me. I confronted him and embarrassed him before those colleagues by telling him off," narrates Rose.
According to Rose, she believes men who spread such malicious gossip are cowards afraid of rejection from women. She explained that instead of a guy facing a woman he is interested in and expressing what they want, they resort to such tactics to boost their low self-esteem.
"Men are very interesting, such men, probably, bet with their friends over such conquests but when things get tough, they resort to malicious claims to win bets and earn respect from their friends," she says, amid a chuckle.
ACCEPT DEFEAT
Another victim, Liz Karambu, was so irritated after she heard from some of her friends about a non-existent relationship between her and some man she hardly knew.
"He had asked me out and I had turned him down considering I am married and don't condone cheating. He even insisted and begged me to have "an arrangement" with him but I also refused. So when the rumours started flying around that I had been 'having a thing' with him, I got so pissed off that I nearly slapped him the next I met him," she said.
Liz argues that such men are immature and never accept defeat. They, she adds, probably think they are too 'hot' to be turned down by women. "Some men cannot take no for an answer and they would do anything to regain some glory from a rejection," she said.
Elizabeth works for a reputable communication company and has undergone trauma after just eight months on her job. A rumour got to her that she had gotten the job after entertaining one of her bosses with 'horizontal acrobatics'.
"It was so bad because the other ladies in the office had always given me suspicious looks but I thought it was because of the way I speak (with a heavy American accent). The men were just casual and none was making a move so I thought they were just in awe of my beauty," says Elizabeth. "When I heard the rumour that had been making round about how I had lured the boss into a tryst to get my job, I was devastated," she says.
"The hardest part, after such damning allegations, is changing people's perception about you. When such scandalous rumours occur, the men are seen as the heroes and no matter what the woman does, no one believes them," a dejected Elizabeth says.
Related Topics