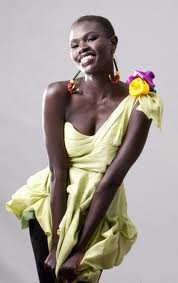 Greatness knows no boundaries from the days of Kenyan rock star Kelly Brown to the recent triumphs of Chris Froome; Kenyans are doing us proud and putting the country on the map by doing what they do on the global scene. ESTHER MUCHENE takes a look at some of them
Malaika Firth
Standing at an imposing 5'9'' this gorgeous 19-year-old born to a British father and Kenyan mother became the second black model after Naomi Campbell to be signed to Prada since 1994. Having posed for huge fashion brands such as Burberry and ASOS, she made her first ever advertising campaign for the autumn and winter 2013 Prada show alongside supermodel Christy Turlington. Raised in Essex, word has it that she occasionally visits Mombasa where her mother hails from, and is said to love local cuisine.
Jared Okeyo
Besides the many compliments he received from friends and family to try out modelling, it took the intervention of a photographer who spotted him at a club and invited him to his studio, having seen his potential, and the rest as they say is history. The budding model who was born in Kisii grew up in America, and has modelled for Sean John, Marcy's, Abercrombie and Fitch, AKOO, which is owned by T I and has also been featured in Real Housewives of Atlanta and the T I and Tiny Show on top of working with top artistes like Kandie and T I.
Ajuma Nasenyana
The 29-year-old model who grew up in Lodwar started out as an athlete until she caught the attention of Lyndsey McIntyre of Sura Zuri modelling agency when she was crowned Miss Nairobi at the Miss Tourism Kenya competition in 2003. Finding favour with the Ford Model Agency that launched her career, she has worked with bigwigs in the fashion scene such as Vivienne Westwood and Baby Phat with massive editorial and magazine appearances for Lacoste, Issey Miyake, W magazine to mention a few.
Edi Gathegi
Little did he know his career was destined for acting until he busted his knee while training. This crushed his basketball dream while he was studying at the University of California. Dejected, he opted for an 'easy' course, landing on acting, which he studied at the Tisch School of the Arts in New York. Born in Eastlands as Edi Mue Gathegi in 1979, his acting career took off in 2006 when he debuted in the Crank movie, House. The following year, he played the role of Dr Geoffrey, Big Love Cole that caught the attention of many Kenyans, X-Men, CSI Miami and most notable The Twilight Saga-New Moon series and film.
Rachel Marete
Being the tomboy she was, Rachel could never have imagined herself wearing high-heeled shoes, let alone gracing the catwalk until a friend convinced her to enter the Miss Universe-Kenya pageant, where she won in 2005. After moving to the US two years after landing a modelling contract, opportunities would come flying while she pursued her college education and she ended up on TV. The 27-year-old former Fair and Lovely model, currently works as the news and entertainment host at Transit TV in Los Angeles. She became the first Kenyan to dish out a Sh1 million video for her Kelele track.
Nicole Slade
Based in the UK, the multi-talented songwriter and singer had a passion for music from a tender age, and remembers getting her first Casio piano at the age of six — a sentimental relic she still holds on to date, as her good luck charm. The professional swimmer produces her own music and is also a member of the Hillsong Church in London. The SAE institute alumnus has been compared to Avicii as she progresses to House music with a huge following in Europe, becoming a fast rising star to watch out for.
Wamboe
Few knew her until she hit the screens and radio waves with her hit track Bro wa Chali Yangu, which featured Mejja and Sheena. Being a first generation Kenyan, she was born and raised in Tacoma, Washington. She started out at an early age in the children's choir. This 'Chaguo La Teeniez' winner is all out to prove herself as she entered BET's 106 and Park — Wild Out where she took first place for the first time with Kanja aka African King.
Lupita Nyong'o
Amidst tears, the emotional Nyong'o could not hold back her excitement as she spoke of her role in the movie 12 Years a Slave, one that could see her get an Oscar nomination. After making her local debut in MTV's award-winning drama Shuga, in 2009 as the memorable Ayira, her exemplary delivery left a mark in many viewers with an all-so believable. She was born in Mexico of Kenyan parent and this Yale School of Drama and Hampshire College graduate is set for big things with more acting opportunities rumoured to be on offer.
STL
The Norway-based beauty has accomplished so much that she is considered one of the fastest rising black stars. She brags of several awards, collabos, record deals and music success both locally and internationally that few have achieved in the cut-throat music world. With her ability to juggle different genres of music with catchy tunes, Stella Mwangi not only is the best paid female artiste locally, but also one to reckon with globally.
Kanja
This is another celebrity who had his eye on basketball court but an injury forced him to focus on another career oblivious of his rapping prowess. He tried rapping through battle challenges he got down with people and realised he was good at it and on radio. Born in the UK and raised in United States, the self titled African King won BET's 106 and Park — Wild Out battle in 2005 with Wamboe, and has been releasing tracks that are a major hit with local fans. His album Tribal Kingdom offers variety and talks about his life experiences growing up in UK and US.
Deep Roy
Born Mohinder Purba in Nairobi to Kenyan parents of Indian origin, Deep Roy is an accomplished actor, puppeteer and stunt man who has played several roles in Hollywood blockbuster movies. Starting out in 1976, he made his first appearance on the The New Avengers episode titled The Target. He has featured in several movies and series such as The Pink Panther Strikes Again, Doctor Who, Planet of Apes, Charlie and the Chocolate Factory, Corpse Bride and Star Trek amongst many others.
Kiran Shah
Similar in stature and often confused with Deep Roy, he was also born and raised in Nairobi before he moved to India at the age of twelve. He later relocated with his family to London where he pursued his acting interests. The current holder of the Guinness World Record of the shortest professional stuntman since 2003, he is a poet and has played several roles in big movies and TV series such as The Hobbit: An Unexpected Journey, The Chronicles of Narnia, The Lion, the Witch and the Wardrobe (as the dwarf), Ginarrbrik, Superman, Star Wars — episode six, The Return of the Jedi, Indiana Jones and the Temple of Doom Lord of The Rings, and Titanic just to mention but a few.
David Otunga
Wrestling enthusiasts know him as a World Wrestling Entertainment (WWE) two-time tag team champion, Dawson Alexander. Born David Daniel Otunga Sr in Illinois to a Kenyan father and American mother, the 33-year-old wrestler is a lawyer having graduated and passed his bar exam at the Harvard University, and an actor starring in a 2013 thriller movie The Call. He is also engaged to Grammy and Academy award winning actress and singer, Jennifer Hudson, for almost five years now, and they have a one-year-old son David Daniel Otunga Jr.
Benjamin 'Benji' Ochieng'
The US-based actor has appeared in numerous TV shows and movies including X-Files, Tears of the Sun (where as Colonel Okeze, he faces off with Bruce Willis), Inception and his recent one shot in 2013, MissInformed. A former funk rock band member, his first break came in 1999 when he got his first role on the X-Files episode Biogenesis. Born in Kenya, he moved to America in 1987. He has a Computer Science degree from California State University.
Chiyumba 'Chichi' Ossome,
The former Miss Kenya USA who won the crown in 2007, is an accomplished singer and actress. Born Chiyumba Ossome, the upcoming artiste is an alumnus of the Sacramento State University. She started singing at the age of six.
Related Topics