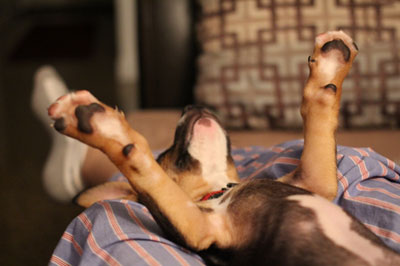 Image: Courtesy
By Gardy Chacha
News of girls in Mombasa allegedly engaging in sexual activities with dogs was met with disgust.
Commonly referred to as bestiality, the act, according to medical experts, is harmful, but cannot result to pregnancy.
Wachira Murage, a doctor based at Savannah Healthcare, says naturally, fertilisation of gametes (sex cells) only occurs between a male and a female of the same species. Hence a dog's sperm cannot fertilise a human's egg. This means fantasy seekers with animals cannot get pregnant.
But can one contract a Sexually Transmitted Disease (STD)?
Murage says possibilities of STDs are low considering that the diseases are 'species specific'. Nonetheless, he warns that the likelihood of diseases transmission from an animal to a human through copulation is high.
He argues that zoonoses – infections that are transmitted from animals to humans – may be transferred through casual contact. A common infection is Brucellosis, which can be contracted from exposure to animals' semen, vaginal fluids, urine, saliva, feces and blood.
Murage says allergic reactions to foreign material like animal semen may also occur. This is because the body recognises animal semen as foreign and, therefore, provokes a reaction to get rid of the semen.
Allergic reactions range from mild irritation to anaphylaxis — a potential deadly risk to the life of the person involved. Further, he warns, physical injury or harm can also occur during intercourse with an animal. He says the sexual organs of other species in most instances don't match to the anatomy of human sexual organs.
For instance, the male organ of an aroused dog has a large bulb at the base that may injure the vagina.
Horses on the other hand, can thrust suddenly and cause their organs to considerably widen which is risky.
In 2005, Kenneth Pinyan, a resident of Enumclaw, Washington in the US died from internal injury after engaging in sex with a horse. Mating among animals is usually strongly controlled by instinct and at times the animals may get ferocious and violent in the process.
For example, in 2002, a 62-year-old farmer in Bulgaria was treated for a ruptured rectum after sex with a male pig.
Research is ongoing to understand the extent of physiological damage that can be caused by bestiality.
Related Topics