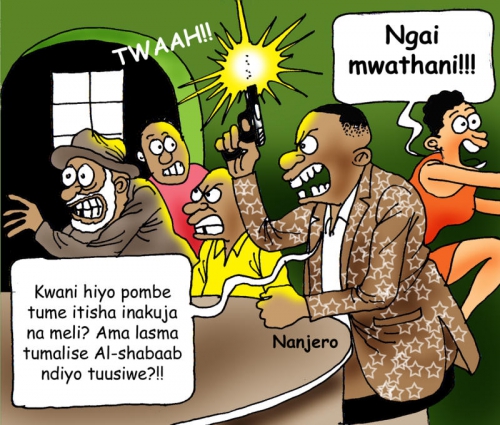 No one knows what some people drink halafu ina waharibikia as onywaji has ways of making a sot believe Sir God is in heaven, and all is well with the world, no matter whom they provoke.
And so it was that Karao Kiprop, many months after arresting regulars at Wa-Hannah's and locking them at the 'government gourd' for 'drinking after hours', returned to the local.
Nyambu's heart seemed to skip its beats at the dark appearance of Karao Kiprop. Sister Lucy's red eyes bulged. Owish appeared like sobriety was threatening to make an untimely return.
But the sonyi had come to enjoy his off day. He was accompanied by a wiry fellow who resembled a graduate kurutu from Kiganjo and yet to receive enough bribes to add some nyama on bone.
Kip demanded to know whether the booze he had ordered a second ago would be served in his lifetime, "ama lasma tumalise Al-Shabaab kwansa ndio tuusiwe?" Nyambu, the counter girl who once ferried water from the river with her mouth to wash classrooms at Nyanduma Secondary, as punishment, but would cough halfway, and be forced down hill again, did not take demands from a copper, without kirauni, kindly.
Karao Kiprop was not even a regular daily drinking officer at Wa-Hannah's. Nyambu shot him one of those kinyoriro looks from the corner of her eye and retorted: "Unatoa mkojo kwa police station unakuja kuniharakisha nayo hapa, mmh!?"
Before Karao Kiprop's mouth could form an 'O' to speak, Nyambu continued employing vernacular phrases her grandmother would have been proud of: "Nduku hika ta ruharo (you won't rush me like diarrhoea!)"
Kang'ethe, the old metal, has never laughed so loud, with his mouth so wide, one could see the 'small tongue' at the tip where the tongue meets the oesophagus.
"No karao has ever offered to throw me a drink," said Kang'ethe wiping tears. "Si leo Kip uni changamshe na Rotich quarter?"
Waka-Knife added his two cents arguing cops have madeni at the police canteen where poison is subsidised. He also wondered whether any one had ever noticed their pointed lack of fashion sense "na hata wakikufa... huzikwa na uniform!"
Karao Kiprop fired towards the roof and "Ngai mwathani!" was all we heard from Nyambu.
Related Topics