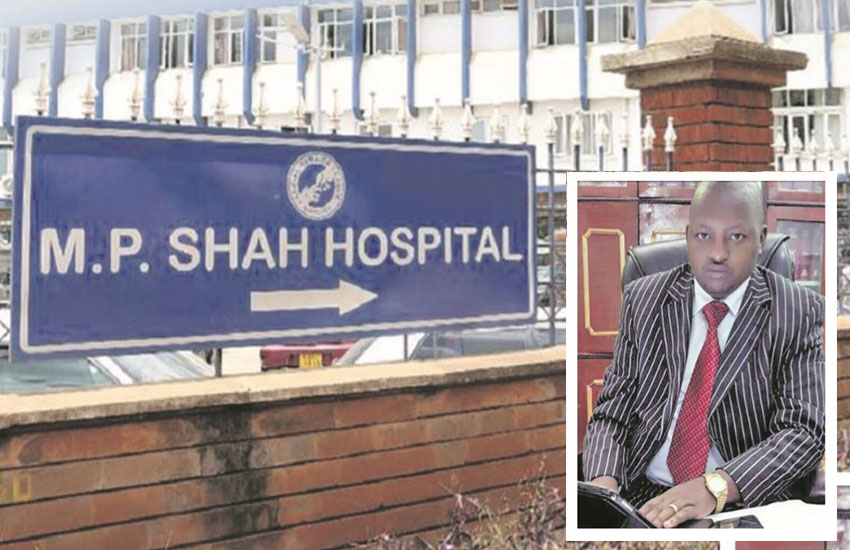 The cholera outbreak at Nairobi Hospital saw city lawyer Joel Kyatha Mbaluka searching for another medical facility where two sick children could get check-ups last Wednesday evening.
The managing partner at Mbaluka & Company Advocates drove towards MP Shah Hospital in Parklands Nairobi and into a waiting nightmare: Within hours he was accused of child trafficking and defilement.
As Kenyans were gearing up to celebrate Easter, Mbaluka was cooling his heels at Parklands Police station in Nairobi on Wednesday night.
The children in question were his son from his late first wife and the daughter of his late brother who was staying with him over the second term school holidays. The niece, 17, is a KCPE candidate.
Medics at the hospital became suspicious when the conveyance lawyer walked in with six children and requested check-ups on the niece and one of his sons. Two of the kids are from his current wife.
Mbaluka had requested an HIV test on the niece and suspicious medics - concerned that the lawyer had many children who 'seemed' not related to him - called the cops. Shortly, Anti-Human Trafficking Police and officers from the Child Protection Unit (CPU) pounced on him.
Mbaluka was arrested on accounts of child defilement and trafficking. He faced the defilement accusation after the niece allegedly told medics her uncle had been sexually abusing her while the second allegation arose after Mbaluka failed to "prove" all the six children were his.
The story spread around the country like a wild bushfire.
Mbaluka was freed on Thursday morning after police failed to establish the defilement claims.
"I have demanded from the medics to produce the statement in which the girl made the claims, but they are unable," says Mbaluka adding that the niece has since recanted some of the information she gave to the medics, claiming they were made under duress.
"She says she was forced to make the allegations against me. I am not taking this matter lightly, the damage to my reputation is too much to bear," says Mbaluka, adding that he believes the allegations were a fabrication to cover for breach of trust by the medics.
Mbaluka was escorted to Parklands Police Station where he was locked up until the following day when he was released after police failed to link him to any crime.
"They demanded I produce documents showing my relationship with the kids, which I satisfactorily did," he notes.
Contacted by The Nairobian, Jane Gaty, the head of communications at MP Shah Hospital did not wish to be drawn into the matter citing doctor-patient confidentiality.
"I cannot share with you any information since the matter is still under police investigations, let police investigate and come up with their findings," she said.
Grace Ndirangu, the head of CPU, also declined to comment. "I cannot comment on the matter," she said on Tuesday, April 23 as she "was busy at work". She also did not respond to a follow-up text message the following day.
Gigiri OCPD Richard Muguai referred The Nairobian to the Directorate of Criminal Investigations (DCI) saying: "I don't know anything about that case, which was being handled by DCI officers from headquarters."
Though back in his office after enjoying the Easter holidays, Mbaluka cannot believe the turn of events.
"Surely, how could I defile my brother's daughter who I am taking care of? Secondly, why have they not charged me for child trafficking?" posed Mbaluka.
"I think the hospital was trying to make up the whole story after realising that I am a lawyer." Mbaluka clarifies that he decided to have the two undergo tests when he found them unwell after arriving home from work.
His four other children jumped into the car, accompanying their dad to hospital alongside the two sick ones making them six in total. But matters came to a head when he requested medics to carry out comprehensive tests on the niece, including examination of her HIV status, but in confidence.
Her parents having passed on, Mbaluka argues that "I thought it wise that tests be done so that I am well versed with her medical history," he explains, adding that the tests were necessary as the niece has been sickly including developing a strange skin condition.
Mbaluka says he feels disturbed his reputation has been ruined while the dignity of his orphaned niece has been lowered due to breach of trust by the hospital, which rushed into making conclusions besides violating doctor-patient confidentiality.
Mbaluka regrets had it not been for the cholera outbreak at Nairobi Hospital, he could never have changed facilities.
"The embarrassment caused to me could have not happened had I gone to Nairobi Hospital where I am well known," he says.
Related Topics