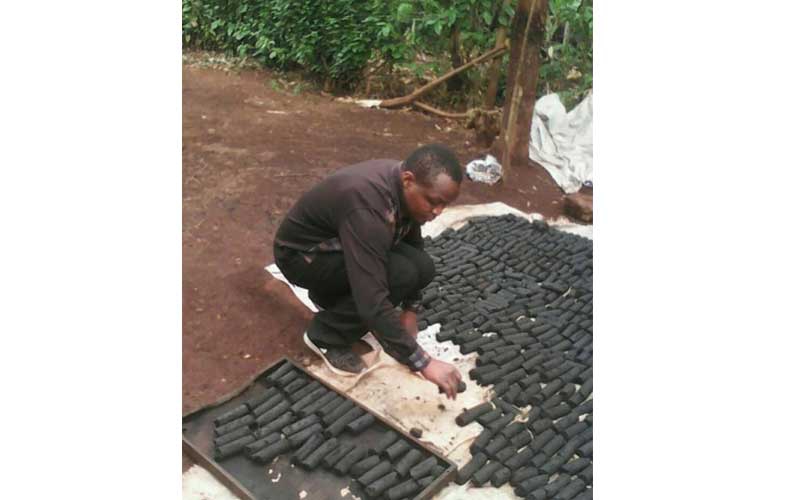 Esmond Nduati is a driver. After attending a friend's wedding in Nanyuki, he started making briquettes.
Briquettes are blocks that are made from combustible biomass such as charcoal dust, sawdust, rice husks or paper and are used for cooking in a jiko
"I had gone to Nanyuki for a wedding ceremony and found people using briquettes to cook instead of firewood. I asked one of the locals how they made them and that's how I got the idea. That visit made me realise that I could make good money from briquettes because they are not expensive to produce and there is a lot of demand from hotels and poultry farmers," Nduati told CityBiz.
He built a small factory at his home in Ngemwa village near Migaa estate to start the business. Even though raw material for this business is readily available, the biggest challenge for Nduati was how to acquire a briquette-making machine at a cost of Sh13,000. Last year, he managed to get a loan and bought the machine.
"There is more than enough charcoal dust and I easily get it for free, or sometimes at a low price. I don't have a lot of expenses to make my products. When the machine is well oiled work becomes easier," he said.
Wednesdays are always very busy for Nduati as that is when he collects charcoal dust from charcoal sellers in villages and towns.
"I work as a driver in Nairobi, always working the night shift. On Wednesdays, I visit charcoal vendors to collect the dust. Sometimes I get it for free, but when there is scarcity, I part with Sh100 per sack. I make my briquettes on weekends and by Tuesday, they are ready for the market," he said.
"I pour a mixture of red soil, charcoal dust and water on the extruder, which rolls into short, black wet rods that look like coal. I dry the rods in the sun for three days before taking them to the market," said the 27-year-old.
Currently, he is the main supplier of briquettes in Kiambu town and makes about Sh1,200 a day but during market days, he can easily make Sh2,500.
"Business is doing well now because people have discovered my products, which are not common in this area," said the father of one, adding that he is planning to save enough money for an electric machine.
Nduati can sell more than 30 sacks a month. A sack costs about Sh1,200 and a two-kilogramme pack goes for Sh60. He supplies his briquettes to hotels in Kiambu and Nairobi.
James Njuguna, one of Nduati's customers, says that, "I'm a poultry farmer and very happy that the briquettes have been introduced in our area. I used to spend a lot of money buying charcoal to incubate my chicks, but with the briquettes, I don't spend a lot because they can last for six hours compared to charcoal that lasts for just two hours. They are also convenient when preparing githeri, which takes long to cook."
From the proceeds of the business, Nduati has started dairy and pig farming.
"The returns from this business have boosted my income and enabled me start a farm. I have 20 pigs and two dairy cows," said the alumnus of Kiangwenyi High School in Kirinyaga.
Nduati's main motivation was his family. His pay as a driver could not sustain his young family. But two years on, Nduati's family is enjoying the fruits of his labour.
"My wife has been very supportive since we started this business and that's the reason I decided to take her to school to pursue her dreams. I use some of the money to pay for her education; she is a first-year student at Thika Medical Training College, where she is studying nursing," Nduati told CityBiz.
Briquettes are fast becoming popular in most hotels and homes because they are cheap and friendlier to the environment. They also have a high burning efficiency compared to charcoal.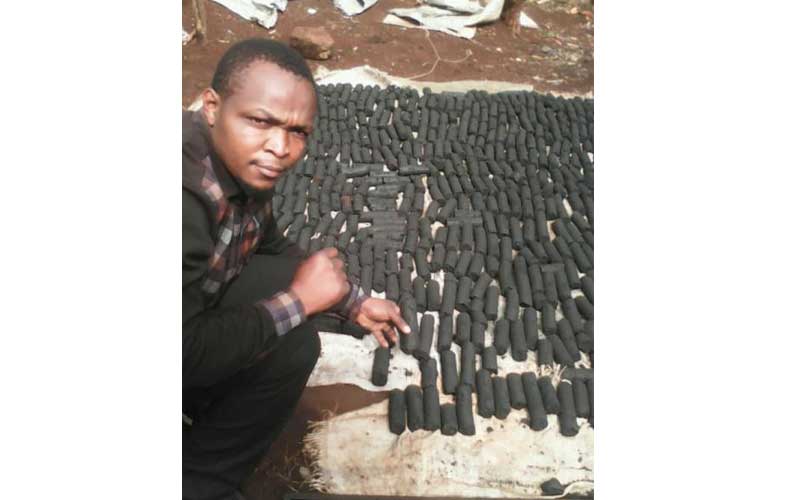 Would you like to get published on Standard Media websites? You can now email us breaking news, story ideas, human interest articles or interesting videos on: [email protected]
Related Topics