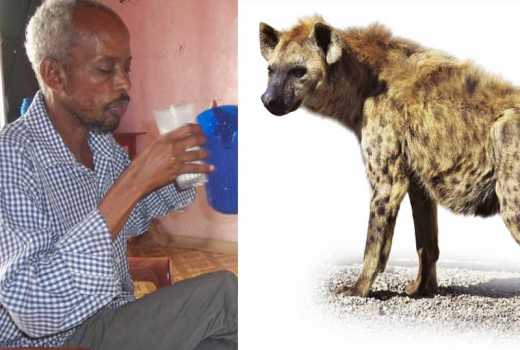 Residents believe that the hyena is a cure to mental illness
According to locals, the hyena is able to 'see and eat' the demons causing mental illness
Last year, health experts warned that one in every four Kenyans will suffer from mental illness at some point in their lives.
So serious is the disease that in 40 per cent of those seeking outpatient services in hospitals, one or more is diagnosed with a mental disorder.
And now, some residents from Somalia have found a cure for mental illness; the hyena.
They believe that mental illness is as a result of demons and the hyena has the ability to 'see and eat' the demons.
Strange as it may sound, Hassan Ali, a scout with Arawale Hirola Wildlife Community, confirmed that while working with a local courier company based in Somalia he witnessed hyena treatment practised on mad people in southern Somali port of Kismayu and Doble on Kenya Somalia border.
"There is a belief that the mentally disturbed can be cured by putting them in a room with a hyena, which can drive the demons out," said Ali.
According to a sociologist/anthropologist Abdirahman Awale, mental illness is linked to bad spirits and in most cases, people sought help from religious leaders or traditional healers.
"Given the scientific revelation that hyenas are intelligent animals, it is believed the hyena can see everything including the thing that causes mental illnesses inside the brain. The hyena is believed to feast on the demons. The whole process costs around Sh20,000," Awale said.
However, Awale was noncommittal whether hyena health care really works and chances of someone being repossessed again.
A traditional healer who didn't want to be named explained that once the hyena's eye meets the victim's eyes, it diagnoses the mental disorder and can tell whether the victim is violent or not.
The traditional healer explained that unlike hyenas, human beings can't see demons.
"Once the diagnosis is done, the hyena's next duty is drive the demons out of the patient, by devouring them, '' explained the healer.
Mohamed Dagane, a Garissa resident added that among the Somalis there exists a disease called 'warobo' - rabies like ailment which makes one cry like a hyena. "If someone suffering from that disease bites you, then, you automatically contract the disease," he said.
Related Topics