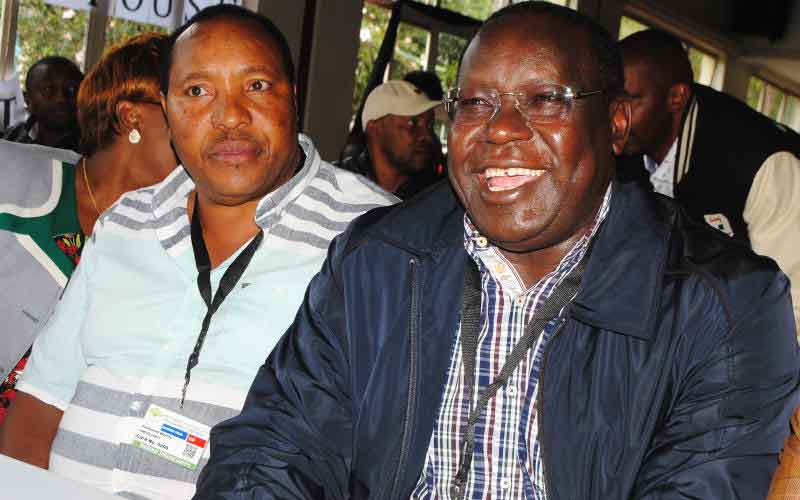 Let me now introduce my deputy, who is Mr Nyoro, although he scolds me a lot- Governor Waititu
I never thought my governor would go public with our small issues- James Nyoro
A storm is silently brewing in Kiambu County, pitting Governor Ferdinand Waititu and his deputy James Nyoro.
The two leaders recently traded harsh words at a church function, leading to rumours that they are not getting along.
The verbal fights between the two leaders seem to be getting nastier by the day, to the point of exchanging barbs in public.
Waititu fired the first salvo at a church function when he stood to introduce his deputy.
"Let me now introduce my deputy who is Mr Nyoro, although he scolds me a lot," Waititu said during the church service.
Stung by Waititu's words, Nyoro did not mince his words when he stood to speak. He use the opportunity to express his displeasure at his boss for what he termed as washing dirty linen in public.
"I never thought that my governor would say that," said Nyoro, adding that, "Sometimes there will be small issues here and there, but it's not a must they be made public," added Nyoro. This public spat has not passed unnoticed, and now residents seem to be divided down the middle.
There are those who feel that Governor Waititu is the boss and should therefore call the shots, while others prefer Nyoro, the son of the soil, owing to his vast experience.
Nyoro, a behemoth who put Governor Waititu at the helm of power was made Deputy Governor- which seemed to resonate well with the residents. This was mostly because Nyoro was seen as the true son of Kiambu. Then there was the little matter of his impressive CV with a stint as an adviser to Deputy President William Ruto on food security.
Nyoro unsuccessfully vied for the Kiambu gubernatorial seat in 2013 but lost to former Kiambu Governor William Kabogo who described him then as a passing cloud. He however bounced back as Waititu's deputy this year and their ticket edged out Kabogo.
Speaking about the tiff between Waititu and his deputy, Simon Boro, a resident of Kiambu noted that, "This is wrong. Nyoro should not underestimate Governor Waititu. If anything he (Waititu) has a master's degree and therefore nobody is superior to the other in terms of education. Nyoro is not in charge and should not feel that Waititu owes him anything. We voted for Waititu as our governor and that's enough proof that we have faith in him. Those who want to succeed him should be patient. It is his time to serve the people of Kiambu."
His sentiments were however not shared by David Gitau, also a resident of Kiambu. He argued that, "The deputy is more experienced. He should be the one running the county. It is well known that if Nyoro had not shelved his ambitions, Waititu would not be the governor today. Waititu is the Governor of Kiambu because of Nyoro.
Miriam Njeri, another Kiambu resident is of the opinion that the two leaders should put their differences aside and focus on development.
"I am disappointed. We thought that they would prioritise the people instead of their interests. If things continue this way, then it us, the people, who will suffer. They should swallow their pride and focus on important issues," Njeri said.
The residents of Kiambu can only wait and see how the drama plays out.
Related Topics