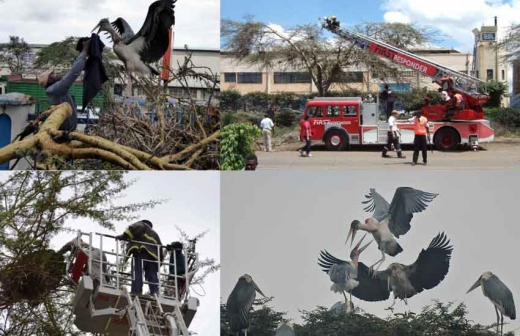 Scores of Marabou Storks that were kicked out from acacia trees at KICC parking lot to pave way for US President Barack Obama's visit to Kenya in 2015 turned to be very costly.
The birds were rescued and housed by the Kenya Society for the Protection and Care of Animals (KSPCA), but it cost them Sh25,000 every week to feed and nurse. This translated to over Sh3,500 daily.
The government ordered their removal on claims they would hamper Obama's visit by pooping on cars and making noise. City Hall offered a fire engine to carry out the arduous task.
About 40 mature Marabous and tens of chicks were rescued, but feeding them became a hard task as the government and volunteers kept off. KSPCA director Jean Gilchrist told The Nairobian they were shocked by their heavy eating habits.
"We fed them meat and rice, and occasionally leftovers from Kenchic, but they never got satisfied despite spending Sh25,000 on their food every week. We could only manage to feed them thrice per week.
We let them go after a few weeks and we remained with the nestlings for over two months," Gilchrist said.
The wild birds could however not stay for long and regularly popped in for food before flying away. This went on for weeks until they found habitats around the forested Karen area.
"By the time we released the matured chicks, we had spent in excess of Sh100,000. But we are happy we saved them," Gilchrist said.
Related Topics