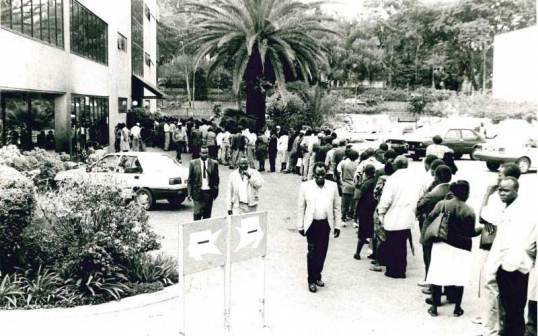 Back in the day when some blue chip local banks never took less than Sh30,000 in minimum deposits — keeping off hustlers — there came this financial outfit that took innovative banking to new heights.
It was Trade Bank founded by Alnoor Kassam, the accountant turned banker and his brother, Iqbal Kassam. This and other political banks including Pan African Bank lent Biwott and his companies a total of Sh3.4 billion which he never repaid, according to historians David Throup and Charles Hornsby. This was in the 1990s.
Biwott also borrowed a further Sh1.1 billion from Citibank, a major American corporation and as the New York Times reported at the time, "four fifths of the loan had been secured by letters of credit against Biwott's Swiss bank accounts."
The report noted that "while in power, the Energy Minister blocked all attempts to secure repayment. It took the intervention of the American Embassy with 'higher authorities' and a threat from Citibank and other foreign- controlled banks to pull out of Kenya to secure payment," David Throup and Charles Hornsby revealed in their 1998 book, Multi-party Politics in Kenya.
Hornsby informs us that Trade Bank was "75 per cent owned by Gad Zeevi and Biwott" with Zeevi as a director.
Insider trading, a run on deposits and investment in fixed assets accentuated its liquidity problems, placing Kenya's ninth largest bank under liquidation in 1993-eight years after it opened shop.
Trade Bank, then housed at Integrity Centre on Valley Road, Nairobi, was God sent to most Kenyans. When snobbish blue chips required introduction letters, pay slips stretching six months, employment contracts and among other documents affidavits from lawyers, all a prospective customer took to Trade Bank were passport photos and the ID card.
No wonder its motto was "Hakuna Maneno!" (no hustles!) and business hustlers thronged Trade Bank in droves. But the killer idea for this bank that sank, leaving depositors 'crying in the toilet' was its drive-in service with tellers serving clients from the comfort of their car.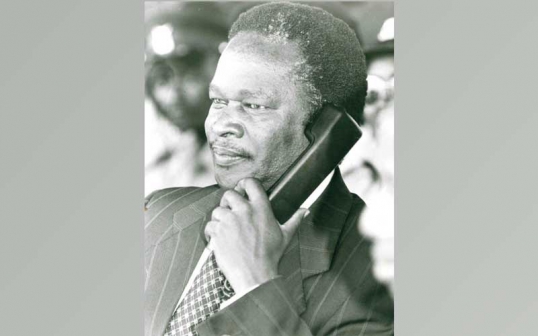 Trade Bank advanced Sh900 million unsecured loan to HZ Group co-owned by Gad Zeevi and Nicholas Biwott as Hornsby notes in Kenya: A History Since Independence. HZ was then erecting the iconic Yaya Centre and Yaya Towers in Hurlingham, Nairobi, but advancing the loan under the table led to liquidity problems which were worsened by other political borrowers.
Hornsby notes that, besides Biwott, Trade Bank also "loaned money to Kibaki's Nyeri allies Wamae and Munene Kairu. By 1993, it had also loaned more than $100 million (Sh1 billion) to other companies owned by Kassam himself."
Kairu, the former MP for Kieni and who developed Nairobi's Tena Estate died in 1998.
When Alnoor Kassam raised hell with Biwott over repayments, he was threatened with deportation which could to pass one morning in 1993 when CID officers paid him a courtesy call in his home.
The CID officers were sipping tea while Kassam was gassing his Mercedes to the airport through the back door. He fled to Canada.
Kassam, who owned the Diner's Card Kenyan franchise which introduced credit cards to Kenyans, left depositors in tears.
His family left Kenya via Portugal to Canada where Alnoor Kassam regrouped his businesses acumen into founding SmartSeed, a technology venture capital fund, raising over Sh4 billion for start-ups.
Alnoor splashed Sh100 million while running for Mayor of Calgary in 2007, but is now in the hospitality industry.
Related Topics