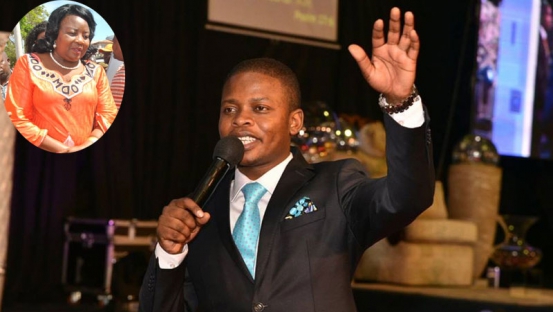 Wife of former Prime Minister Ida Odinga was among thousands of VIP and ordinary Christians who witnessed televised prophesies by leading Malawian-born prophet, Shepherd Bushiri in Prestoria, South Africa.
The founder and President of the Enlightened Christian Gathering (ECG), also publicly recognised the presence of Ida at the service on March 5.
"One of the VIPs in the house today is Mrs Ida Odinga, wife of former Prime Minister of Kenya. Thank you, ma'am, for worshipping with us. I have a gift for you after the service. God has a purpose for you, and God has a purpose for Kenya" Prophet Bushiri said during the globally televised live broadcast.
It was not clear what kind of gift the Prophet gave Ida or if she had just dropped by, or had purposely visited the church.
Bushiri normally recognises dignitaries and VIPs attending services at his church.
Ida has been in South Africa to keep her daughter, Rosemary Odinga company. Rosemary was flown to a South African hospital for further treatment three weeks ago.
ECG is one of the fastest growing mega churches in South Africa and on the African continent.
On March 5, Ida was among witnesses to prophecies that Bushiri gave at the beginning of the service, some with social - political and economic impact on Kenya, and other global ramifications.
He, for instance, prophesied that there was a stockpile of arms and military forces in Western Ethiopia, with the intention to launch a military attack on the Ethiopia government.
"They have secretly been spying on the country (Ethiopia) for three months with the intention of grabbing the market with explosions. Many lives will be lost. God has revealed this to me so that people may know God controls events on earth and reveals His secrets to his servants the Prophets," Bushiri claimed.
Related Topics