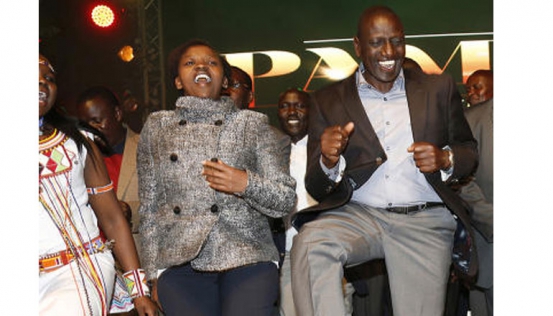 When Deputy President William visited Sango Primary School in Likuyani, Kakamega County, the trip took him down memory lane when he was 'tuning' his wife Rachel. The DP says only six kilometres separated him from the love of his life.
"I would walk along Soi – Kogo Road from my parents home in Sugoi to meet Rachel in Likuyani," he told locals.
And because the trips along this route paid off when Rachel got into Ruto's box, the DP now feels that he needs to top up the bride price in form of a tarmac road.
"I was fond of using that same road when coming to see her (Rachel) so I feel it is my duty to have it carpeted as a sign of appreciation to my in-laws," said Ruto, a broad smile sweeping his face.
He said the road has been an eyesore to him because it has not been improved since those days.
"We shall factor funds in this financial year budget so that the road can be tarmacked."
While at it, the DP clarified that he's not interested in a second wife but votes.
"If you can trust me with your daughter (Rachael) then you should be able to trust me with your votes," he said.
Related Topics