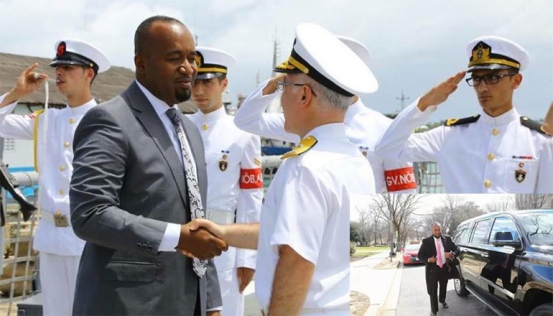 The US government has zero tolerance for drug dealers. See what happened to the Akasha family recently? Two Akasha siblings were spirited to America from the Kenyan coast in a well-planned extradition deal that involved the Jubilee administration - which has often accused Mombasa Governor Hassan Ali Joho of having links with drug trafficking.
But Joho is on a tour of the USA. How did he get a visa and why hasn't Washington arrested him? In any case, didn't the late Internal Security Minister Prof George Saitoti link him to an international drug trafficking cartel based on a dossier provided by then US ambassador to Kenya, Michael Ranneberger?
It seems Joho has perfected the art of winning every political spat with Uhuru's administration. And while there was no sufficient evidence linking him and others named in the Ranneberger dossier, Joho took a solo move to clear his name. Multiple sources told The Nairobian that Joho secretly wrote to the US Embassy in Nairobi offering to be investigated over the drug allegations.
"He surrendered to the US Embassy his bank details, names of companies in which he was a director and invited Nairobi-based Federal Bureau of Investigation (FBI) agents to probe him," said a confidant, adding that after thorough investigations, the FBI returned a not-guilty verdict. "The US Embassy later issued visas to his entire family and his brothers have been visiting in the US ever since," the source claimed.
Joho's critics from the Jubilee administration have continued to link him to the Ranneberger dossier with a renewed call having reached a crescendo following the extradition of two sons of slain drug baron Ibrahim Akasha and two foreigners to the US this January.
Baktash Akasha and his brother Ibrahim, Ghulam Hussein and Indian national Vijaygiri Goswami, were arrested in Mombasa and extradited to the US where they are facing drug-trafficking related charges. The arrest of the four caused a frenzy in the country, with both President Uhuru Kenyatta and Deputy President William Ruto warning that more arrests of suspected drug traffickers were on the way.
But Joho shocked critics with his visit to the US, with some believing it was a trap by US anti-narcotics agencies to arrest him. But Governor 001 landed in Washington DC, where he met leaders from other parts of world to discuss rising violent extremism in the coastal region under the Strong Cities Network (SCN) initiative, which Mombasa is a member.
According to spokesman Richard Chacha, Joho also met Kareem Shora of the US Department of Homeland Security (DHS) and USAID's Russell Porter and chairpersons of congressional and senate committees on Africa. Joho also visited Adams Mosque before traveling to Montgomery County.
Political observers view Joho's visit to the US as proof he's not involved in drugs and that the Trump administration view him as a key stakeholder in fighting extremism and radicalisation in Kenya and Africa in general.
But it is not just Jubilee that Joho has managed to outmanoeuvre, but fellow governors in Cord and the NASA hierarchy in general. He is viewed by many as the second in popularity after Raila Odinga in the ODM party.
This is the same man whose ratings were at their lowest in 2014 when he led a splinter ODM group together with former ODM secretary-general Ababu Namwamba and Turkana Governor Josephat Nanok to take over the party leadership.
Even after the ODM party polls were disrupted Joho and his group went ahead and declared themselves elected party leaders, setting the stage for an imminent fallout in ODM. At that time, he was being viewed as a Jubilee mole out to wreak havoc in ODM from within.
But his combativeness and head-on approach to controversial issues has boosted his political profile and gave him prominence in three years, with Jubilee buoying his stature through direct attacks on his person and office.
According to Professor Rocha Chimera of Pwani University, Joho has managed to re-invent himself politically and "has gained a lot of popularity in the recent past among Cord supporters, not only at the coast, but in other parts of the country as well, because he is being seen as a fearless leader who is ready to die defending the rights of his people."
Prof Chimera, however notes that Joho is viewed by his critics as a reckless leader who has no respect for the presidency and those in authority and "in future his brand of politics could land him in problems, as those he has rubbed the wrong way could be waiting for an opportune time to fix him".
Related Topics