Scenes of hooded gunmen raiding banks and grabbing cash from counters or vaults no longer represent the way to rob a bank. Criminals have become smarter.
Calvin Otieno Ogalo, a former police officer, is living proof that it's easier when armed with a few details to steal large sums of money by just pressing laptop keys while sipping coffee or serving a jail term.
Otieno is among 32 bank fraudsters on the police watch list that include four women, namely Caroline Wamuyu Mugecha, Caroline Nkatha Nkoroi, Phillis Njeri Kanyiri and Farida Achieng'.

The Banking Fraud Investigations Unit (BFIU) says Otieno is extremely brilliant. Formerly attached to the Cyber Crime Unit, the suspect has several cases pending in courts. "He is a former law enforcement officer turned card fraudster believed to be highly intelligent with very good knowledge in IT specialising in systems hacking," says BFIU, which released a list of 32 suspected fraudsters linked to frauds reported by 15 local banks, Kenya Police Sacco, a petrol station, an Asian businessman, two firms and potential tourists to Kenya. The list was exclusively released to The Nairobian.
Head of BFIU, Ngatia Iregi, thinks Otieno could be the mastermind of most electronic heists. "He is giving as a lot of sleepless nights," admitted Iregi, adding that, "These criminals have abandoned violent bank raids. They are now using the internet to hack into systems to steal huge sums of money." And from behind prison bars, Peter Mwocha is another fraudster. Confinement has not deterred him from hacking into systems. How he does it remains a mystery.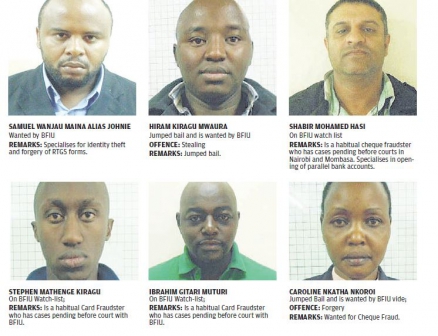 "He is a convict serving prison sentence, but still faces charges in court for cases connected to identity theft and opening parallel accounts with names of known and existing companies for fraudulent purposes," says BFIU.
Moses Kahiato Kanumbi is notorious for befriending gullible women account holders before taking over their accounts after accessing security codes obtained through trust or stealing.
"In some instances, he masquerades as a bank agent assisting targeted women to connect their accounts to their mobile phones and in the process, compromises the accounts," the police say.
One of the suspects identified as Edward Nasitsi Mango has been sending false information through emissaries that he's dead. He is wanted at the Milimani Law Courts and Mombasa Law Courts after jumping jail.
The hackers are believed to prefer cash transfers. This happens when the hacker masquerading as a customer instructs the bank to wire funds from his account to another bank by filling Real Time Gross Settlement (RTGS) forms.
Directorate of Criminal Investigation (DCI) chief Ndegwa Muhoro said all the 32 suspects were on their radar.
"Some of them are on the run, but we are looking for them. They have caused a lot of mess in financial institutions," he stated. There is growing concern within security circles that some of them have infiltrate the discredited Integrated Financial Management Information System(IFMIS) used by national and county governments.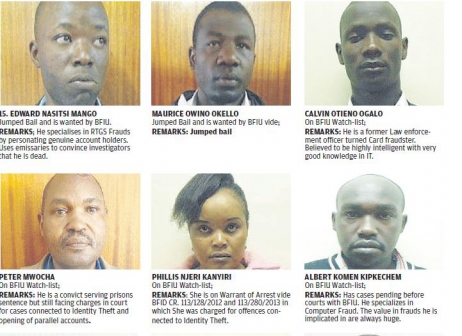 The four women face charges ranging from stealing, forgery, identity theft to impersonation. The daring Wamuyu stole twice from the Kenya Police Sacco. She also raided two local banks.
Two banks have meanwhile accused Nthatha of forgery and cheque fraud, while a warrant of arrest has been issued against Njeri in connection with the offences of identity theft and cheque fraud.
Achieng' has pending cases in courts. BFIU describes her as cunning and good at impersonating account holders of targeted bank accounts.
Others labelled as habitual fraudsters by police include Erick Murathe Kinyanjui, Martin Murathi Murira alias Mato, Vimalkumar Hasmukhbhai Patel, Moses Otieno Arodi, Samuel Wainaina Ngure, Samuel Wanjau Maina alias Johnie, Hiram Kiragu Mwaura, Shabir Mohamed Hasi, Stephen Mathenge Kiragu and Ibrahim Gitari Mutruri.
Also on the watch list are Maurice Owino Okello, Albert Komen Kipkechem, Samuel Ngugi Nduba, Eric Otieno Antang'a, Vinord Douglas Obala Ochieng', Geoffrey Okinyi Onyango, Noah Tacko Odhiambo, Manish Ramnik Chandarana, Anil Kumar Kapachee, Fredrick Obe Ogolla and David Kariuki Kahariri.
Related Topics