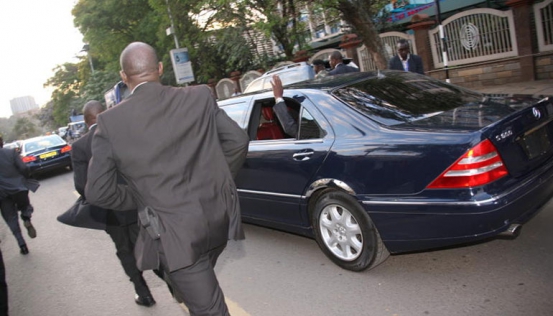 When the former president Mwai Kibaki took over the presidency in 2003, he was assigned a bulletproof Mercedes Benz S600L worth about Sh30 million.
Kibaki became the first president known in the public to have an armoured car that had ballistic protection standards level seven (B7) which is the highest protection recommendable for presidential vehicles.
The car that was acquired in 2002 was reinforced in such a way it could resist fire from high-calibre weapons with a velocity of 820Metres per second and energy of over 3200 Joules. This means over twice the speed and impact of a revolver.
Nabeel Joz of Joz Armoured Vehicles Company says that vehicles with B7 armouring level can also withstand heavy artillery and even explosions assaults.
The limousine which was custom-made by Daimler Chrysler had ability to travel at high speed for many kilometres on flat tyre(s). Its safety wheel shielding was able to allow high speed driving with no risk of losing control or manoeuvrability of the vehicle even after puncture.
The limousine also had capability of resisting long range ballistic attack from a NATO 7.62 caliber impact at the vortices of a 12.5 centimetre side equilateral triangle fired from any direction and distance. When its sensors detect an emergency, the accident avoidance systems are made that they simultaneously get activated.
When Uhuru Kenyatta took over the helm, he was assigned the bulletproof limousine.
Related Topics