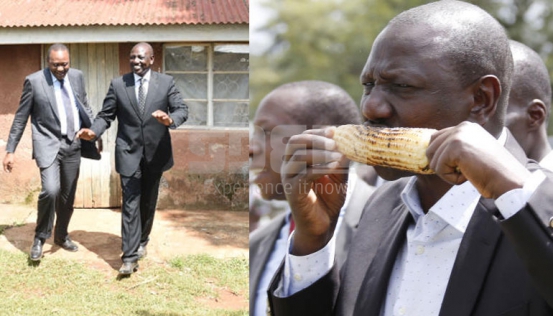 He wore his first pair of shoes when he was going to Form One at the rural Wareng' High School in Uasin Gishu County.
He sold local chicken (kuku kienyeji) on the Great North Road for between Sh11 and Sh13 to truck drivers hauling cargo to Uganda and beyond.
He was heartbroken when his schoolmate, a driver's daughter, rejected his adolescent overtures. He slept hungry in Standard Seven, because the family had nothing to eat. And he walked long distances to school, on foot, knocking his toes on rocks and leaving bloody toenails behind. But that was his past.
Today, William Ruto, Kenya's Deputy President, hops from village to village in private helicopters; flies from country to country in private jets chartered for millions of shillings; owns a fleet of top-of-the-range cars and when he is in the mood, he donates at least Sh2 million at a single church harambee, sometimes up to three per day.
The opposition has alleged many times that the money is part of the billions that went missing from public coffers but the DP insists that is his money. Ruto is the kind of politician who hosts delegations from different areas in the country, feeds them, addresses them, and when they are ready to leave, he still sends them off with a modest allowance of at least Sh2,500.
It is the kind of opulence that signals corruption. The argument is that nobody can splash his money that way, in delegations and harambees. But for Ruto, he's following his Sunday school lessons: "blessed is the hand that giveth".
"There's a world of a difference between a stingy person and someone who doesn't have. They should stop speaking about me doing harambees. I have gone to Sunday School. I was taught that the Bible says that he who gives will get back his portion pressed down, shaken together and overflowing. I also read in the newspapers the other day that I walk with money in gunny bags.
He's built a house worth Sh1 billion, if that money was put in a bag, you mean that gunny bag wouldn't be full," he asked once when the headlines read that he had donated Sh17 million in two months, yet he has a monthly salary of Sh1.2 million.
Interviews with the DP's close friends and neighbours, plus information in the public domain from dozens of interviews he's granted to the media, and from parliamentary records, paint the picture of a man who has struggled against poverty, but is now swimming in money, and would hate to go back to the life of a pauper.
The friends point to multimillion house with a private airstrip that is being built in Eldoret (near the Elgeyo border), his personal Karen residence, his real estate developments including the apartments in Eastlands and Weston Hotel, plus his huge stake in the high-brow Africa Merchant Assurance Company Limited (Amaco), as part of his portfolio.
"It a big house, it is like a hotel," says a friend who has visited the site where the palatial residence with a private airstrip is being put up.
Nobody really knows how much he owns, and the authorities — Kenya Revenue Authority — have said his tax records, which would have lifted the lid on his immense wealth, are confidential.
A visit to his rural home in Sugoi will show you another side of Ruto, a farmer. The DP and his wife Rachel have thousands of chicken reportedly imported from India. They collect at least 2,500 eggs a day.
They have a huge incubator that has a capacity of 20,000 eggs, and every 21 days, they sell chicks thousands of chicks at between Sh100 and Sh125 every day. So, if you do the maths, even with the Joyful Women organisation that his wife runs, the Second Family sleeps with lots of change.
In the hundreds of acres of his land, he has high-yielding, fast-maturing banana plants obtained from the then Kenya Agriculture Research Institute (now KALRO), hundreds of mango and avocado trees, a maize farm for silage and maize, and hundreds of dairy cows.
Ruto also has at least 100 beehives, and yes, he is very proud of the huge forest on that parcel of land that has his house.
"All these trees, all 150,000 trees in this farm, I planted them myself," he told K24 TV in a past interview.
Even as the National Assembly's Public Accounts Committee gets ready to crucify his personal assistant Farouk Kibet and confidante Kipchumba Murkomen over the multibillion scandal at the National Youth Service, the self-styled hustler appears ready to weather the storm.
But even so, Ruto still tries to cut a figure of a struggling civil servant. When he went to open the 30-storey building of the Moi University Pension Scheme in Eldoret, he was invited to rent a floor for one of his business.
His answer: "You have offered that I should look for some money to buy a stake here but I'm sure you are aware that I am still paying the loan that I took to build Weston Hotel."
So when Clement Kipkoech Kosgey, the livestock broker, bodaboda operator and neighbour of the DP, and long-time friend who grew up with the DP, says he is conflicted to call him "Deputy President" and sticks to the name "William" it is easy to understand.
Related Topics