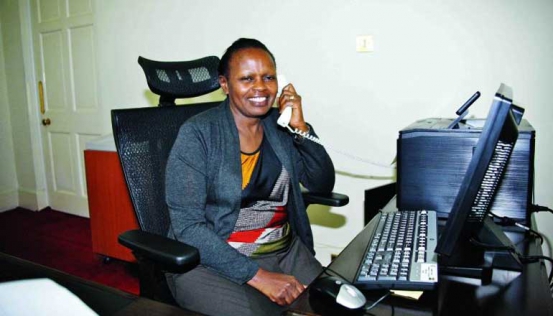 Media reports that former Senior Presidential advisor, Mrs Nancy Gitau, had been recalled to head President Uhuru's re-election campaign think-tank set a million tongues wagging into a frenzy.
Nancy resigned in a huff from her lofty perch at the executive office of the President last July, dramatising the escalating wars of attrition within the team of rivals that is Jubilee administration.
Her ejection from a system she helped bring to power sent shivers down many people's spines who murmur what would happen once Uhuru was no longer calling the shots.
Suppressed subterranean wars are expected to burst into the open over competition for control of the Kenyatta II Succession and re-election campaign largesse and the nominations process.
Several efforts to reach the soft-spoken and media shy power-broker on her cell phone line were unsuccessful. The exit of the most powerful woman in President Uhuru Kenyatta's corner of the Jubilee Coalition after Amb Amina Mohamed highlighted the fact Jubilee administration remained a team of rivals with deep-running faultlines that have impacted service delivery and policy implementation on several fronts.
Both TNA and URP forces hardly agree on any given issue. Teaming up of President Uhuru and DP, William Ruto, sent the most profound message of intent of national healing following the 2007/08 post-election violence.
But their followers remained mutually suspicious and mistrustful. Failure to agree on strategies to run Kajiado Central and Malindi by-elections in March 2015 and March this year, saw Jubilee candidates floored by Orange Democratic Party (ODM) candidates despite well-oiled campaigns and presidential endorsement of Jubilee candidates.
The announcement that Nancy had been recalled to head a key think-tank were atributed to former executive officer of the defunct TNA party, Mr Joseph Maathai, who also hails from Nyeri as Nancy. Calls to Mr Maathai's cell phone also remained unanswered, a possible pointer someone could also have been flying a kite to test how the return of Nancy would be received."
Her sudden departure last July, which she announced herself in a terse statement released selectively to the media, was viewed by some as a decoy to divert attention from a possible redeployment to work on re-election strategy devoid of official encumbrances.
But Jubilee's internal rivalry is motivated by different stimuli: fear of each other's core constituencies' politics and aspirations.
With her stellar rise and rise from director of political affairs in the the retired President Kibaki's regime, to presidential election stragetist and presidential advisor in President Uhuru Kenyatta's corner of the Jubilee administration, Nancy represented the most conspicuous face of this faultline.
As director of political affairs under the Grand Coalition government (2008-2013), she was directly responsible for checkmating the bravado of the Orange Democratic Movement (ODM) brigade in which DP William Ruto was senior member as agriculture minister.
Cabinet Secretary for Energy, Charles Keter, was a lowly assistance Minister for Energy, sharing an office with Cabinet Secretary for Devolution, Mwangi Kiunjuri.
That URP's side resented Nancy was never in doubt. Charles Keter waged an unrelenting campaign against her, loudly accusing her of allegedly recruiting witnesses to fix the DP at the International Criminal Court (ICC).
"We cannot keep on sharing power with such indviduals. Some of us are not ready to negotiate with such individuals. We are not going to to do that because we do not know where the loyalty of these people really is," Keter said in public meetings in 2013, referring to Nancy, former permanent secretaries, Mr Mutea Iringo, Francis Kimemia and others.
Politically, Nancy could be said to have been as guilty as charged: she never shied away from a fight in defence of her boss and her loyalty was fierce, always crafting strategies to checkmate his rival's advance
Related Topics