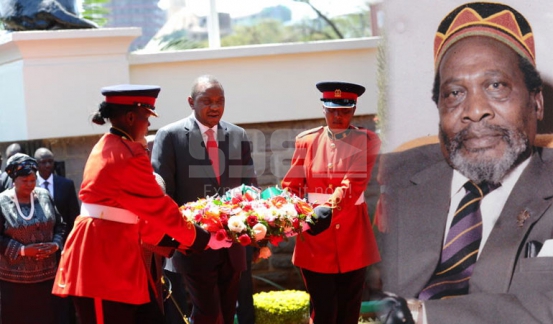 The mausoleum where founding President Mzee Jomo Kenyatta is interred at Parliament Buildings in Nairobi will be opened on August 22 to mark 38 years since he was 'killed by death' while on a working holiday at the Mombasa State House in 1978.
The mausoleum is rarely opened on any other day, besides the annual memorial starring wreaths from his family members and nabobs in government, followed by a church service. Never mind that although his family is front-pew Roman Catholic, Kenyatta I was not a practising Christian.
Unlike retired presidents Moi and President Kibaki, and his son Uhuru, the current president, he never attended any church service in his 15-year presidency. His funeral service was inter-denominational though, with the late PCEA moderator Charles M Kareri leading the pack that included Banana Hill healer, Margaret Wangari. Of his religious inclinations, Kenyatta I told presiding judge Ransley Thaker during the infamous Kapenguria Trial in 1953 that he was "agnostic," basically a kafiri. But his dirges were composed by Darius Mbela, later a PS, Minister and Wundanyi MP, who took four days to record Tribute to Mzee Kenyatta at VoK studios with Nairobi's St Stephen's Choir.
Back to the mausoleum which is guarded by the Kenya Defence Forces 24/7. Did you know that any Kenyan can visit it provided you write a letter to the Secretary of the Parliamentary Service Commission stating your intentions? But soon that might end if a proposed Kenyatta Mausoleum Bill 2016 is passed by legislators.
The bill by Chuka Igamba Ng'ombe MP Muthomi Njuki, will see the mausoleum opened to the public upon paying a prescribed fee.
Indeed, the Kenyatta mausoleum could be among the few in the world which are not accessible to civilians, denying Kenya revenue through domestic and foreign tourists. In fact, Kenya doesn't know how to make money from famous cemeteries. Nyeri County has the grave of Lord Baden Powell, founder of the scouting movement, but hardly profits from it like Egypt with its pyramids ­— the graveyard of its Pharaohs, queens and their handlers.
The Taj Mahal, the most visited site in Agra, India, is a tomb of Mumtaz Mahal, wife of Emperor Shah Jahan.
In Malawi, the mausoleum of founding president Kamuzu Banda is open to the public as is that of Ghana's first president, Kwame Nkrumah and his Egyptian wife, Fathia Nkrumah, whom he married "for the presidency."
The Kenyatta Mausoleum Bill 2016 will make it accessible as part of cultural heritage enshrined in our constitution.
But did you know that the 34 square feet Kenyatta mausoleum was designed by famous Israeli architect, painter and multi linguist, George Vamos?
Kenyatta died on August 22, and by the time of his burial on August 31, Vamos, who swam daily, had designed it with Italian firm G Campagnola Ltd, constructing it with a team of over 100 Africans, jungus and muhindis as watu wa mikono.
Never mind G Campagnola was tasked with building Kenyatta's Gatundu home in 1963 and was never paid. Mzee Kenyatta, a tightwad with debt, argued that it was G Campagnola's "contribution to independence celebrations" as Duncan Ndegwa informs us in his 2009 memoirs, Walking in Kenyatta Struggles: My Story.
Vamos, a lover of classical music and who spoke English, French, German, Hungarian and a sprinkling of Arabic and Swahili, died in Vancouver, Canada on August 19, 1999 aged 89.
Did you know that while leaving Kenyatta's funeral, a motorist accidentally knocked Charles Njonjo's car and was promptly jailed. Njonjo was the Attorney General who had planned Kenyatta's burial arrangements 10 years before his death!
Related Topics